Get the best 10 Essential Gear for a Backpack Hunting to bring with you!
Experienced hunters never venture into the wild without the 10 essential gear for a backpack hunt. Hunting is man's oldest profession and even the ancients understood that you needed to pack accordingly if you wanted to come home successful. You need to be prepared when you step into the great outdoors and this list is dedicated to making sure that you are ready to face whatever Mother Nature puts in your path.
The gear you need will depend heavily on the environment you are hunting in and who you're with. If you're hunting with a group then you will need to remember certain things that you wouldn't need to have if you're hunting solo. For example, you would need to take the Best 2 Way Radios so you can communicate with each other should you be separated. This guide is intended for use by mountain hunters such as those hunting elk, mule deer, and goats. While most of this equipment is universal some may be too hot for summer hunters. Rest assured the information you learn here can be easily transferred to any environment to suit your needs. Below are the 10 essential gear for a backpack hunt in the mountains:
***If you need help choosing a good backpack, here are the top ten hunting packs
Quality Clothing
As mountainous regions are subject to quickly changing weather you should always dress in layers. This will give you the flexibility you need when temperatures rise or drop unexpectedly. Synthetic materials can be a better option for your under layers as they can handle most of the moisture your body produces. I prefer a cotton or wool for my outer layers. These layers can become critical to your comfort when temperatures start to dip during the evenings.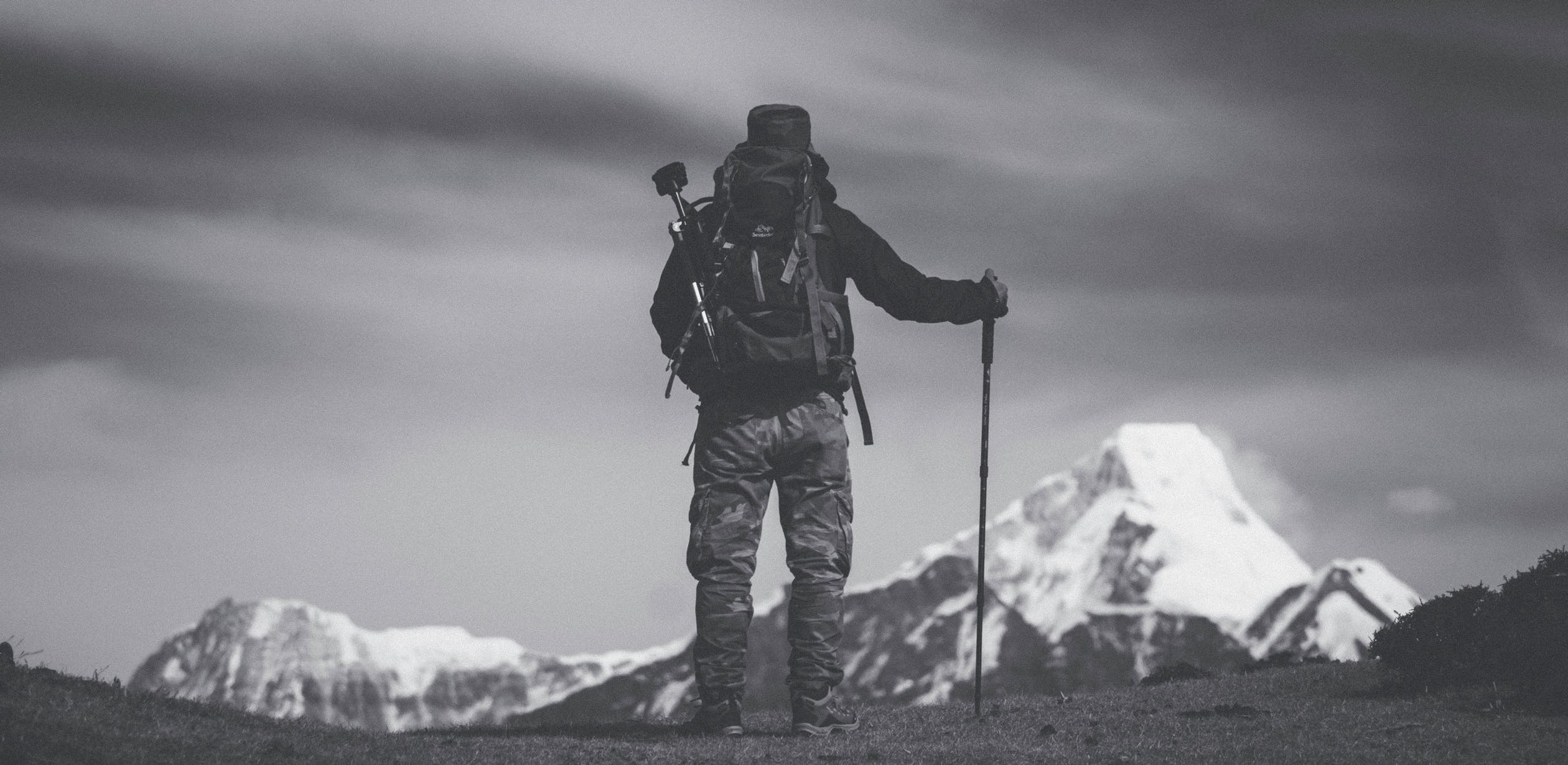 Quality hunting clothes are not cheap but with a little patience, you can find items such as fast drying hunting pants for discounted rates. Remember, more expensive does not necessarily mean more comfortable and you may want to try on a few pair of pants before you make your final selection. Manufacturers also offer complete hunting clothing sets for discounted rates. This can save you big time on buying everything individually.
Boots
Owning a pair of quality boots should be priority one for any serious outdoorsman. You will need to find a pair of boats that give you protection against moisture while providing you excellent traction. Mountain passes are steep and good footing can mean the difference between an excellent hunt and needing to go home early because of a sprained ankle. Quality hunting boats can get up there in price but because of the critical role they play, you are defiantly better off making the investment. Below are three quality boot manufacturers to consider:
LowaTibets
La Sportiva
Kennetrecks
Backpack hunting is going to require you to get some hiking in and if your boots are uncomfortable, you run the risk of getting blisters. Cheap boots cannot withstand the harsh landscape of mountain trails and in most cases, a cheap pair of boats may only last you for one or two serious hunts. Once you take this into consideration, it makes sense to spring for the best boots you can afford.
Rain Gear
There are two types of rain gear, water-resistant and waterproof. If you live in an area that experience medium to light rainfall, you can save some money and go with a water-resistant material. These materials are lighter and breathable. They will work great in scenarios where you have the ability to dry them out each day. You will need a waterproof material for your rain gear if you live in a region that experiences rain for more than 24 hours straight. Water-resistant material will eventually breakdown and become soaked if it is exposed to rain for longer than 12 hours.
Durability should be one of your main concerns while searching for rain gear. Reputable brands are going to give you the best results. Many new hunters have had to call their hunt early because they failed to bring the proper rain gear.
Knife
Hunting knives come in all shapes and sizes. It is recommended that you carry two knives when venturing into the outdoors. The first knife you should consider is a quality fixed-blade survival knife. This is going to give you the cutting power you need and in the worst-case scenario, you can use it to defend yourself.
Your second blade should be an EDC or everyday carry knife. This is going to be your Swiss Army style knives that give you a large selection of helpful tools. These tools can include:
Screw Drivers
Pliers
Leather Pokes
Scissors
Toothpick
Saw
Ect.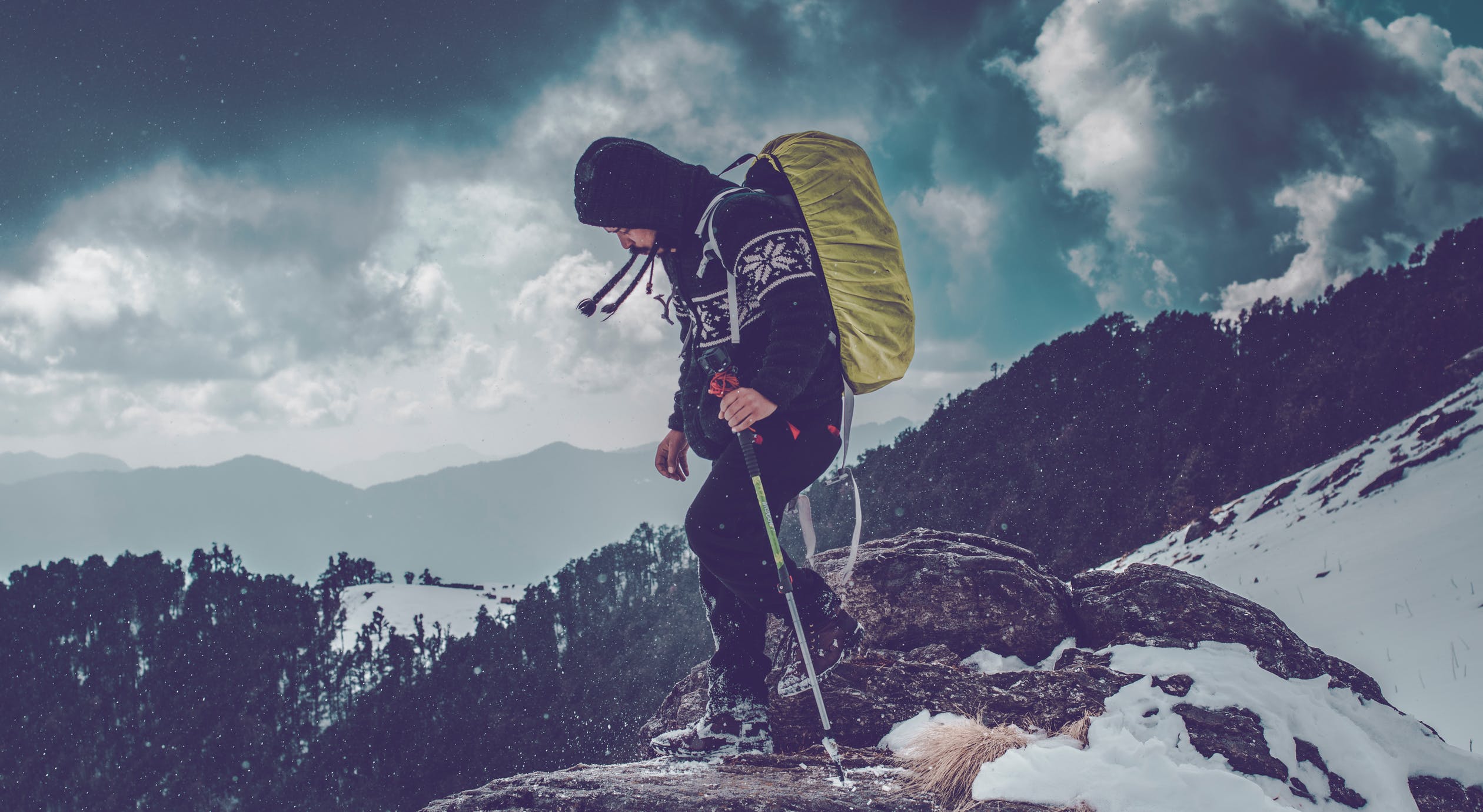 Manufacturers have perfected these blades and now you can get some really impressive multi-tools that can handle a significant amount of work without failing. Multi-tools are a little different than traditional multi-tool blades as they are focused more on a pliers-style layout versus your traditional Swiss Army style knife. Both work great and you will find that you use these tools often.
Pack
As you probably guessed, you will need a quality hunting pack for your journey. This is one of the most important pieces of gear and you must take some time to consider your needs before choosing the perfect pack for your needs. A quality hunting pack can store two weeks of supplies and gear, making it critical to your hunting trips success. A cheap hunting pack can end a hunting trip in hours versus days.
Comfort is vital to your hiking experience. Frame hunting packs give you a certain amount of rigidity that can make carrying heavy loads easier. You should try a few options at your local hunting store to get an idea of the differences between the support systems each manufacturer utilizes. Harness systems can make for excellent support as well. Remember, your pack is going to get heavy after a few hours of hiking, take your time and really find a support system that works for your body style. Hybrid systems can be a smart solution for someone who doesn't prefer traditional frame packs.
Optics
You are going to need some quality optics if you plan on high country hunting. This is because of the extreme distances in which you may need to stalk your prey. This can mean you need to be able to distinguish your target from distances as far as 5 miles away. If you have low-quality optics, you are going to waste your trip chasing after prey that may not be up to the quality you desire.
In terms of budget, you are going to want to spend the most on your optics. A top-end rangefinder and binoculars can put you back a couple hundred dollars but all serious woodsman know this is an investment well made.
Rifle Scope
Choosing the perfect rifle scope for your needs is going to take a little investment of your time. You level of experience is going to play a role in choosing the right scope for your needs. Remember, the higher the magnification, the harder it will be to locate and track your target. Newbie hunters should avoid scope over 10x magnification because of the time it will take for them to get to this level of shooting. Quality counts in choosing the right scope. Multi-coated lenses are going to give you better performance and moisture resistance but may cost slightly higher than their non-coated counterparts. You will want a scope that has great light transmission, so you can shoot in low light conditions.
Stove
A compressed gas stove can be the best move for multi-day hunts. These cost effective cooking solutions don't weigh too much and are very easy to set-up and use. If you are planning a multi-day hunting excursion, a stove can be a smart option. This way you don't have to survive off of packed sandwiches and trail mix. Depending on where you plan to hunt, you may not have access to compressed fuel canisters. Multi-fuel ovens are also an option to consider as they will allow you to burn a variety of fuels such as gas or diesel, to cook your dinner. You might also want to consider a stove that can be placed inside your canvas hunting tent.
Trekking poles
You should invest in a pair of quality trekking poles before you go on any mountain hunt. You will enjoy a much greater level of stability while traversing mountainous terrain when you utilize these helpful tools. Trekking poles can be used for climbing as well as crossing streams and lakes. Newer models even include a camera mount, so you can get the most out of your hunting experience.
First Aid Kit
This is an essential item for anyone who is planning to venture into the wilderness. You need to be able to survive in any situation and a first-aid kit can not only save your life, it may be useful in saving the lives of others you encounter in the wild. Depending on the environment you are hunting, you may need to pack your first-aid kit accordingly. One thing that is often left out of first aid kits is pain relief. If you suffer an injury such as an open wound or sprained ankle, the chances are you will need some sort of pain relief to help you deal with the pain during your return. For some, that is Vicodin whilst others prefer using the best CBD oils for example. Whatever you use, make sure to bring ample with you. Below are some other items to consider:
Bandages
Hand Sanitizer
Duct tape
Medicines
Water Treatment Drops
Lighter
Chap Stick
Needle
Thread
10 Essential Gear for a Backpack Hunt – Final thoughts
Now that you know what to pack, you are ready to start your hunt. Stick to the tips in this guide and you are guaranteed to have a smooth hunting experience. Remember the most important rules of hunting, mother nature must be respected and to have a great time.