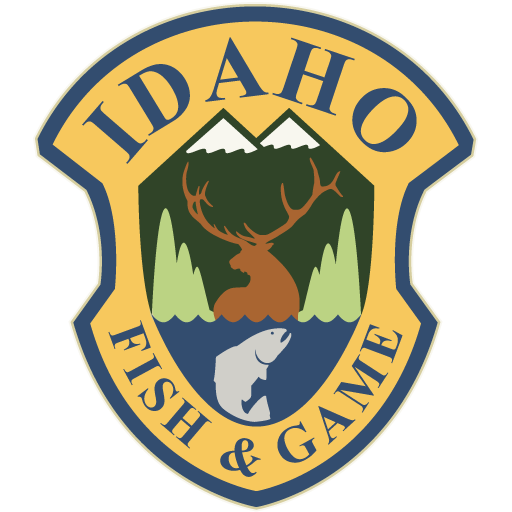 The hunting in the back country of Idaho is unlike any other experience. With mountainous terrains or green forests, your guided hunting experience will be one that you will remember for a long, long time. Going out on your own is one thing but getting a guided trophy hunting experience is quite another.

That is why it is of the utmost importance to find a hunting guide that will be attentive to your wants and provide you with the best hunting experience possible. But where do you go to find the right guides to take you along on the journey?

Thankfully, we have compiled a list of the ten best hunting guides to take you about the scenic and beautiful Idaho terrain.
Idaho Hunting Guides And Gears|Wind River Outfitters | New Plymouth, ID
(800) 854-6697
Website | Facebook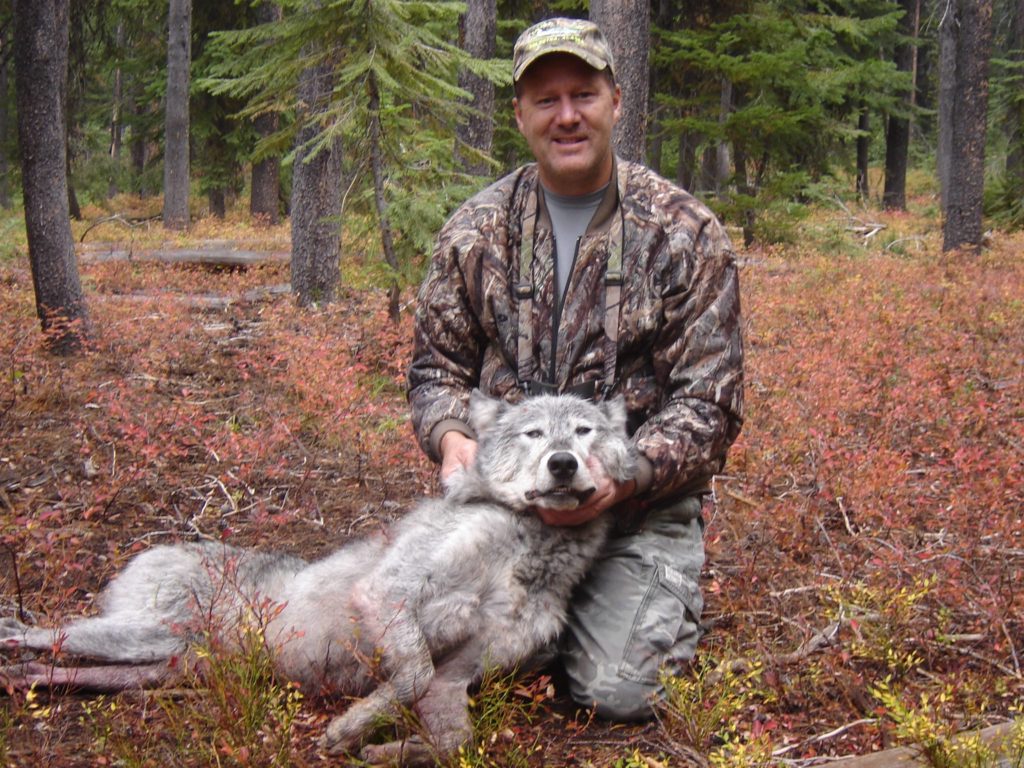 Wind River Outfitters is one of the finest hunting guides in the state of Idaho. Each of their guided hunts comes with several accommodations: canvas cabins (referred to as wall tents) that are furnished with a vinyl floor, cots that have foam pads, and a wood-burning stove. After a hard day of hunting, there are also hot showers available as well.

Also included in the cost of the guided hunt is a guide, cook, a wrangler when they are available, lodging, food, a transportation horse, and the caping of the animal. It is important to note: this does not include tags, tax, license, meat processing, transportation of the meat to a local butcher, locker fees, or airport pickup and drop off.

Wind Rivers Outfitters does big game hunts for elk, deer, wolf, bear, cougar, and big horn sheep. The guides have been offering guided hunts for years, experienced with all the areas of the Idaho terrain. Whether you are an experienced hunter or one that is unfamiliar with the area, their guides will help to track and follow the animal throughout the area. The guided hunts also come with a hot breakfast and sack lunches to keep you energized during the day. Each of these hunts is physically challenging and the guides are equipped to get you through them with as much enjoyment as possible.

Fly-fishing is another adventure that is offered by Wind Rivers Outfitters. Enjoying the Idaho streams is a relaxing way to enjoy the outdoors without the physical exertion that comes with a guide hunt. The guides are familiar with the streams and know the areas where the fish will be most likely to bite. They will also show you techniques that will help you haul in the catch of the day. Fly-fishing builds comradery with the rest of the group and you will gain knowledge from the helpful guides.
Richie Outfitters | Salmon, ID
(208) 756-3231
Website | Facebook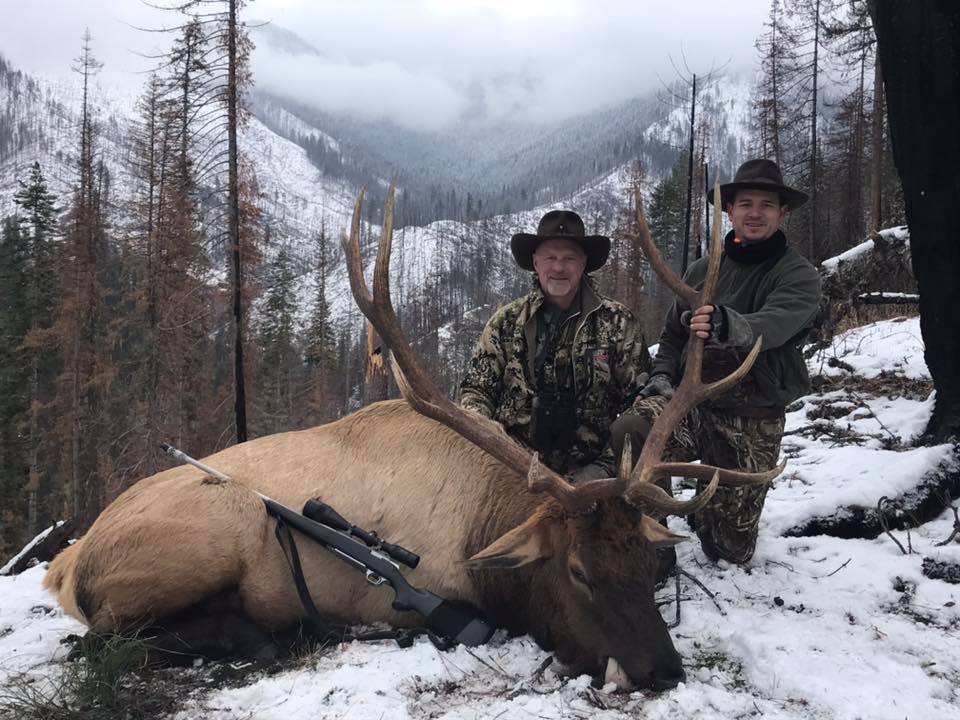 Richie Outfitters specializes in big-game hunting in the state of Idaho. If you are after the big, adventurous hunts, Richie Outfitters will provide them. Hunt elk, deer, bear, and even lion. Consistently producing the largest mountain lions in the world, the Selway Bitterroot wilderness has a high concentration of mountain lion unlike any other in the country.

For 45 years, Richie Outfitters has been offering a backcountry camp in the heart of the Idaho Montana wilderness. With hunts in the American Rocky Mountains and the Selway-Bitterroot Wilderness, their guides know the terrain better than anyone else. The areas, beautiful and scenic, produce the best trophy animals in the area.

Led by the Richies, Mike and Dawn, the Selway is known for turning out superior game and they will help you find it. With several lodging options, you can find the right hunting package that suits your desires and will get the hunting experience that you deserve.

Mike Richie himself will lead you on the hunt for huge elk throughout the state of Idaho. Mike knows that these hunts are serious business and not back yard ranch hunts. These hunts are game-rich and will provide you with a great opportunity to harvest a 6×6 or better trophy bull elk. For the very best trophy bull elk, a guided hunt throughout the Idaho countryside is the way to go.

It is imperative to bring the right gear and clothing for each of these hunts, depending upon the season and the type of hunt. Things like light wool pants, wool gloves, long underwear, boots (both light and waterproof) for the autumn hunts and much heavier variations for end of the season hunts. Meals will be provided but it is essential that you are properly equipped.
Boulder Creek Outfitters | Peck, ID
(208) 486-6232
Website | Facebook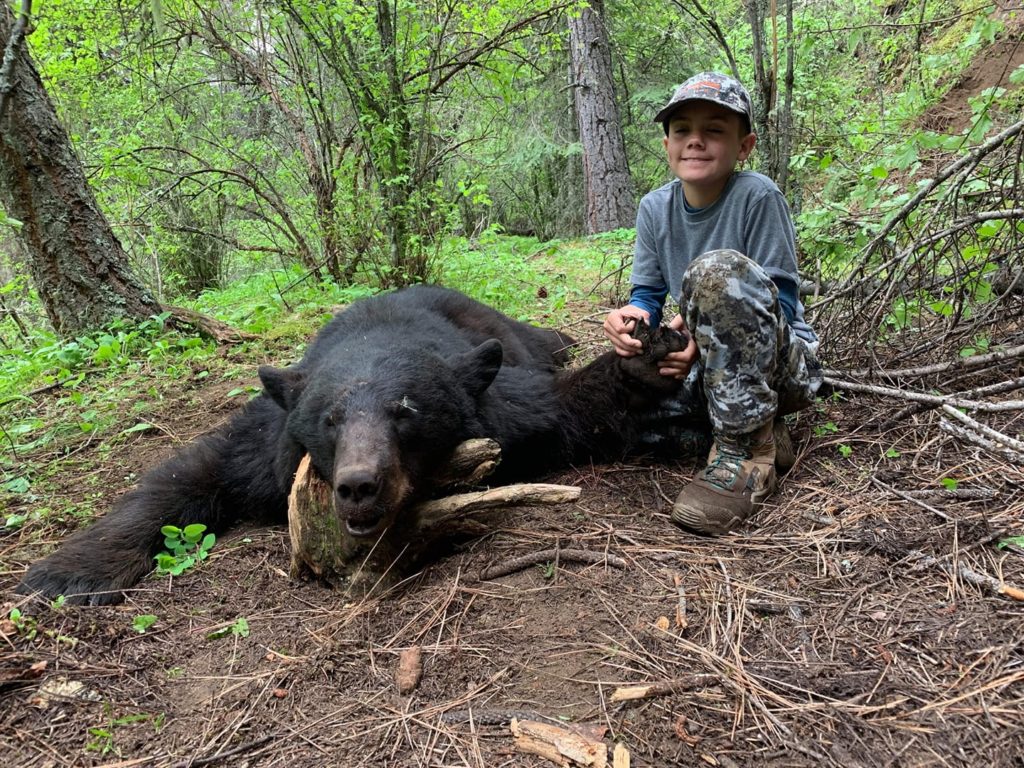 Boulder Creek Outfitters is one of the longest running outfitters in Idaho, placing in the top 100 out of over 1,400 outfitters. For over 30 years, they have been dedicated to hunting excellence and have been with Buckmasters since 1989. Boulder Creek Outfitters is also the first outfitter in Idaho to have an exclusive license to outfit on private land.

With over 60,000 acres available, they have the largest private ranch licensed by a single outfitter in the state of Idaho as well as one of the largest exclusively outfitted wilderness areas in Idaho. They operate under special use permits on the Clearwater and Nez Perce National Forests (based in Idaho) as well as the Humboldt and Toiyable National Forests (in Nevada).

Authorized on all BLM administered lands in Elko, Carson City, Winnemucca, Ely, Las Vegas, and Battle Mountain, they also have the most guaranteed allocated tags of any outfitter in Idaho. Several Boone and Crockett animals from four different species have been taken over the years thanks to the help of Boulder Creek Outfitters.Boulder Creek Outfitters offers trophy hunts of elk, deer, bear, lion, and turkey. Their camps come with different accommodations, from older semi-modern camps to totally modern facilities that include showers, big screen televisions and a full kitchen.

Perhaps a trail ride is more to your liking? BCO offers those as well, guiding trail rides into the Selway-Bitterroot wilderness. The trail rides are offered in the summer months out of their wilderness base camp lodge. This is a great opportunity to see the wildlife and scenic area, most of which has had the privilege of being untouched by humans. These trails are picturesque, winding along rushing streams and offering unparalleled views of the Idaho countryside.
Wild Idaho Outfitters | Challis, ID
(208) 252-1053
Website | Facebook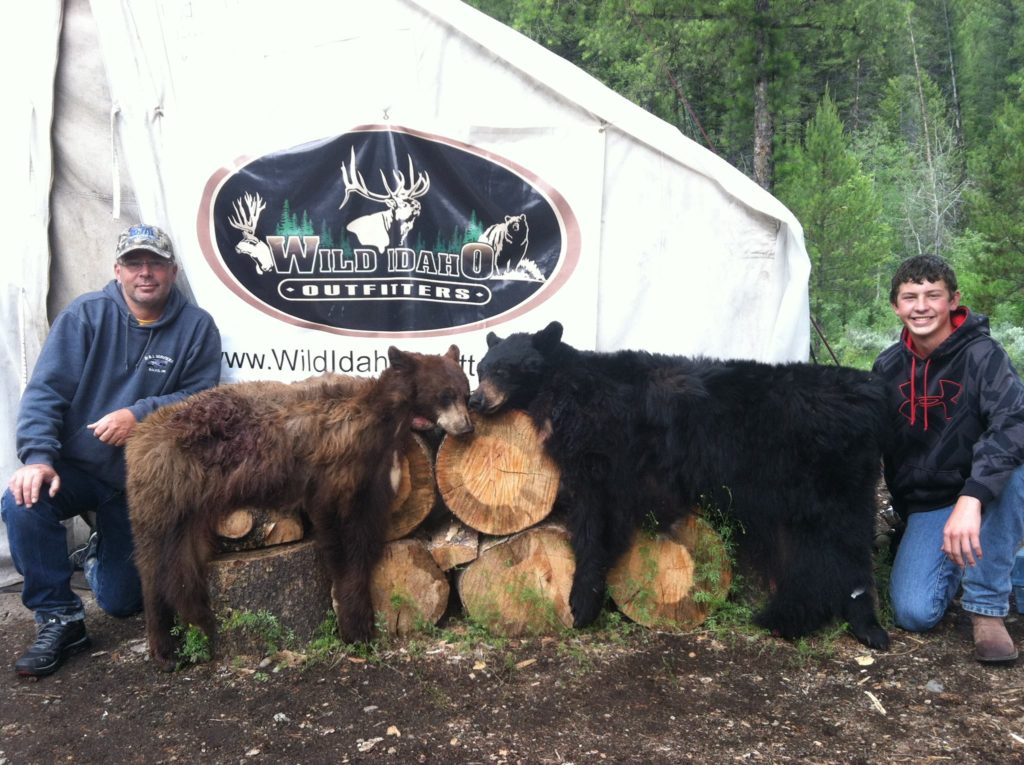 Wild Idaho Outfitters operates from Challis, located in Central Idaho. With hunts covering over 150 square miles of the Frank Church River of No Return Wilderness, their guides have been providing a unique hunting experience for years.

With hunts for such trophy animals as elk, mule deer, black bear, and wolf, Wild Idaho Outfitters ensures that you will have a memorable experience. These experienced guides tailor each guided hunt, providing assistance along the way as only they know how.

They hire some of the toughest guides in the business that will go the extra mile to provide the best possible experience. They are all seasoned hunters and outdoorsmen who have been raised in the backcountry, on a farm, or on the back of a horse. You will never feel the need to question one of these guides.

Each guided hunt provides wall tents with a wood burning stove for heat, a foam mattress and a cot, horses equipped with a saddle/tack/rifle scabbard, transportation from Challis to base camp and back, hot meals, in-field care of the game that you claim, and 1-on-1 or 2-on-1 guiding depending on the package.

Wild Idaho Outfitters even offer youth hunts, encouraging youth hunting for both residents of Idaho and non-residents. The Idaho Fish and Game has a junior mentor program with reduced license and tag fees to encourage the junior hunter. It is a great way to get a youngster started with an experience that can't be matched.

They don't claim a specific success rate because that isn't an accurate question but they do have a high opportunity rate. That means that they will put you in the best positions possible to nab a trophy animal that you've been dreaming of. They will do their very best to guide you to that ultimate success.
Idaho Hunting Guides And Gears|Silver Spur Lodge | Dixie, ID
(208) 842-2417
Website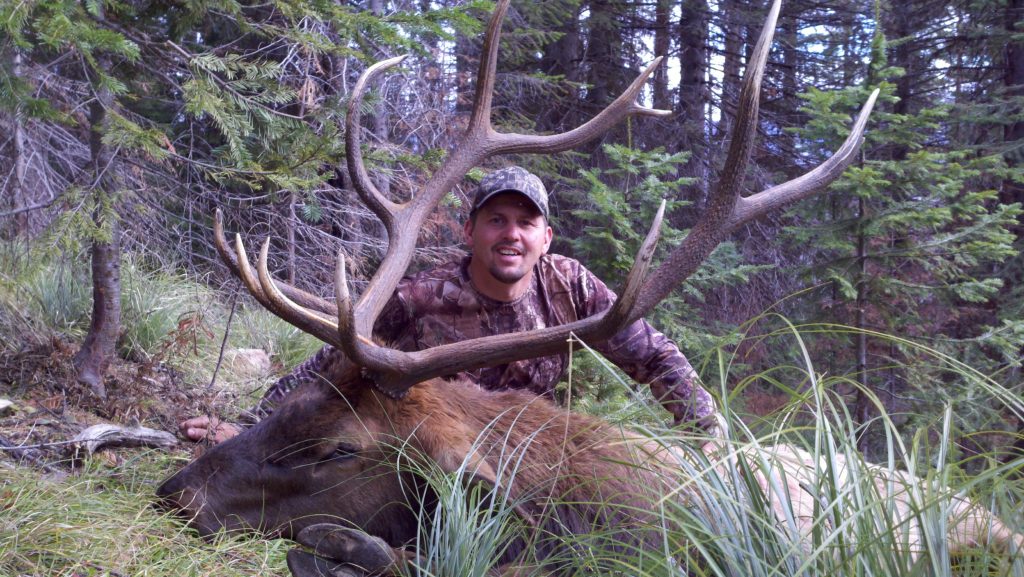 The spring and summer in Idaho comes alive with flowers and wild life, warm pine-scented mountain breezes, blue skies, clear streams and green forests that provide a unique, memorable experience. Silver Spur Lodge understands the tranquility of the great outdoors and aims to provide the type of experience that you will not soon forget.

They offer a complete guide service for the Idaho backcountry, from summer trail rides and pack trips to trophy hunting for exquisite animals like elk, deer, bear, moose, mountain lion, and bighorn sheep. They even offer snowmobiling in the winter.

A lodge is provided to enjoy the backcountry when not on a hunt. Silver Spur Lodge provides war meals that have earned rave reviews from patrons and they treat each guest as a member of their extended family. With modern amenities and a kitchen that is always open to deliver fresh treats and coffee, you will feel right at home.

The lodge overlooks a meadow full of wildlife and even offers a bunk house for larger groups. Mallard Creek is nearby and is a great spot with brook trout for fishermen. The lodge provides the ultimate in relaxing, comfortable amenities while still enjoying the beautiful, scenic wildlife.

Their hunting guides cover almost 650 square miles of Idaho hunting, including Frank Church River of No Return Wilderness, Gospel Hump Wilderness, and the Nez Perce National Forest. They offer a litany of different guided hunts based on the seasons and offer drop camps for the more seasoned hunters. Each guided hunt is guided by horseback and provide camps that are as comfortable as the lodge so that each morning, you can awake refreshed and ready to continue the hunt.

Silver Spur offers the classic, fun feel of a traditional hunt with the modern amenities of a comfortable resort and there are few experiences quite like it.
Idaho Hunting Guides And Gears| Idaho Hunting Guides And Gears|Shattuck Creek | Elk River, ID
(208) 826-3373
Website | Facebook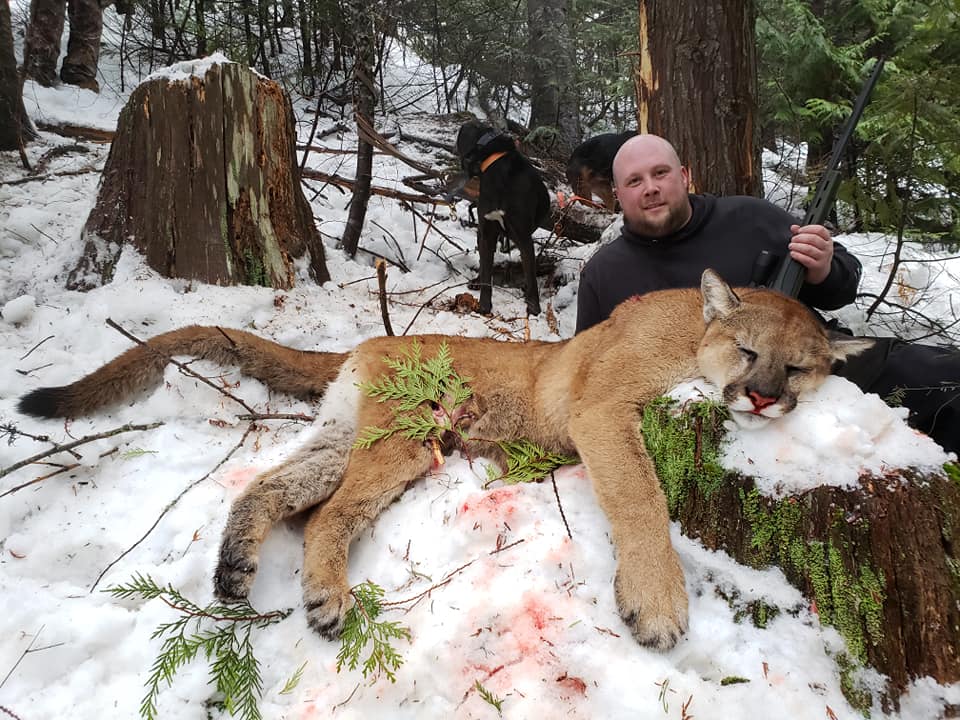 Shattuck Creek has been providing a great experience to hunters across Idaho for 35 years. Based on the Elk River, Shattuck Creek provides a plethora of hunting options for both seasoned and new hunters. There are a number of trophy animals to hunt in the beautiful countryside.

Shattuck Creek offers both guided and non-guided drop hunts for those who feel that they are seasoned hunters and provide trophy hunts for mule deer, wolf, cougar, whitetail deer, elk and bear. There are 1-on-1 and 2-on-1 guided options available in both five and seven day pricing.

Their lodge provides accommodations that are first-rate, offering private rooms with bath, home cooked meals that are excellent and, of course, great hunting in the Idaho backcountry. Depending on the hunt type, hunters will travel via horseback, by ATV or by 4×4 truck.

There is also the option for a rifle horse camp hunt which provides a unique, memorable hunting experience over the rugged western terrain of Idaho. This area is roadless, from heavily forested big game habitat to open glades and regrowth. With a base camp as the central location, each day will encompass a comfortable camp experience before heading out on horseback or ATV. The wall tents come with plywood floors and walls and are furnished with bunk beds, wood heat, electric lights, and a hot shower as well as a quality home cooked meals provided by the camp cook.

Shattuck Creek Outfitters have been providing some of the best hunting experiences available for nearly four decades because they believe in the quality of the hunt and will go above and beyond to provide that memorable experience that you have been searching for.
Idaho Hunting Guides And Gears|Seven Devils Lodge | Council, ID
(208) 253-3014
Website | Facebook | Instagram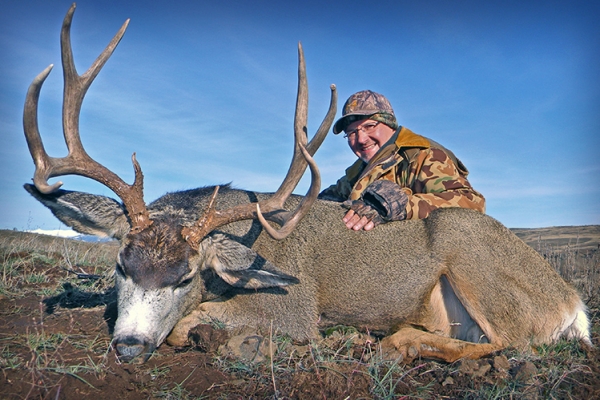 Located in Central Idaho just south of the Seven Devils mountain range, the Seven Devils Lodge neighbors jutting canyons, high desert, and soaring mountains, providing a unique area unlike many others. This isn't even taking into account that the range runs between the Salmon River and Hells Canyon as well. Hells Canyon is known as the deepest canyon in North America and is just nine miles from the lodge.

Family owned for over 10 years, Seven Devils Lodge is a 5,500 sq ft facility that offers five bedroom suites (The Angler, The Boss, The Hunter, The Trapper, and the Cowboy. Each room is decorated using a unique theme from the surrounding great outdoors and offer a number of sleeping arrangements with sofa beds, cots, and multiple beds depending upon your needs. Ideally, a group of 8-12 guests can stay comfortably in one of these spacious bedroom suites.

They offer a litany of different activities based on the season as well. In the spring and summer, there are dinners at 8000ft, a shooting range, hiking, horseback riding, fishing, and unique summer events that can be different each time you visit. In the winter, there is snowmobiling as well.

But most come for the hunting experience because Seven Devils Lodge provides one of the best experiences around. Guided on 18,000 acres of private, non-fenced land, Seven Devils offers deer, elk, and bear hunts that are unrivaled. With rustic cabins located on the ranch for lodging, you can enjoy wonderful amenities before heading out for a guided hunt. Each guide prepares and discusses their planned hunt so that you can not only know what to expect but prepare yourself in any way possible. These hunts are physically taxing but as rewarding as can be.

Depending on the season and the terrain, there is a possibility for sleeping under the stars as our forefathers once did. This can depend on your decision to stay where the animals are for the night rather than hauling all the way back to camp or to the Lodge. It all depends upon your preferences.

Seven Devils Lodge provides the modern amenities that bring ultimate comfort with a hunting experience like no other. Nab a trophy animal that you can be proud of when you visit with us and prepare to enjoy the hunting experience of a lifetime. These one-of-a-kind hunts are the sort that will have you telling your family and friends to visit us for a long time.
Idaho Hunting Guides And Gears | Ace Outfitters | Polluck, ID
(208) 628-2722
Website | Facebook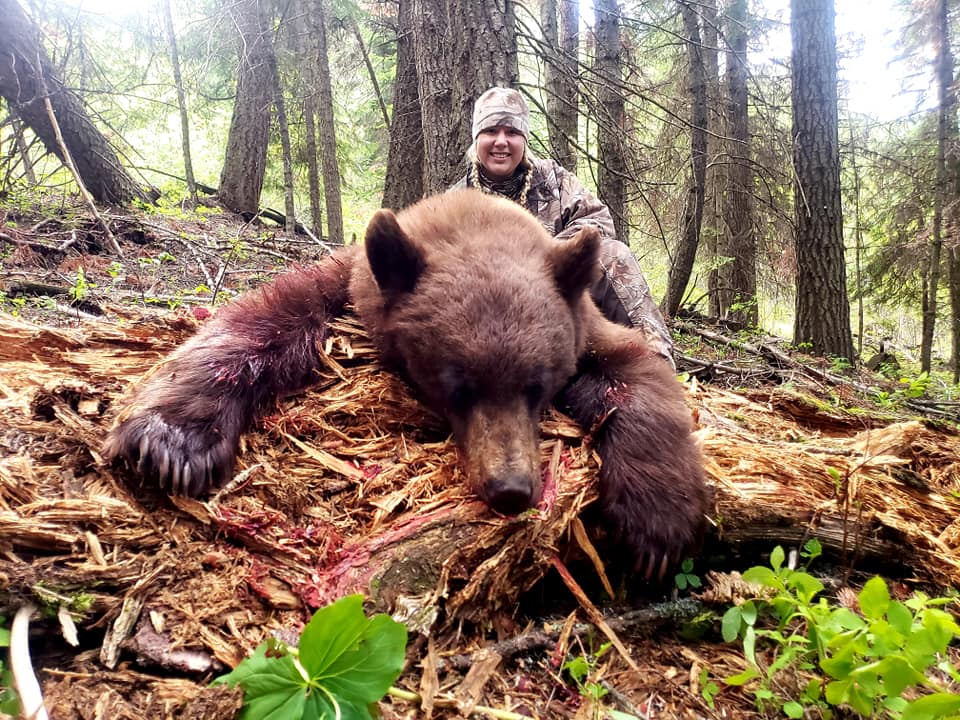 Offering guided hunts across the Idaho terrain for elk, mountain lion, mule deer, whitetail deer, moose, and bighorn sheep, Ace Outfitters tailors each experience to you and works diligently to provide a hunting experience like no other.

For over 30 years, Ace Outfitters has been providing the type of quality hunting experience that has word of mouth spreading throughout the area and bringing clientele back over and over again. With a prime hunting area that is encompassed within the Nez Perce National Forest, there are four big game units located in the heart of central Idaho. Not only that, Ace Outfitters is the exclusive outfitter permitted to hunt over 500 square miles of USFS land.

These guides understand the time, effort, and costs that go into planning big game hunts and know that the success of your hunt depends on the character, knowledge, and integrity of the outfitter you choose. They guarantee that each guide will give you 100% each day of your hunt and have been bringing back the same experienced guides every year because they know the terrain better than anyone and will provide an experience that you will not soon forget.

Each guided hunt comes with lodging – wall tents that provide modern amenities so that you can recharge comfortably after each day of hunting. With hot meals, you can rest up and feel at ease at camp until it is time to head back out to hunt. Hunting along the breaks of the Salmon River, they can't guarantee that you will nab that trophy animal but their guides will put you in the best position possible to do so.
Idaho Hunting Guides And Gears|Deadwood Outfitters | Cascade, ID
(800) 684-3675
Website | Facebook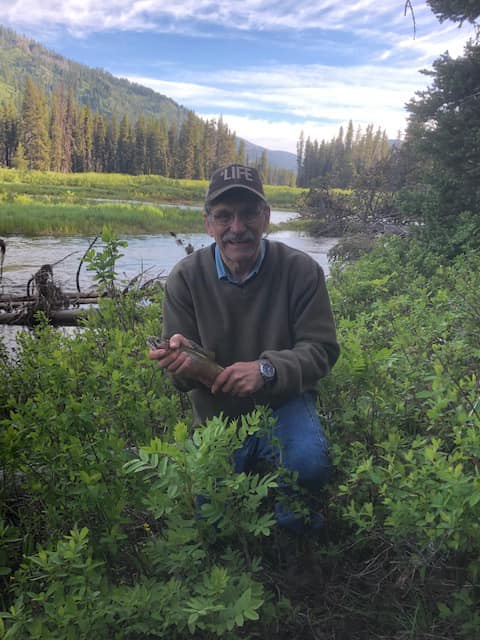 Deadwood Outfitters is a full-service guided hunting experience in the heart of Idaho. In addition to big game hunting, they also offer fishing, horse trail rides, even events and corporate retreats. Exploring, hunting, and enjoying the Idaho backcountry is made all the better when being guided by one of their experienced, dedicated guides.

Specializing in bear, deer, elk, and wolf hunts in the Sawtooth Wilderness, these guides take you through 340 square miles of Sawtooth units 33 and 34 in western central Idaho. You could also see a cougar! These guided hunts offer exceptional big game trophy hunts where wildlife is abounds and there are even some record book-worthy trophy animals.

Deadwood Outfitters have even been featured on tv shows such as "Northwest Hunter" and "Southern Outdoor Experience", showcasing their exceptional guided hunts and the wonderful hunting experiences that their services provide.

Using the spot and stalk method, these hunts will take you on a physically challenging on-foot trek through the beautiful Idaho backcountry, though there are drop camps available for those seasoned hunters who prefer to work alone.

The lodge provides the modern amenities that we all desire while enjoying the scenic wilderness. Just one mile from Idaho's Frank Church River of No Return Wilderness, the Deadwood Lodge provides the most scenic and pristine of views. Enjoy a wood-fired hot tub and admire Mother Nature at the same time.
Idaho Hunting Guides And Gears|Juniper Mountain Ranch | Terreton, ID
(208) 680-4586 or (208) 663-4585
Website | Facebook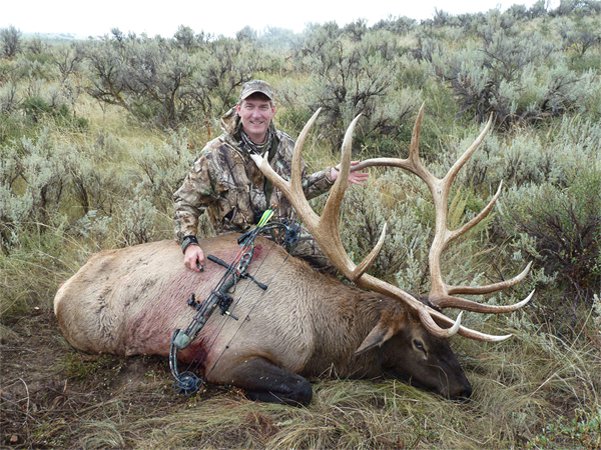 Featuring a stunning lodge with spacious bedrooms and modern accommodations as well as home-cooked meals, Juniper Mountain Ranch provides the quiet relaxation of getting away with the unique experience of a guided hunt. The lodge can sleep up to 20 people, includes a full kitchen, washer/dryer, televisions, air conditioning, and a fireplace. You won't want to leave the lodge when you visit.

Juniper Mountain Ranch specializes in Monster Elk and bison hunts across 450,000 acres of forest, BLM, state land, and private land. With the famous Teton Peaks, Centennial Mountains, and Sawtooth Mountains as a backdrop, you will take part in an experience like no other.

Since 2001, Juniper Mountain Ranch has been providing unique bison and elk hunts, resulting in a high-quality and exceptional hunting experience like no other in the area. With each hunt lasting three days, you get to enjoy the beautiful backcountry while partaking in a hunt unlike any other. Hunters keep coming back to Juniper Mountain for the wonderful lodging, breathtaking views, and exceptional hunting.