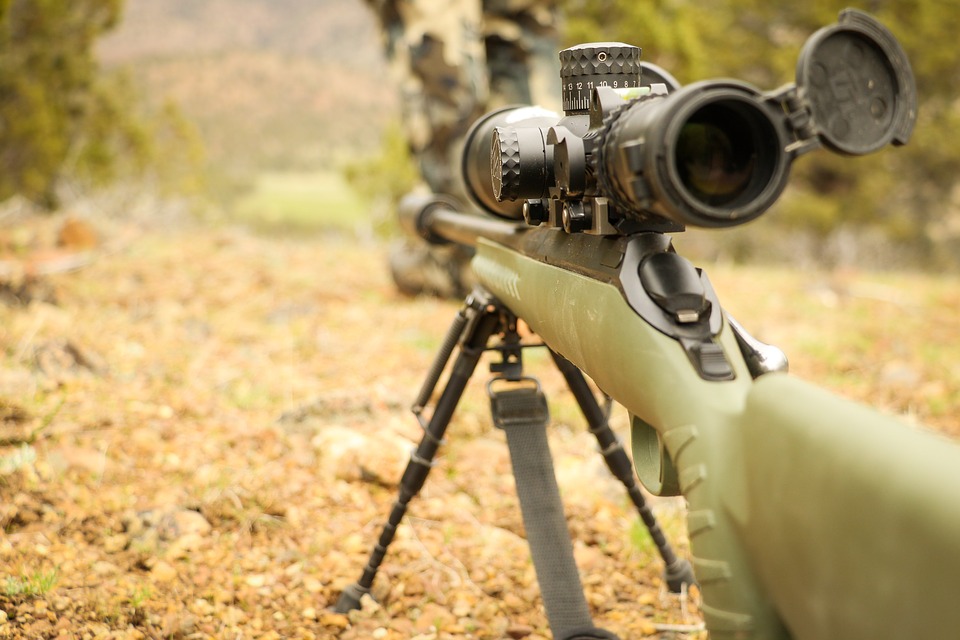 Take A Look At These Top 10 Nevada Hunting Guides For 2020
Nevada provides some of the most scenic and beautiful terrains available in the western United States. From deserts to mountain ranges and everything between, Nevada provides some of the best big game hunting options that you can possibly experience.

But even if you are a seasoned hunter familiar with the Nevada landscape, a veteran guide can only improve your overall experience. It is important to find a guide that is knowledgeable and friendly who will provide you with the hunting experience that gives you the best bang for your buck.

But which guides in the state of Nevada are the best ones to consider for your next guided hunting experience? This comprehensive list will provide you with the best options available.
Nevada Hunting Guides|Bull Ridge Guide | Ely, NV
775-296-1054
Website | Facebook | Instagram
For the past 18 years, Bull Ridge Guide Service has been providing their clientele with the best hunting knowledge available in the state of Nevada. To illustrate the level of expertise offered by Bull Ridge Guides, they have taken five state records in Nevada. They know what it takes to give hunters the best possibility to harvest a once-in-a-lifetime animal.

Bull Ridge Guide offers a multitude of hunts for a multitude of animals. They offer deer, elk, antelope, mountain lion, all sheep, predator hunts, as well as scouting trips. They also offer 3, 5, 7, and 10-day hunting trips that are one-on-one.

It is important to know that your guide is doing the best they possibly can to ensure that you have a memorable and enjoyable hunting experience. That is why it is imperative to follow their lead and expertise. They are trained and their knowledge is precisely why they are guiding the hunts. They value safety above all else, putting your life and theirs above any potential trophy hunt.

Unlike most of the other guides available in the state of Nevada, Bull Ridge has a comprehensive selection of merchandise to commemorate your trip. Hat patches and hoodies, skull shirts and antler shirts, hats and stickers. Whatever you could want to commemorate your eventful hunt, Bull Ridge has available.

Bull Ridge's team consists of 16 guides that are all seasoned and experienced in the way of the hunt and know the terrain of Nevada like few others. There are enough guides to keep you, your friends, or your corporate retreat accounted for and enjoying the experience any time that you visit.

The testimonials from those who have hunted with Bull Ridge Guides can more than speak to the quality and excellent experiences that are provided each time a guided hunt is needed.
Nevada Hunting Guides|Cottonwood Guest Ranch | Wells, NV
(442) 275-0593 (775) 472-0222
Website | Facebook
The Cottonwood Lodge is a beautiful ranch-style lodge that makes for an excellent getaway. Offering luxurious lodge rooms with private baths, a bunkhouse bedroom, and other sleeping options, there will be room for you and yours regardless of the size of your party.

The lodge features spacious guest lodging with ample room, a reading area, a computer desk with high-speed internet, a dining area, private bathrooms, extensive outdoor decks, a separate recreation room with a pool table and big screen television, an outdoor hot tub, and free Wi-Fi. That incredible list of amenities alone is enough to want to make you to bring your family and friends on your next trip.

In addition to guided hunts, there are ranch activities available. This includes arena games, horseback riding, roping, fishing, birding, arrow head hunting, photography, pool table, hot tub, nature walks, and much more. There are enough activities that you'll need to come back time and again to partake in everything.

As for the hunting options, you can partake in a rifle hunt or an archery and muzzle-loader hunt for elk, mule deer, pronghorn antelope, mountain lion, bighorn sheep, and others. The dates will vary based on the hunting seasons and the Cottonwood Lodge will act as the base camp. Enjoy the ultimate comforts and delicious meals each day to rest and recharge or prepare for the day of hunting.

There is also an RV park with full hookups and Wi-Fi as well as the ability to accommodate several more rigs with partial hookups (those include water & electric) outside of the RV park. Literally everything you could possibly need or want is covered in some way by Cottonwood Guest Ranch. Your next hunting experience will be an unforgettable one when you use Cottonwood Guest Ranch.
Nevada Hunting Guides|Mountain Man Outfitters |   Winnemucca, NV
(775) 421-HUNT (4868)
Website | Instagram
Mountain Man Outfitters offers a litany of trophy hunting options. Be it pronghorn antelope, mule deer, bighorn sheep, elk, waterfowl, upland game hunts, or predators, you will have the best opportunities to score that big trophy animal that you have always been dreaming of.

Started in 2008 by master guide Michael John Jurad, who was licensed as a sub-guide for four years prior, Mountain Man Outfitters provides unique and comprehensive guiding on the kind of hunts that you have been dreaming all of your life about. Michael is as familiar with the Nevada terrain as anyone and can provide the best hunts possible.

Combined with Michael, the other guides have a total of 120 years of experience hunting in Nevada. Their experience is second to none and they offer the best guiding service in the state of Nevada. They hunt for your tags as if they were their own personal tags.

Mountain Man Outfitters provides guided hunt packages with one or two guides that include pre-season scouting, field transportation, caping, boning, packing out game, a seasoned, professional guide, food, and lodging.

If the services offered by Mountain Man Outfitters weren't enough to convince you that you should plan your next guided hunt with them, the testimonials surely will. Satisfied hunter after satisfied hunter have proclaimed Mountain Man to be an exceptional hunting service. They praised the service, amenities, and hunting experience as second to none.

Mountain Man Outfitters provides a level of experience in their guides that can't be matched and each guide will work diligently to provide the exceptional hunting experience that you desire. Mountain Man Outfitters is one of the best in the business when it comes to guided hunts and it is hard to find a better experience than the ones they provide.
Nevada Hunting Guides | High Desert Outfitters | Lamoille, NV
(775) 738-4082
Website
Nevada High Desert Outfitters is located just 20 miles southeast of Elko, near the scenic town of Lamoille right at the base of the rugged, high-rising Ruby Mountains. In operation since 1997, Nevada High Desert Outfitters is a family-run business that has a deep, vast knowledge of the Nevada terrain.
Nevada High Desert Outfitters offers a number of comprehensive hunting packages hunting trophy animals across the state of Nevada. You can hunt for mule deer, elk, sheep, antelope, goat, cougar, turkey, and snow cock among others.
Specializing in mule deer hunts, Nevada High Desert Outfitters helps each hunter capture the well-known mule deer throughout the state. Hunting in the areas in the Fall, their staff also scouts the units during the summer to find the best bucks possible for their clients.
They offer a special draw for hunters who plan to go along on a guided hunt. The special draw increases the chance of drawing a tag substantially. They have hunting options for everyone across the backcountry, from a relaxing rifle hunt to sleeping in a comfortable cabin.
Nevada High Desert Outfitters offers summer pack trips as well. The Ruby Mountains and East Humboldt wilderness is comprised of a Narrow Range of Mountains sixty miles in length and about fifteen miles in width. These mountains are very scenic and beautiful, packed with a variety of hanging valley canyons, towering peaks, alpine lakes, mountain streams, and year-long snow fields. The scenery alone is worth the price of the guided hunt and will stay with you for a long, long time.
This region also supports rocky mountain bighorn, mountain goat, sage grouse, Hungarian partridge, blue and rough grouse, numerous birds of prey, chucker, and quail. Anything that you can think of in these mountainous terrains, Nevada High Desert Outfitters can help you capture that trophy animal.
Nevada Hunting Guides |Timberline Outfitters Guide Services | Ely, NV
(775) 296-0600
Website | Facebook
All hunts with Timberline Outfitters includes transportation, guiding service, trophy care, and the packing out of your animal. Additionally, lunches are provided while out in the field, though hunters are responsible for their own lodging and meals otherwise. Timberline Outfitters is happy to provide a list of hotels, motels, and restaurants in Ely. Keep in mind that there are hunt camps available for a fee.
Each of the booked hunts offered by Timberline outfitters is guided by devoted, knowledgeable guides. Each guide has spent countless hours scouting and filming the terrain in order to provide the best chance at a trophy-caliber animal.
Licensed, insured, and permitted BLM and USFS guided hunts in NDOW Region 2 are available for mule deer, rocky mountain elk, pronghorn antelope and mountain lion. These hunts are tailored to be as enjoyable as possible while providing the best chance at a trophy animal that you covet.
Despite being fairly difficult to draw a tag for them, the mule deer in Nevada are highly-coveted and one of the areas in which Timberline Outfitters specializes. The average buck is nearly 170 inches around, a massive trophy of your experience.
Timberline Outfitters Guide Service provide one-of-a-kind guided hunts that will maximize the hunting experience and leave you with an enjoyable experience that you will remember for a long, long time. Be sure to get in as early as possible for these tag draws so that you can get your hunt planned.
Nevada Hunting Guides|7L Outfitters | Ursine, NV
(775) 962.1998
Website | Facebook | Instagram
7L Outfitting and Guide Service was started to provide a first-class guided hunting experience. These guided hunts are for deer, elk, desert bighorn, antelope, mountain lion, predator hunts, and also provide a variety of wing shooting opportunities. Our guides are as familiar with the southeastern Nevada and southern region of Utah terrain and can provide a customized hunting experience that is second to none.
7L Outfitting is family-run and based out of Eagle Valley in Lincoln County, Nevada. These guides have been hunting and scouting in Nevada for years and provide a customized hunting experience that is tailored to you and your hunting desires.
Lodging is provided as a base camp consisting of trailers and wall tents. Food is prepared on open fires and dutch ovens to provide each hunter with an unforgettable experience where it relates to outdoor cuisine. There is no experience quite like a night under the stars in the clear country air to bring hunters back year after year. That scenic beauty is worth the price of the guided hunt alone.
Specializing in elk and bull elk hunting, 7L Outfitting provides rifle, archery, and muzzle-loader hunts based on the season. The latter two are during rutting season, providing the hunter with the opportunity to harvest a trophy bull elk while rifle hunts are in October and November. All packages run from five to seven days, provide a one-on-one hunting experience, includes food, lodging and transportation during your hunt.
Most importantly, 7L Outfitting provides a specialized hunting experience that is designed specifically to your special needs and wants so that your experience is unique to you. You will never forget the hunting experience provided by 7L Outfitters because they take special care to provide that memorable experience for each hunter that uses their services.
Nevada Hunting Guides|Borrego Outfitters | Hawthorne, NV
(775) 560-2346
Website
Borrego Outfitters is a professionally guided hunting service that is licensed in Nevada as Master Guides and permitted by federal land agencies. They are dedicated to quality bighorn sheep hunting adventures and their goal is to provide each hunter with the best possible opportunity to harvest a trophy-class ram. Because of these guided services, their clients have taken many rams qualifying for the B&C record book throughout the years.
Borrego Outfitters has a vast wealth of experience from years of scouting and hunting the Nevada terrains. They are familiar with the landscape and have been hunting trophy rams for several years. This allows them to provide the kind of guided hunting experience that will leave a lasting and memorable impression that you will not forget for years.
Taking each hunter through the beautiful and scenic Nevada landscapes are enough to make any hunter enjoy the experience. But thanks to each guide's plethora of experience, your chances of getting a world-class ram are exponentially increased.
For your next bighorn ram hunt, you should definitely consider Borrego Outfitters. Each of their guided hunts are tailored to make them one-of-a-kind to each hunter.
Nevada Hunting Guides|Classic Diamond Guide | Eureka, NV
(775) 318-0366
Website | Facebook
Specializing in mountain lion, mule deer, elk, and antelope, Classic Diamond Guide Service provides a unique and customized hunting experience throughout the Nevada terrain.
Hunting Mountain Lions is what Classic Diamond prides themselves on and they do their best to make sure that no two hunts are ever the same. The guides know that hunting mountain lion can be physically and mentally challenging and the guides will work diligently to make that hunting experience a special one.
Because of their mobility, mountain lions can be caught on the valley for or on the highest and most dangerous peaks. Classic Diamond demands that clients be ready for the physical and mental endurance that is required to hunt these majestic animals. They use the finest dogs in the industry, the backbone of a quality hunt. A mountain lion hunt is unique and challenging but one of the most rewarding hunts available.
If hunting a trophy mule deer is more your speed, there is no need to look farther than Nevada. Spectacular mule deer turn up every year across the state but because the draws are limited, it can be difficult to get in on the hunt unless you apply in a timely manner. Applying through the guided draw increases the odds of you getting a prestigious tag. Classic Diamond aims to help you in any way possible to participate in that rare, elusive hunt that will leave lasting memories.
The elk offered in Nevada are like no other. Like hunting mountain lions, harvesting trophy elk can be mentally and physically challenging. It can be difficult to find these elk if you are not familiar with the region. That is where our guides come in. They have surveyed and hunted these lands for years and know the best places to find trophy elk, providing you with that landmark hunt that will leave you with a story to tell your friends for the rest of your days.
Nevada Hunting Guides|Hidden Lake Outfitters | Ruby Valley, NV
(775) 779-2268
Website | Facebook
A family owned and operated business that has been around for over 30 years, Hidden Lake Outfitters is a guided service nestled in the Ruby Mountains in Northeastern Nevada. These guides are life-long Nevadans and there are few outfitters that are able to offer the expertise and skill that Hidden Lake Outfitters offers.
Their goal is to make your experience as enjoyable and unique as possible. Offering a variety of hunts from mountain lion, rocky mountain elk, mule deer, game bird, and all other Nevada game, Hidden Lake Outfitters can provide that unique hunting experience for any animal that you could possibly desire. Their guides have experience across the terrains of Nevada that few others can rival.
Hidden Lake Outfitters is one of the few outfitters in the world that offers hunts for Himalayan Snow Cock along with blue grouse, chucker, and all other Nevada upland game birds. Though they hunt primarily in area 10 and 6, they are licensed and able to guide nearly state-wide. They also offer fishing, photography, camping trips, and general trail rides.
There are two hunting options that are offered. The first entails a base camp that is located high in the mountains. Each hunt is guided through the peaks on horseback as you and your guide search for your trophy animal.
The second hunting option is a drop camp into the secluded areas in the Ruby Mountains. Hunters are taken to and from their camp site, though they will need to furnish all of their gear as well as their own meals. This is for more seasoned hunters who are familiar with the Nevada terrain. The guides are there for a reason – to provide the best hunting experience possible and you are more likely to enjoy your experience with that level of dedication and experience behind you.
Hidden Lake Outfitters is one of the best outfitters and guiding services in the state of Nevada. They will tailor their guided hunt to fit your goals and desires, making for a truly one-of-a-kind hunting experience that you will not soon forget.
Nevada Hunting Guides|The Head Master | Reno, NV
(775) 323-9090
Website
The Head Master is run by Sean Shea, who was born and raised in northern Nevada. He has had a passion for the outdoors that was instilled in him at an early age, hunting and fishing with his grandfather. His passion has endured throughout the years thanks to the support of his family.
Prior to working as a guide, Shea worked as a research biologist for the federal government for 23 years. Since 1998, he has owned and operated The Head Master, Inc., providing taxidermy services for a limited number of clients as well as guiding throughout the state of Nevada.
Seasoned in tracking and hunting throughout Nevada, Sean provides a personalized and unique experience in outfitting and guide service. Hunting in the northwest region of Nevada, the terrain varies from rim rock lined sagebush flats to higher sagebrush bowls, from mountain mahogany to pinion Jupiter ridges. This portion of the state produces many Boone and Crocket, Pope and Young, and Nevada Wildlife Record Book records each and every year.
For a limited number of clients, taxidermy services are also offered. Their studio values quality over quantity and work diligently to get these animals back to you as soon as possible looking as they did before the hunt. Be it a custom life size with an unusual pose, a beautiful habitat scene, a pedestal mount or a shoulder mount, The Head Master can handle all of your taxidermy requests so that you can have those special memories standing right before you in your home or office.