Everything You Need to Know About Canvas Best Hunting Tents Today!
Canvas hunting tents on the side of the road are a common scene during the hunting season. Hunters love the durability, comfort and the space that these Canvas's offer. You can spend all day searching the web trying to find everything you need to know about hunting tents. There is no shortage of tent information available online and it can be overwhelming searching through all the sales jargon to find the real jewels of knowledge. Hunting is man's oldest profession and one of the best ways for friends and family to enjoy the great outdoors. If you are getting into hunting as a sport or have hunted your entire life, you will undoubtedly want to invest into a quality hunting tent.
Canvas tents allow you to extend your hunting trip over night and a good hunting tent can withstand years of use. It is important to consider the type of area and season you will be hunting. If you live in an area that is known for having hot weather, you are going to want to look for a tent that is well suited for that weather. A summer tent will have better ventilation than a winter tent. These tents can even have the ability to completely separate the roof from the floor giving you a full panoramic of your area.
A summer hunting tent should have some form of moisture protection on its canvas to keep it from absorbing rains and molding. Manufacturers have started to get very creative with the materials they are using to create tents and today, you can purchase a hunting tent made from canvas, polyester, or many other specialty fabrics.

Winter Hunting Tents
Winter hunting tents are designed to keep you warm in the cold weather. They are usually constructed with thicker canvas than their summery friends and because of this, they can weigh a bit more. These tents can have added features such as stove vents that allow you to control the temperature with more accuracy.
All-Weather Hunting Tents
All weather tents can be a great way for you to get all year hunting in without having to purchase multiple hunting tents. Cotton canvas tents can be great in all weather as they allow for the maximum breathability in the summer. Canvas tents can also trap your body heat during the winter, making them alight alternative to winter specific tents.
Truck Tents
Truck Tents are another style of tent you may want to consider. These tents are designed to fit into the bed of your truck and transform your truck bed into a living space. This is a sweet option to have if you own a pickup and it allows you to have access to your truck electricity if needed. Truck tents can require 2 people to install so you should consider this prior to making your final decision. Storing all this equipment before putting it up at the campsite could require some additional security to ensure that it's all kept safe. Perhaps something like a truck bed cover from Peragon (see here – https://www.peragon.com/shop/covers/Dodge/Ram%201500) could be the ideal solution for this.
Tree Tents
Tree tents are fairly new to the industry but they have been hailed as a great option for people living in rough terrain. A tree tent works by a suspension system that is attached to 3 trees. Once attached to the trees, you simply tighten the suspension to raise your tent. If you are hunting in a jungle area this is a great option to consider.
Know Your Weather
A true outdoorsman does their homework. You don't want to get a tent that is not prepared to handle the weather in your region. This can make your trip uncomfortable and in very harsh conditions you could end up freezing. Always be prepared and pack for your trip accordingly.
Hike It Up
Once you get accustomed to the outdoors, you will be ready to make some multi-day trips via hiking. This isn't for everyone and if you don't know how to navigate, you can end up getting lost. A tent that is extremely portable is your best option. You don't want to get fatigued before you even start setting your tent up.
Quality over Quantity
It is always better to choose a tent that is designed to last. Not sure if a tent is designed to last? Simply check the warranty length. Tents with a lifetime warranty are more expensive but not because of the warranty. It is usually because they are constructed from much better materials.
Reputable Brands
You are going to have a better chance of getting a quality product from a reputable manufacturer versus a new manufacturer. While the internet is flooded with a variety of hunting tents, most are not able to withstand years of use without faltering. Luckily we took the work out of your search and found the most reliable tents in the industry. Below is a list of hunting tents that have proven themselves worthy of the title "The Best Hunting Tents for Your Money"
Kodiak Canvas Flex-Bow 4-Person Canvas Tent – Deluxe Model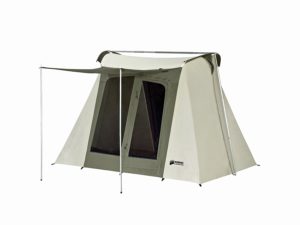 The Kodiak Canvas Flex-Bow 4-Person Canvas Tent features a rugged 100% cotton duck canvas that can withstand the harshest conditions without failure. This unit includes added protection from the moisture by incorporating Hydra-Shield technology making this unit both waterproof and breathable.
This tent provides you with a 6'1″ ceiling, making it very comfortable to move around in. Dual D-shaped doors provide you easy access and loading to your tent. The dimensions of this tent are 9′ x 8′. When fully packed you have a 24″ x 13″ backpack. This is very easy to manage as you traverse the wild. This unit is designed to be transportable with the entire pack, including 6 pounds of stakes, weighing in at just 54.5 pounds.
Another awesome feature this unit incorporates is the use of No-See-Um Mesh. This allows you to enjoy your privacy without having to close your mesh windows. This is great addition and it takes away the usual problem of mesh being to see-thru. It also allows this tent to feature four large windows to give you the ultimate ventilation while in the wild. On a hot summer night, this added ventilation makes a huge difference in your comfort levels. There are also two additional Funnel-Flow vents that are perfect for when the rains hit your campsite. You can stay comfy regardless of the weather in this tent.
Pros
100% Cotton
Hydra-Shield
6'1″ Height
#10 YKK Zippers
Two Funnel-Flow Vents
Cons
Flooring Smells Like PVC at First
OUTSTANDING FEATURES
This excellent hunting tent can withstand years of abuse and keep you comfy when you are far from home. This unit includes a limited lifetime warranty. Whether you are braving the wild or going for a peaceful weekend with the family, this is a tent that won't leave you fraught. The added ventilation and moisture proof canvas material, makes this a smart buy for anyone looking to get a quality canvas tent.

Kodiak Canvas Flex-Bow 6-Person Canvas Tent – Deluxe Model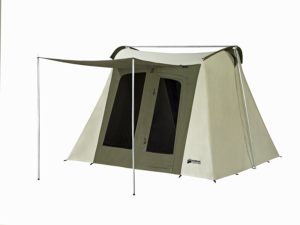 Kodiak Canvas Flex-Bow 6-Person Canvas Tent gives you the perfect combination of comfort and durability. This unit stand 6'6″ tall, giving you adequate headroom to move about freely without feeling restricted. If you are a little taller, you will appreciate the added head space. This tent has 10′ x 10′ base making it roomy enough for six people.
This an extremely durable canvas tent that features a 1″ galvanized steel tubing frame that can handle high winds and heavy rains without a problem. Durability is further increased in this model by the addition of 3/8″ solid spring steel Flex-Bow rods. The canvas of this model is constructed from a puncture-resistance 100% duck cotton that can handle accidental pokes and cuts without tearing. This canvas is tightly weaved and the floor is seamless. This keeps this hunting tent waterproof even in wet conditions. This canvas features a Hydra-Shield coating to give it even more moisture protection and unlike the competition, you stay comfortable regardless of the weather.
This model can be carried to your favorite camping spot. The total weight of this unit is 68 pounds. This is included heavy-duty tent stakes that are designed to keep your tent in place, even in high winds. Dual awnings give you added protection from the rain and sun. Two funnel-shaped ventilation shafts give you the option to increase your airflow without opening the giant mesh windows. This unit has two large D-shaped windows that when opened give you unmatched ventilation as well as the ability to monitor your surroundings without being seen. The mesh used in this tent is specifically designed to increase your privacy without reducing your ventilation
Pros
Watertight
Breathable
100% Cotton
#10 YKK Zippers
4 – Large Windows
Tunnel Flow Vents
OUTSTANDING FEATURES
Kodiak Canvas tents are among the best canvas tents available on the market. This manufacturer has proven themselves to be a reliable source for hunting and camping tents and this unit is no exception to that legacy. A limited lifetime warranty is also included with the purchase of this large 6-person tent. This is a great buy if you are in the market for a rugged 6-person tent to add to your camping gear.

Trek Tents – 245C Cotton Canvas Cabin Tent, 9 x 12 Feet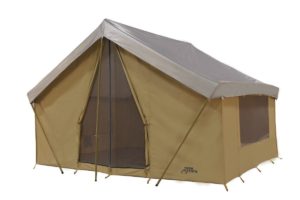 Trek Tents 245C Cotton Canvas Cabin Tent can withstand harsh rains thanks to its heavy-duty vinyl coated canvas floor and 100% cotton walls and roof. This unit gives you extreme breathability without sacrificing any durability. The extra thick floor is designed to withstand years of foot traffic without ripping or tearing, so you can place your tent on rough terrain without worry. This is a large tent measuring 9′ x 12′ at the base.
Getting in and out of your tent is made easier by the use of extra-wide double doors. This helps with loading and unloading as well. Three extra large screen windows let the air in while keeping the pests out. This unit utilizes a heavy-duty mesh that is puncture resistant and includes zip rain flaps that can be closed to provide additional privacy. This is a great feature that lets you get more use from your tent.
This unit features a rugged 1″ powder coated steel frame with chain-linked poles that can hold the weight of the tent plus additional hanging lights and such. There is plenty of room for people and gear and there are even interior sewn in pockets to help keep you organized while out in the wilderness. The set-up of this unit is easy and can be completed in around 10 minutes. Once set up this unit has a no-sag look that adds to the sturdy feel this canvas tent possess.
Pros
Vinyl-Coated Canvas and Floor
Wide Front Screen
Zip Rain Flaps
Powder-Coated Steel Frame
Durability
OUTSTANDING FEATURES
This is the perfect tent for a medium-sized hunting party or family. You can stay safe and secure in this canvas tent without having to worry about a difficult setup or tear down. Trek Tents are known for their quality materials and this unit keep up to their promise.

Kodiak Canvas Flex-Bow Deluxe 8-Person Tent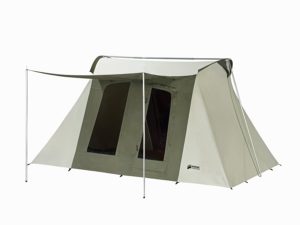 The Kodiak Canvas Flex-Bow Deluxe 8-Person Tent features a spacious 6'6″ ceiling height that makes it ideal for anyone over 6′ tall and looking to move about their tent with ease. This unit features a moisture resistant canvas that can take heavy rains without leakage. This unit utilizes patented Hydra-Shield technology to lock moisture out while allowing the tent to remain breathable.
If you need more ventilation, you have a couple options to suit your needs. Two large D-shaped doors feature large mesh windows that when opened give you excellent ventilation. These windows feature a special privacy mesh that allows you to see out without letting others see in. There are additional funnel vents that allow you to continue to get ventilation even in scenarios where the rain is falling heavy enough to require you to seal the mesh windows.
This unit has a base size of 6'6″ and a pack weight of 79 pounds. The stakes that come with this tent are high quality and they weigh around 6.5 pounds. The pack is 30″ x 16″ and can fit into any standard trunk. Both the tent and pack are high quality and this unit includes a limited lifetime warranty with purchase, so you can protect your investment.
Pros
Hydra-Shield Protection
100% Cotton Duck Canvas
6'6″ Tall Ceiling
D-Shaped Doors
Privacy Mesh
2 Funnel flow Vents
Cons
Walls Angle in as They Rise
OUTSTANDING FEATURES
This is an extremely rugged canvas tent is so well crafted that it is sure to be the last tent you ever need to purchase. This is a serious hunting tent that can keep you protected in the wilderness.

Kodiak Canvas Truck Bed Tent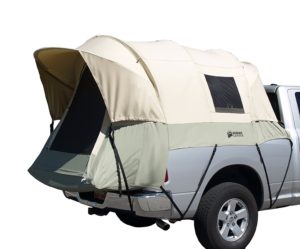 The Kodiak Canvas Truck Bed Tent features an innovative design that transforms your truck bed into the perfect sleeping quarters. Get the most out of your truck with this tent conversion kit. Your truck bed can provide you better protection against pests and water damage. This tent is a must if plan on camping in an environment that experiences heavy rainfall. Keeping you high and dry is priority number one for this tent.
No other tent on the market can provide you the mobility you get with this unit and during the winter months, this unit can provide you with added protection from the harsh winter winds. The walls of your truck bed provide excellent protection against strong winds. This is a great way to get the most out of your pickup.
The setup for this tent requires two individuals and can be done in less than 20 minutes. Once the tent is setup it can handle heavy rain and winds without failure. This tent is designed for full-sized truck beds, so be sure to reference your owner's manual to ensure you have a full sized bed. This unit features a heavy-duty canvas that can keep moisture out while allowing the inside of the tent to remain well ventilated.
Pros
Durability
Ventilation Windows
Privacy Mesh
Cotton Canvas
Breathability
OUTSTANDING FEATURES
This unit is a smart idea that is sure to become more popular as people become aware of all the advantages this type of setup offers. The quality of the construction is excellent and the durability of this tent is high. This is a smart buy for any full-sized pickup owner looking to get in some of the great outdoors.

Kodiak 1-Person Canvas Swag Tent with Sleeping Pad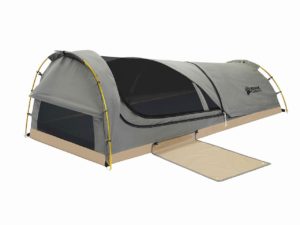 The Kodiak Canvas 1-Person Canvas Swag Tent includes a 2″ thick sleeping pad. This is a roomy 6'8″ tent that can keep the tallest person safe and protected. The sleeping pad features a flannel covering that is washable and adds to the durability of the pad. This tent is 3′ wide so you have plenty of room to sleep and keep your gear safe. This the perfect single person tent for anyone serious about their outdoorsman-ship.
Zipper windows are located at the head and foot of this tent providing you with excellent circulation. If you need more ventilation, the top of this unit completely unzips and reveals a screen shelter. The canvas of this unit is coated with a moisture protection Hydra-shield that can withstand heavy rains without leaking. If you hunt in areas prone to heavy rain, this is a great tent for you to invest in.
This hunting tent is designed to be easy to set-up and the entire process takes less than 15 minutes to complete. This tent has been designed to be transportable as well. The total weight of this unit is 17.5 pounds, so you can take it with you on all of your outdoor adventures. Also a compatible cot is available for an additional cost.
Pros
Roomy
6'8″ Long
Zip-open Windows
Great Ventilation
Screen Shelter
100% Hydra-Shield
OUTSTANDING FEATURES
This tent is perfectly designed for a single person who is looking to get some quality time in the great outdoors. This unit can withstand harsh weather without tearing or leaking and the quality of construction is excellent. This is the kind of tent that is sure to last you a lifetime.

Trek Tents – 246C Cotton Canvas Cabin Tent, 10 x 14-Feet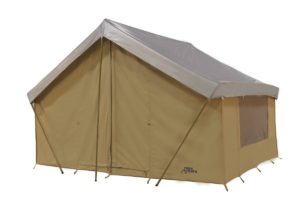 The Trek Tents 246C Cotton Canvas Cabin Tent is designed for around the year use. The heavy moisture resistant canvas is perfectly designed to repel rain and mists. A heavy-duty vinyl coating provides this protective shield. The canvas of this unit is tear and rip resistant as well, so you don't have to worry about accidentally poking a hole in your canvas hunting tent.
When it comes to ventilation this tent has many options for you to enjoy. Three extra large screen windows open via heavy-duty zippers. The screen used in this tent provides privacy as well protection from bugs and other pests. The front door features wide screens as well. When all the screens are open, you get a clear breeze throughout the entire canvas tent. The entire tent is also CPAI – 84 Fire Retardant compliant, this is a huge plus that can save your life in certain situations.
A powder-coated steel frame provides excellent stability and can withstand high winds and rains. These chain-linked poles are easy to assemble and the entire set-up can be done in under 20 minutes. This unit features a "no-sag" appearance thanks to the use of sleeve pole tunnels. There are sewn-in pockets to help you organize your gear and keep the most important stuff within arm's reach. Flashlights, glasses, and your cell phone can all fit into these pockets no problem.
Pros
3 Extra Large Screen Windows
Wide Front Screen Doors
Zip Rain Flaps
1′ Diameter Powder Coated
SCPAI – 84 Retardant Regulations
OUTSTANDING FEATURES
It is hard to compete with the quality and reliability this hunting tent brings to the marketplace. This is the type of tent you can hand down to your children and if you are a serious outdoorsman, this is the smart choice for you.

13 X 16 Canvas Wall Tent & Angle Kit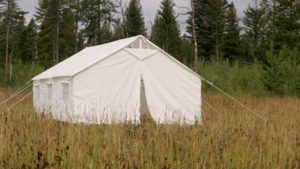 The Canvas Wall Tent & Angle Kit utilizes a polyester canvas that will not shrink or mold like traditional cotton canvases. This intuitive material is well suited for the outdoors and can repel moisture better than cotton. This specially designed canvas is also tear and rip resistant, so you are sure to enjoy this hunting tent for years to come.
This tent is packed with intuitive features such as a Stove Jack and double layered fabric on the corners to increase strength. This unit is 13′ x 16′ wide, so you can fit your gear and others without a problem. This unit also features Eve openings as well. You can get great airflow and enjoy better lighting with these openings.
You will need to purchase EMT conduit from home depot or a pole set from elk mountain as the poles are not included with the purchase of this tent. Most tents in this price range and quality do not include as many windows and the angle kit, so this tent is a real bargain. This hunting tent is easy to set-up once you have your electrical conduit frame in place.
Pros
6 Windows
Stove Jack
Sod Cloth
Eve Opening
20 Angle Pieces
OUTSTANDING FEATURES
If you need a sturdy tent that gives you the option of using a stove inside, this is the best tent for you. This tent is perfectly suited for the elk hunters needs and you are sure to be satisfied with the quality of materials used in the construction of this unit.

DANCHEL 4-Season Cotton Bell Tents (10ft 13.1ft 16.4ft 19.7ft Dia. size options)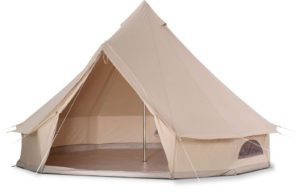 The DANCHEL 4-Season Cotton Bell Tents is made from 100% cotton fabric that has been specially coated with a moisture resistant material that locks out the rain and dew. This tent comes in a fashionable khaki color that helps it to blend into a wide variety of outdoor scenarios.
This hunting tent gives you a wide angle of view to survey your surroundings with ease. There are 4 windows and the bottom of the tent can be rolled up to give you a full 360% view of the area around your tent. There is also a large door that comes in handy when you are loading and unloading this unit. This is an awesome feature that lets you get back to hunting quicker.
This hunting tent is designed to withstand harsh weather including snow and rain without failure. The cotton canvas allows your tent to breath in the summer and retains the heat in the winter. There is also a stove jacket that can give you the option to cook and stay warm in the winter months without leaving the comfort of your tent.
Pros
150 mm Waterproof
360% view
Roll Up Bottom
1-year Warranty
Cotton Fabric
Cons
Heavy Rain Can Be Problematic
OUTSTANDING FEATURES
The unique styling and features this canvas tent offers makes it a great buy for anyone looking for the perfect hunting tent. You can't beat the full 360% view and the color blends seamlessly with most environments.

Browning Camping Big Horn Family/Hunting Tent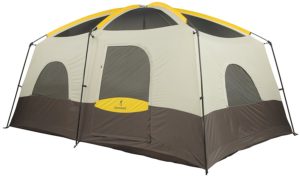 The Browning Camping Big Horn Family/Hunting Tent features lightweight fiberglass poles and steel uprights that provide your tent with excellent support even when the winds start to kick up and blow hard. This unit is designed with your comfort in mind. This is evident by the extra tall center. There are also straight sidewalls that help to give you a roomier feeling when inside of your hunting tent. It can also give you more room to stack or hang your gear.
There are two large entry doors that can be used to load and unload this unit with ease. This unit features a dual-room design, each with its own entrance. These doors also feature large mesh zipper windows that can be opened to improve air circulation. This is also for airing out your tent and getting the fresh breeze inside.
A gear loft and mesh storage pockets help to keep you well organized while you enjoy hunting or camping trip. These pockets are perfect for keeping your most important gear and small electronics that you may not want on the floor of your tent.
Pros
Fiberglass Poles
Lightweight Design
Dual Rooms
Mesh Storage
Gear Loft
OUTSTANDING FEATURES
This is a unique tent design that lets you and a friend enjoy the privacy of a separate tent while keeping your travel load down. This unit is competitively priced and able to be transported with ease. You are sure to enjoy hunting with this quality hunting tent.

How to Choose the Best Hunting Tent
Learning how to choose the best hunting tent is an essential part of becoming an official outdoorsman. The internet is flooded with no-name brands and new manufacturer's that all claim to be the latest and greatest addition to the hunting tent market. Sadly, this is not the case and you can expect to have to do some research in order to choose the perfect hunting tent for your needs.
Hunting tents come in a variety of different shapes, sizes, and materials and depending on your hunting style, one may be better suited for your needs. There is no such thing as a one-size-fits-all hunting tent and only after careful consideration can you choose a tent that can fit your needs perfectly. Below are some key points to consider prior to making your purchase.
Sleeping Capacity
You will need to consider how many people you must accommodate with your hunting tent. Don't forget to consider the amount of gear you will be hauling as well. The sleeping capacity of a tent is also known as its berth. You should always try to get one size over the amount you need to accommodate your packs and additional gear.
For example, two hunters can fit all of their gear and sleep comfortably in a tent that has a birth sized for 3 people. Depending the amount of gear you require, a two-person tent may not be the best option for two people. Consider this, when deciding on the size of tent to purchase. Just as a deer blind can easily get crowded, so can a tent.
Seasonality
The season you camp in makes a huge difference in the type of gear you must purchase. The summer months allow you to carry lighter gear with a focus on good ventilation and staying cool. In the winter your payload can be doubled as you now must adjust to dangerous weather conditions such as snow. An all season tent can give you the best of both worlds but may be a bit more expensive than a summer tent. Winter hunting tents are usually much thicker and many feature funnel vents. Many have stove vents. These can be attached to a wood burning stove to give you the ultimate way to stay warm in the winter.
Comfort Levels
This is an important step in finding the perfect hunting tent for your needs. Hunting tents can come in a variety of styles and hunting tents are considered more comfortable than backpacking tents. They are usually more durable and less portable than backpacking tents. Tunnel tents give you excellent wind resistance but lack the height you get from a full sized hunting tent. This can make maneuverability less comfortable and for taller people, a tunnel tent is going to need to be extra long.
Padding can be a great feature to consider when talking about comfort. A good bed pad can make your camping experience so much better by keeping you off the hard and uneven ground. Cots are another great option to consider because they keep you elevated off the ground and away from any creepy crawlers. Combining the two options is the best move as a cot and bed pad can make for quite a comfortable camping experience.
Weather Resistance
Experienced outdoorsman understand that the weather can change quickly and without warning. Choosing a tent that can withstand harsh weather just makes sense. Manufacturers have taken notice to the increased demand for all weather canvas tents and many new models now include a protective coating to reduce the effects of unwanted moisture. You should consider a tent with this type of protection as it is going to give you a better hunting experience if the weather takes a turn towards the ugly.
Canvas Type
There are many different types of canvas materials used in making hunting tents. Canvas tents that are 100% cotton can give you the most breathability. A thick cotton canvas can withstand years of abuse and a quality canvas will be tear and rip resistance. You should consider the thickness of your canvas as well. The thicker the canvas, the more expensive your tent will be. The more your tent will weigh as well. So there is a balance between canvas thickness and how far you plan on transporting your tent prior to installation.
Cotton alternatives are not as strong but have some great benefits worthy of mention. Certain polyesters are excellent for use in the construction of hunting tent canvases as they are 100% mold resistant. A cotton tent can begin to grow mold if left out in the wild for too long. The future of hunting tents looks bright as manufacturers continue to invest in better canvas technology.
The general rule of thumb is, the longer you intend to have your tent erected, the thicker the canvas should be. This makes sense as the weather will tear a flimsy hunting tent to pieces after one good storm.
Pole Material
Tent poles can come in different materials. Fiberglass poles are lighter but unable to withstand the harsher winds that are found in some regions. If you plan on moving allot a fiberglass frame is smart because it is going to reduce your fatigue when moving to your new hunting locations. Steel poles are the best option for someone looking for a professional hunting tent. There will be more weight you must transport but you are going to get a much high resistance to the elements such as high winds and rains. If at all possible, you should seek out poles that have some form of moisture protection. Manufacturers are constantly trying to develop lighter and stronger tent poles.
Some hunting tents do not include poles. Instead, you are provided with measurements for PVC from your local hardware store. This can save you a ton of money but will require you to stop at your local hardware store prior to using your hunting tent.
Portability
This is a huge factor to think about when making your decision. Sadly, there isn't a hunting backpack invented that could carry some of these larger tents. How long will you need to carry your tent? How many times will you be moving your tent per trip? What kind of vehicle do you have? Will you be able to pull your car directly to your camping spot? All of these questions must be answered honestly in order to determine the level of transportability you require. You may find that a full-sized truck bed tent may be the better option for you as it can provide you with excellent protection and maneuverability. The only catch is you will need a truck to use this style of tent.
Camouflage
While most tents come in the traditional beige or khaki canvas colors, manufacturers have also introduced numerous camouflage versions. These can give you an edge in the wild as they can help keep you stealthy. Some tents can function as hunting blinds as well. This is a smart combination as you never know who may wonder upon you campsite in search of a meal. You may want to consider a brighter color tent if you plan on venturing out in areas that can be considered dangerous. This can make you easier to spot in the event you are injured or lost.
Windows
When considering the number of windows you will need you need to take into account a number of factors. Consider the time of year you will be hunting or camping. If you are planning to camp mostly in the winter you will not need a full 360-degree view from the inside of your tent. If you are hunting during the summer months, a 360-degree view can be helpful. And if you still need to see around your campsite, you can always pick up some extra trail cameras. You may also need the extra ventilation if your hunting during the hot summer months.
Zippers
You will need to examine the zippers on any tent you are considering. You are looking for high-quality zippers that do not make a lot of noise when they are in use. Loud zippers can spook away any prey in the area. Quality zippers are important as they will be exposed to the elements and if they are not made from high-quality materials you may have a zipper get stuck or jammed. If you have a zipper break during heavy rains or snow, you may end up having to call your hunting trip short.
Mesh
There are a wide variety of different styles of mesh available to consumers today. No-see-um mesh and other types of mesh that are designed to give you privacy when in use can be a smart decision. It can be a pain closing your windows every time you need a bit of privacy in your tent and this style of mesh can help you to eradicate that problem. You should consider a tear and rip resistant mesh as well. Due to the nature of mesh windows, tears, rips, and pokes are a reality. If you stick to a tear-resistant mesh you are sure to get better results. Next, consider the width of your mesh windows. A good mesh will have very fine holes that prevent all insects from entering but still allow a decent breeze to flow through your tent. The right mesh will keep you properly ventilated while blocking insects from entering.
Warranty length
You should consider purchasing a hunting tent that includes a warranty of some kind. This can help you to better protect your investment and ensure you are purchasing a product that is designed to last. The warranty length can help you to determine the overall quality of the canvas tent you are considering.
For example, a tent that is better quality usually includes some sort of warranty. This is usually 30-days to 1-year in length. If you purchase a tent without a warranty you run the risk of your investment becoming damaged without any recourse. The longer the warranty the better the quality tent. A lifetime warranty is a great indicator that your tent is constructed from durable materials that will last many years.
Budget
Your budget can be a huge factor in determining the type of canvas tent you may acquire. Canvas tents can vary in price greatly. A professional model may cost you well over $500 dollars while a non-professional option can be purchased for around $100 – $500. You should always consider your budget and experience level. If you are new to hunting you may not want to invest that heavily until you are sure this is a sport you intend to continue. Many people use their hunting tent less than 5 times a year. When this is your situation, you can get away with a tent that cost less as you will not be using it extensively. You will also need to consider the other gear you might need while hunting. You may need to purchase a higher priced tent if you plan to keep your tent out for over a week at a time. Some canvas tents are designed to remain up for weeks at a time. These are the most expensive tents on the market due to their extreme durability.
Stake Quality
You must take into account the type of ground you intend to camp on and the quality of the stakes included with your tent. If you are hunting in a rocky or area with thick grounding, you are going to want a tent that has high-quality steel tent stakes. This style of tent can be more expensive but worth the money when you consider your tent blowing away because of cheap stakes. You can save some money if you are planning to use your tent for a weekend at a time in an area that doesn't have harsh weather or grounding. Plastic stakes are lighter and can float if you drop them in water. They will not be able to pierce the harder grounds so be sure to consider your terrain prior to making your decision.
Manufacturer
Not all manufacturers are created equal and due to the increased demand for lower cost hunting gear, many new manufacturers have entered the market with low-cost canvas tent options that may not be exactly what you were expecting. You can avoid a lot of these headaches by sticking to a reputable manufacturer. New manufacturers can sometimes benefit from the ability to present lower quality products at a cheaper price when compared to reputable brands. The desire to save a few bucks can end up costing you your hunting trip. Always look for the perfect balance between quality and cost.
Location
Where you hunt is just as important as what you hunt. If you are hunting in an area that is known for harsh weather conditions you may need to invest a bit heavier in a quality canvas tent that can withstand these weather changes. As some tents do not include their poles, this can give you the opportunity to use thick electric conduit to create a permanent type structure.
How to Choose the Best Place to Set Up You're a Tent
Deterring where to pitch your tent can be frustrating for the inexperienced camper. If you choose the wrong spot, you will surely be spending some of your trip relocating your tent and re-setting it up. Setting up your tent properly is all about location. Where you decide to pitch your tent will determine many factors such as your level of safety and comfort. Use these tips to help you set up your tent perfectly.
Choose Flat Ground
You should always look for flat ground to set your tent on. You may find it very difficult to sleep if you set your tent up on uneven ground. If you don't have a sleeping pad you are going to want to find a spot that is strewn with sand, grass, or dirt.
Once you find a spot that looks like a comfy location, you should rake the area clear of sticks and other potential hazards that may poke through your tent. Stones and tree branches can rip lower quality tent flooring easily and if you poke a hole in the bottom of your tent, you can expect to have a rough night if it starts to rain. Some people like to lay their sleeping bag on the ground prior to their setup to test the comfort level of their location.
Avoid Hills
Setting your tent up on a hill can be a horrible idea. If the weather changes to a hard rain your tent will surely be washed away. It is common for newbie campers to place their tent at the base of a hill. This may seem like a good idea at first because it allows you to get extra protection from winds but it will put you in the center of a lake forming if the rains come in heavy. If there is no way for you to avoid placing your tent on a hill you should follow these steps. Always set your tent up with your head facing uphill and your feet facing downhill. If you set your tent up where you are laying sideways on the hill you have a greater risk of rolling down the side of the hill on accident. You will also roll towards on side of your tent. If you are pressed against your tent wall you are going to get wet because of the condensation forming on your body.
Sun Exposure
It is recommended that you set your tent up in an area that is close to shade. If you place your tent in the direct sunlight you can expect it to get uncomfortably hot in the peak sun hours. Sun damage can cause your tent to fade and become discolored. In some cases, it can cause the material of your tents to become brittle. Most tents will advise a setup in a cool shaded area.
Wind Exposure
Try to find a spot that gives you added protection against high winds. It is always smart to position your door away from the winds. If you face your door towards the wind you may find that you open your tent and it becomes a parachute for a strong gust of wind. High winds can make it difficult to fall asleep as well. A tent flapping in high winds can be noisy and much colder than one properly placed.
Proximity Water
You should never set your tent up directly next to the water. Flash floods can happen without warning and whisk away your entire camping site. You can imagine the frustration you would feel if you returned to find your campsite and gear washed away. Most people consider camping next to water as a smart move since it gives you easy access to an important resource but in reality, you should try to stay at least 100 feet away from running water such as rivers and streams. If you are at a community camping site you may notice that they have banned camping close to the water. This is done to prevent contamination of the waterways.
Forest Camping
Forest camping is by far one of the best ways to experience the outdoors. Camping sites will give you the advantage of preset camping spots that are level and already have fire pits and access to bathrooms and water. When you venture into the forest you lose these luxuries but you gain the freedom and true experience of camping. Be sure to check your grounding before choosing your spot as forests can have numerous different types of soil depending on your location. If you choose a spot with soil that is too soft you may have difficulty setting up your tent properly.
Snow Camping
Camping in the winter can be an entirely different situation. You should never set your tent up near tall snow-covered trees because a strong breeze can blow through and knock large chunks of ice off of the branches. A large piece of ice falling 30 feet onto your tent is going to put a damper on your camping plans and it can create a potential for danger. You should also avoid hills and slope if possible. Avalanches can a do happen without warning. Once you have found a solid flat space. Use your skis or other items to flatten the snow and compact it down until it is a hard flat surface. A 4 season tent can be the smartest move for someone looking to get year round camping fun in. Specialty winter tents are available for people who intend to keep their camping to the winter months.