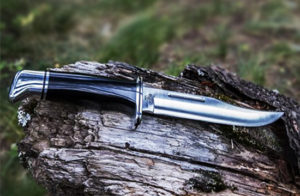 To enjoy the proper hunting experience, there are a number of different things that you need to have on you to ensure that all goes as planned. Having your weapon on you is obviously the most important part of the hunt, but having things like the right blind or the right chair can make the difference between a great time and a simply okay time.
Having a hunting knife on you is particularly important simply because of all the things that the hunting knife can do. Its versatility alone makes it a must-have on any hunting trip so making sure that you have the proper hunting knife can really elevate any hunting experience – whether it be carving through some foliage or opening up your MRE to get some nutrients.
Here is a list of the ten best hunting knives available on the market and the reasons why they can make a hunting trip all the better.
KA-BAR Becker BK2 Companion Fixed Blade Knife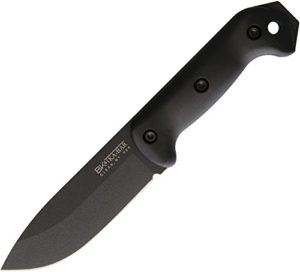 This comes with a hard shell black nylon sheath so that you can carry it with you anywhere and everywhere with minimal issues. The full tang is heavy-duty, allowing the knife to work for everything from camping chores to breaking down an animal with ease.
Great for everything from dicing up camp side vegetables to splitting out kindling to the skinning game, this knife has so many uses that you would have to use it for years to find them all. The comfortable, balanced grip gives you stability when doing these activities so you never have to worry about dropping it.
Pros:
Sturdy black coating




High quality




Great survival knife




Full tang




Razor-sharp
Cons:
The handle has no gripper




Sheath isn't very good
Gerber Strong-arm Fixed Blade

This Gerber Strong-arm Fixed Blade has a rubber grip for the ultimate handling; you will never drop this knife thanks to that sturdy, durable rubber grip. Has a tang with a lanyard hole for easy hands-free carrying as well as a striking pommel.
The blade itself is 9 ¾" in length and it has a black finish stainless standard edge blade that is deceptively sharp and great for many different uses. The construction is highly durable thanks to the glass-filled nylon handle that has the rubber grip over it.
Pros:
Great for survival scenarios




Made of carbon steel




Well-designed




Easy to sharpen




Great price point




Sharp out of the box




Full tang
Cons:
Havalon Piranta Z Folding Blade Skinning Knife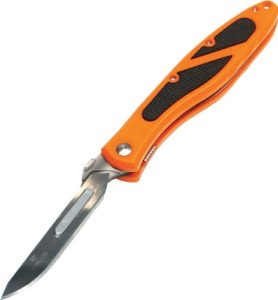 This is one of the more sleek options on the list due to the narrow 2 ¾" blades that are meant for skinning that day's hunt or haul. The blade is also shorter than most at just 7 ¼" but is great for getting into those tough areas far more smoothly than with a larger hunting knife.
The long and wide-grip hand makes for an enhanced level of control and rarely requires sharpening; you can just snap on a new blade when the old one wears down. Extremely popular with taxidermist due to its sharp precision; this is the best knife available for skinning animals of any size as accurately as possible each time.
Pros:
Easy to change blades




Called "best skinning knife"




Has extra blades




Super sharp blade




Lightweight
Cons:
Made for right-handed people




Blade can be difficult to change
Buck Knives 119 Special Fixed Blade Knife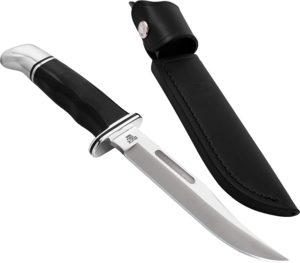 You would be hard-pressed to find a hunting knife as sharp as this one. It has a 6″ clip point steel blade that has both excellent strength and edge retention. Also has corrosion resistance so that it lasts for a good long time. Great for detail work, cutting in tight places and piercing as well.
The grip is a traditional black phenolic handle that has palm swells for a more comfortable overall grip. It has the perfect combination of balance and aesthetic quality and the 119 is an American classic that has lasted over generations. Has a leather sheath with a snap fastener for convenience in carrying as well so that you can take it anywhere on a belt loop.
Pros:



Beautiful construction




Full tang




High quality




Sharp out of the box




Fixed blade
Cons:
Gerber Myth Fixed Blade Pro Knife


Built with a full tang high-carbon stainless steel blade that is anchored by a rubberized handle for great grip stability and capability. The overall length is 8.5″ make it compact enough to store in your pockets with no hassle and the 3.75″ blade length is surprising with the number of things that it can get done.
With a slim and lightweight design, you can store this anywhere and the gut hook tip and small, sharp blade makes it a great choice for quickly and safely dressing game. It also has a built-in carbide sharpener so that you can keep your knife as sharp as possible even on the go.
Pros:
Good for field dressing




Carbide sharpener




Gut hook




Razor-sharp




Good grip
Cons:
Carbide sharpener doesn't always work




Durability
Cold Steel 49HSF Mini Tac Skinner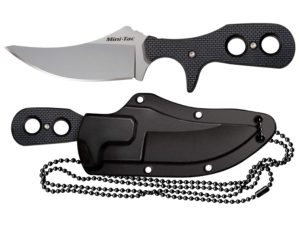 Small but firm black faux G-10 handle makes for a great grip despite its relatively small size. The edge of the blade is serrated for quick and easy cutting capability and it is made from highly durable stainless steel. The long, curved cutting edge has a sharp point and can cut through just about anything.
Comes with a plastic sheath that has both lanyard and belt clip so that you can take it anywhere with you with maximum convenience. The grip is very secure and resists twisting and rolling so that you rarely drop it or lose control of the blade. This blade is as tough and rough as it gets, ready to stand up to just about anything.
Pros:
Sharp blade out of the box




Great price




Strong handle




Good sheath
Cons:
Small size




A little too thin




Some had a plain edge out of the box
Buck Knives 124 Frontiersman Fixed Blade Knife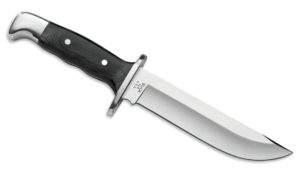 This knife has a full tang construction with a finger guard and deep choil that helps make it one of the best overall options for those serious hunters out there that value quality knives. The grip is also completely safe and secures thanks to a black micarta handle that has palm swells and curves for the most comfortable of grips.
With a protective leather sheath, you can carry this knife with you anywhere and it has an integrated belt loop that lets you carry it safely and securely on your belt loop.
Pros:
Thick full tang




Big knife




Holds an edge




Micarta scales for gripping
Cons:
Durability




Difficult to hold
ESEE EESLSP-BRK Laser Strike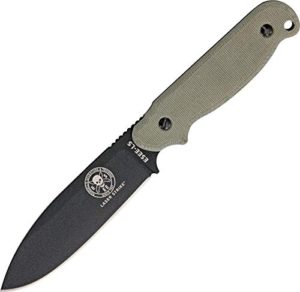 At 10″ in length, it is a perfect size: not too big, not too small. Constructed of 4 7/8″ black texture powder coating, this steel blade has a thumb ridge and is built to stand up to heavy usage. There is a lanyard hole in the handle to allow for hands-free carrying and the molded sheath has a clip plate so you can attach it to your belt or your boot.
The sturdy construction means that it will hold up for a long time and it is great for breaking down games or for everyday usage. It even comes with an ESEE survival card as well. The Canvas Micarta handles have a divot that can be used for the socket for the fire bow drill method as well.
Pros:
Easy to use belt clip




Great fit and finish




Very sharp




Great spearpoint




High-quality sheath
Cons:
Might get different design decal



Benchmade Hidden Canyon Hunter

This is an ideal hunting knife because it is capable of countless tasks in the field. It is a simplistic style but the function is unmatched. It is also constructed of American-made CPM-S30V steel for first-rate edge retention and resistance to corrosion. Breaking down the game has never been easier thanks to the wide blade radius, making it a breeze like never before.
It also has superior tactical use thanks to the fixed, full-tang blade construction. This provides stability like never before when in use and the leather belt loop makes for easier access than ever before. It has a slim profile and design so that you don't even know it's there when you use it.
Pros:
Stability and durability




Great for breaking down game




High quality




Super sharp
Cons:
The leather sheath has issues with durability