Hunting Rifle Scope – What You Need to Know to Make the Smart Buy?
Telescopic Rifle scopes revolutionized both hunting and warfare. With meticulous detail with all parts of scope, the ability to put rounds down range accurately changed the way we use our firearms. While history has records of 17th-century inventors fiddling with the telescopic rifle scope concept, the first documented rifle scopes didn't hit the scene until an American engineer by the name of John R. Chapman documented one in his book The Improved American Rifle in 1844. This inventor partnered with a company out of Utica, NY to create the Chapman-James sight.
These first sights used achromatic lenses like those used in telescopes, to give the shooter a better view of their target. Windage and elevation settings were added later and improved long-range accuracy significantly. By 1880, foreign countries had picked up the rifle scope concept and their respective inventors had begun improving upon the original design. Companies such as Davidson and Parke Hale committed their efforts to create quality optics. These innovations led to the invention of the refractor telescope and eventually the active infrared night vision scope.
Light Transfer
Light transfer is the ability your scope has to maintain the light level captured from the lens and deliver it to your eye. The general rule of thumb is the more lenses in your scope the lower your light transfer will be. The amount of light transfer that you get is really important and if you are shooting in low light conditions, you may find it impossible to get a good view with a scope that does not have good light transferability. The front lens of your scope is known as the objective lens and it plays a major role in determining the amount of light that is captured by your scope. It also helps with clarity and distortion. In general, the larger the objective lens the better in terms of light transfer capabilities.
Eye Relief
Eye relief is the distance your eye must be from the scope in order for you to get a full view of your target. Higher powered scopes will have narrower eye relieve making them more difficult to use. The eye relief of your scope will be listed as inches. This is the distance you must maintain from your scope to keep your target area in full view.
Field of View
The field of view a scope possesses simply means the with you can see from a distance of 100 yards. A wider field of view means an easier scope to target with. A powerful scope will have a reduced field of view. You should start off with a wide field of view until you get your shooting down to a science. Once you are on target with every shot, step up to a more powerful scope. You will notice the difference in terms of field of view as you go over 9X magnification.
Choosing the Reticle
A reticle is the crosshairs of your scope. These come in avariety of different styles to fit your particular needs. You are looking for a reticle that you feel comfortable with. It shouldn't be so thick that it blocks your target but it must be highly visible even in low light conditions. If you are planning on shooting very far you may want to consider Tactical-reticles. These will have mil-dots to help you calibrate the minutes of angle to your target and other helpful markings that can be of use to the trained marksman. A dual reticle can be a good choice for a new hunter as it provides you with thin center lines and thicker outer lines. Glowing and electronic reticles are also another option to consider. This style ofreticle will give you the highest visibility but may require batteries or charging.
Stick to Reputable Manufacturers
Don't be swindled into buying a cheap off brand scope that doesn't perform up to your quality specifications. This mantra also holds true for anyone seeking out rifle storage advice too. The internet is flooded with new optics and it can seem a bit overwhelming sorting through the mess in order to find a quality scope for your rifle. The ideal scope will be the perfect balance between quality and budget. Sticking to reputable manufacturers will help you to ensure you purchase a product that is designed to withstand years of use. Most reputable manufacturers offer some sort of warranty with their product and the best companies will provide a lifetime warranty with their optics. You may pay more for this type of scope but in the end, you will have a quality optic that can last a lifetime. Check out the 10 best rifle scopes for the money.
1. Nikon Buckmasters II 3-9×40 BDC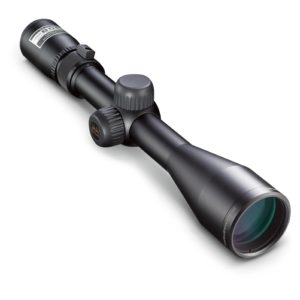 The Nikon Buckmasters II 3-9×40 BDC is a durable and versatile scope that offers brighter, advanced anti-reflective technology. This product is developed by the famous Nikon Sport Optics division for Buck Master. The company wanted a scope that would be affordable yet sturdy, capable of enduring extreme hunting conditions.
The most notable feature of this scope is the anti-reflective technology. Through a series of anti-reflective lenses, resulting in a 92% reduction in reflection, Nikon has produced a brighter scope that offers optical clarity at all times of day, from dawn to dusk. Nikon cuts the lenses, then covers each lens with multiple coats of their anti-reflective blend that also boosts light dissemination. The end result is improved optical contrast and truer color that provides a high-quality image, making the game stand out of its habitat. The proprietary anti-reflective coating also reduces the likelihood of flare.
This scope is calibrated to provide quick, accurate aiming at a variety of distances. In addition, the housing is fog and water-proof. O-rings seal the housing, and it is filled with nitrogen gas to keep moisture out of the inside of the scope.
This item comes with a limited lifetime warranty from the manufacturer.
Pros
Holds zero aim well
Clear, bright view
Lightweight
Inexpensive
Doesn't fog
Waterproof
Cons
Crosshair a little thick for some
Not as sharp as some more expensive models
Outstanding Features
This scope offers a clear and bright view, receiving great reviews from customers. Once sighted-in, it remains accurate, holding zero during transport and through hunting trips. One of the best features of this scope is the price. For under $200, this scope is an excellent buy, with some customers stating that they have one on each of their
rifles
.
2. Vortex Optics Diamondback 1 Inch Tube (DBK-04-BDC) 4-12×40 Dead-Hold BDC Reticle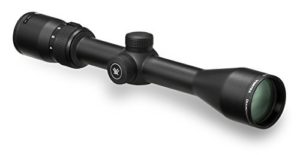 The Vortex Diamondback is one-piece construction, made of aircraft-grade aluminum. Its construction makes it extremely durable and capable of
withstanding repeated magnum recoil. This design works equally well on rifles and shotguns, and is popular with hunters for a wide range of prey, from predators and pests to big game. It has long-range use as well, utilizing the Precision-Glide Erector to maintain smooth focus during changes in magnification.
The dead-hold, BDC reticle uses a custom dot-design to compensate for wind corrections and holdover, making it a good choice when hunting at varying ranges. The scope utilizes argon for waterproofing, which also makes it fog-proof. The optics are multi-coated so that the view is exceptionally clear and sharp, even in the harshest of weather conditions.
Pros
Excellent value
Clear and bright focus
Easily manipulated reticle
Easy to sight-in
Variable power ring is easy to adjust
Knobs are easy to turn without a tool
Excellent BDC reticle
MOA on scope for +100 year distances
Works in low light
Turrets have smooth and solid action
Cons
Not as clear and crisp as more expensive scopes
Outstanding Features
The Vortex Diamondback is greatly valued for its BDC reticle, which is accurate and easy to use. Customers who used this scope in the field say it is very easy to operate and a solid piece of equipment. The accuracy of this scope repeatedly impresses customers, who find that it sights-in accurately and stays that way, allowing them to shoot at various ranges with accuracy.
Another of the outstanding features of this item is the quality of construction. It is a very sturdy item that withstands harsh conditions without compromise. Customers like the "feel" of this scope.
3. UTG 3-9X32 1″BugBuster Scope
The one inch tube of the BugBuster Scope has the UTG's proprietary Emerald Coating that provides for better transmission of light. The zero is lockable, with resettable turrets. The turrets have an adjustment of ¼ MOA per click. This scope has both red and green illumination, making it useful in all kinds of weather conditions and environments. The RGB feature also helps eliminate the use of a rheostat, which can be bulky.
The BugBuster uses a mil-dot reticle for estimating range in order to provide for optimal aiming, with adjustment possible from 9 feet to infinity. UTG is a pioneer in this field, and has refined the use of mil-dot reticle for range finding. This technology provides for 19 to 21 aiming points, as opposed to 11 with competitors. This scope has a large viewing field and an eye relief feature to optimize your critical CQB mission. This provides for parallax-free sighting for the full range of the scope, with a wide angle that is adjustable. The scope comes with a 2″ sunshade and lens caps that flip open.
The BugBuster is filled with nitrogen and is rainproof and fog-proof. It is sealed, and shockproof, and built on Leapers' True Strength Platform. The TS Platform uses the Smart Spherical Structure for interaction between the outside and inside tubes. This technology has been in use for over a decade, and has served the company well.
Pros
Surprisingly sharp optics
Quickly zeros-in
Windage and elevation works properly
Considered a good scope for the price
Holds zero under heavy recoi
Cons
Sometimes arrives with a rotated reticle
Leapers not as strong on customer service
Battery door for lighted reticle randomly opens
Lens caps fall off
Some distortion at the viewing edge
Cross-hair is a little thick
Outstanding Features
The UTG BugBuster is easy to target and retains is zero quite well. The center focus is quite clear and sharp.
Most customers agree that this scope offers excellent value. For under $100, it is very accurate and durable.

4. Nikon P-223 Mate BDC 600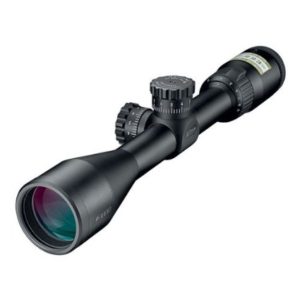 The Nikon Mate is a precision scope made of polymer material, making it lightweight yet sturdy. It is designed for use on an AR platform with .223 cartridges. The trajectory used for developing the BDC 600 reticle was the 55-grain, polymer-tipped bullet used by NATO. The unique construction of the reticle provides shooters open-circle aiming points, with hash marks for distances over 100 yards.
The Nikon optic system features multicoated lenses to maximize brightness and transmit up to 98% of light. Magnification is accurate, offering versatility and multi-use from range work to hunting. This scope is sealed with o-rings and filled with nitrogen. It is waterproof and fog-proof.
The tactical-style turrets have a positive click adjustment for more precise ¼ turns of the MOA. With the construction, you have quicker and more accurate adjustment, even during heavy use and frequent firing. The Nikon Mate also has a 100-yard Parallax setting, which means parallax is eliminated. This aids more precise targeting.
Pros
Excellent eye relief at full zoom
Good scope for the price, even without the adjustable parallax
Good scope for the price, even without the adjustable parallax
Reticle does not change during zooming
Very bright sight
AR specific
Sturdy
Stays zeroed-in
Maintains accuracy to 800 yards
Good hunting scope
Cons
Does not come with caps
BDC reticle bubbles are too small
Not accurate enough for target shooting
Several complaints about difficulty zeroing-in
Outstanding Features
The price of this scope compared to the quality and service is an excellent balance. For under $200, customers received a scope that adjusts easily and accurately throughout the full zoom range. The view is bright and crisp, as well.
This scope offers eye relief, which most customers liked. The comfort and accuracy of this scope are major plusses.
5. Leupold VX-2 Rifle Scope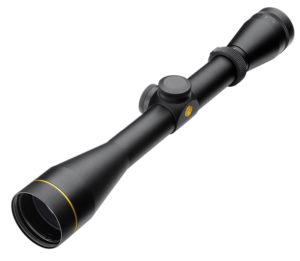 The Leupold VX-2 offers a duplex reticle. It has a matte black diamond coat finish to reduce the appearance of scratches and eliminate some glare. It uses the Leupold quantum optics, offering brightness and clarity not available with lesser scopes. This scope also offers eye relief and is lightweight. The optics work very well in low-light, making dusk and dawn hunting more satisfying. The cut and coating on the lenses of the Leupold VX-2 make it collect and enhance the light. Images are crisp, with no blurring.
The turrets are finger-adjustable. The scope holds zero almost unerringly and for years after it has been zeroed in unless you change rounds. The Leupold VX-2 has a sleek design and comes with rubber caps. This scope is lightweight with a field of view that stretches from 5 to 100 yards. This is a popular scope for deer and boar hunters.
Pros
While more expensive than some, still an excellent value for the price
Crystal clear optics
Durable construction
Eye relief
Lightweight
Finger adjustment
Stays in focus
Cons
No parallax
Turrets do not reset to zero
No sunshade
Outstanding Features
The Leupold VX-2 is from a long line of
high-quality rifle scopes
and maintains the family history quite well. Customers who bought this item say that it is crystal clear and remains at zero, even for years of use.
Most customers say this is an easy scope to sight-in, and not finicky at all about zooming in and staying in focus. A very good scope for the purchase price, the Leupold VX-2 is an excellent hunting scope.

6. VORTEX Optics Viper Dead Hold BDC Reticle (VPR-M-06BDC) MOA Turrets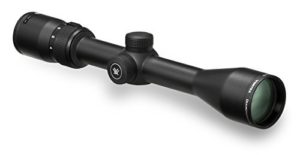 The Vortex Viper is designed for both hunting and target use. It works well in long-range hunting settings and is good for controlling predators and varmints. Windage and hold-over corrected with the dead-hold BDC. This scope is good for hunting in a variety of ranges where hold-over might be a problem.
The Vortex Viper has a side-knob parallax adjustment that allows for quick, accurate changes. Numbers are displayed while the hunter is in the shooting position. It also has 95% light transmission and the Vortex Precision Glide erector system. The turret is held in place by a spring so that no tools are necessary to adjust it.
The main tube of this scope is made of a single piece of 30mm aircraft-grade aluminum. This makes it very durable and not as likely to dents. The turrets are capped, providing for fast, accurate adjustments n the field. It resists recoil, water, fog, and maximizes light transmission in dark hunting conditions.
Pros
Excellent quality for the price
Well built
Sturdy construction
Easy Zero function on turrets
Spring operated turret
30mm tube lets in lots of light
Holds zero through a lot of use
Excellent warranty and customer service from Vortex
Clear glass with crisp images
Excellent clarity at multiple ranges
Targets and multiple ranges flawlessly
Cons
Some people do not like Dead Hold BDC, and prefer MOA or corrections marked in MILs
Arrived with loose packaging. Needs better packaging from factory
More expensive that other scopes in this general class
Outstanding Features
Although the Vortex Viper is more expensive that other scopes in this general class, it has excellent reviews from customers. They say the clarity is sharp with plenty of light, producing images equal to those of more expensive scopes from all manufacturers.
As for sighting, customers who bought the Vortex Viper say that it was quick and easy to sight-in, and remained that way throughout their use of the scope. Even when shooting at multiple ranges, the zero was still accurate.

7. Nikon M-308 4-16x42mm Riflescope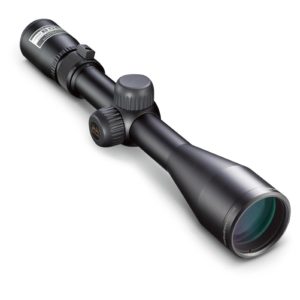 The Nikon M-308 features oversized lenses that are developed for heavy caliber shooting. It offers a large range of magnification, and the eyepiece offers almost instant identification of the target with its quick-focus technology. The optics are multi-coated, providing for bright, crisp images even in low-light conditions such as bad weather, dawn, or dusk hunting. In keeping with the wide magnification range, this scope offers great accuracy for long-range shooting.
The Nikon M-308 is built with the patented Nikon technology that makes it waterproof and fog-proof. It is also shockproof, making it durable and able to maintain accuracy even during heavy firing and large caliber work. It zeros in quickly and remains accurate throughout the full fields of focus. This scope offers ¼ MOA reset on the turrets with positive adjustment.
Pros
Crisp, clear images
Easy to zero-in
Stays true even under heavy use
Remains accurate in multi-range fields
Glass is comparable to scopes twice as expensive
Comes with anti-reflection lens
Accurate holdover and windage gauge
Good with bolt guns and gas guns
Great scope for the money
Cons
Does not arrive with a mount from some shippers
Optics not as clear as $800 scopes
Outstanding Features
While this is a mid-priced scope, it delivers high-priced optics. The Nikon M-308 offers the legendary Nikon optics with crystal clear and bright optics. Most customers who bought this scope say that it is comparable to their more expensive scopes.
The Nikon M-308 sights-in with very few rounds, and remains true at multiple ranges. It also resists heavy caliber firing and lots of use. This is a great scope for the price.

8. Nikon ProStaff 4-12×40 Riflescope (BDC)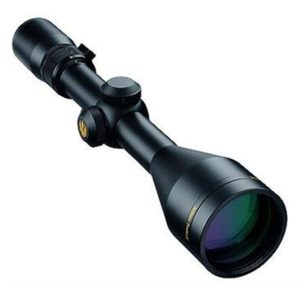 The Nikon Prostaff is a combination aluminum and polymer scope that offers magnification of up to 12x. It utilizes the patented Nikon optics systems with multi-coated lenses that fully transmit as much as 98% of ambient light. The scope is sealed with o-rings to make it waterproof, and is filled with nitrogen to make it fog-proof.
The turret is spring-loaded for quick adjustment in the field without tools, allowing you to dial in your range easily. It also uses the transparent circles for long range accuracy. The Nikon Prostaff also offers eye relief of 3.7 inches, even with heavy recoil. It has a BDC reticle and uses the quick-focus eyepiece. It can be fitted with a sun shade.
The Nikon Prostaff provides high-resolution scenes even in inclement weather or low-light conditions. It also has a wide magnification range, maintaining accuracy regardless of magnification. Hunters find this scope useful in different hunting conditions, from woods to meadows.
Pros
Excellent eye relief
Classic Nikon clarity
Crisp magnification, even at 12x
Good customer service
Nikon honors warranties
Waterproof really works
Easy to sight-in
Maintains accuracy through multiple ranges
Durable, withstanding heavy caliber and recoil
Excellent value for the price
Lifetime warranty
Super bright scope
Cons
Some customers received a defective scope (was replaced by Nikon)
Not as clear as some $800 scopes
Outstanding Features
Perhaps the most outstanding feature of the Nikon Prostaff is that you get top-of-the-line Nikon lenses for under $200. Customers who bought this scope are impressed with its brightness and clarity, comparing it to Leupold and Bushnell.
The Nikon Prostaff is easy to zero-in, and stays that way even when being used with heavy caliber shooting and poor environmental conditions.

9. Bushnell Elite Tactical ERS Riflescope, 6-24x50mm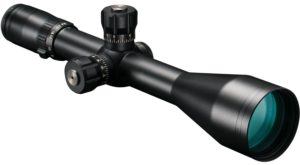 The Bushnell Elite uses Rain Guard HD technology to keep the optics free of fog. The optics are multi-coated with the Bushnell proprietary Ultra Wide Band Coating, producing a very bright image even in low-light and poor weather conditions. This is a one-piece tube that has been argon purged and comes with a 3″ sunshade. This scope has been developed using feedback from military and law enforcement personnel. It is particularly designed for long-range shooting.
This is a large scope, with 24x magnification. The 50mm lens increases brightness, making it an outstanding tactical and targeting scope. The G2DMR uses mil-hash marks for the FFP to provide reliable holdover, windage and ranging. The Bushnell Elite utilizes a parallax adjustment located on the side of the scope to ensure accuracy for long-range shooting.
Pros
98% 4 to 5-star reviews
Blackout finish
Good eye relief
G2 reticle is superior to others
Bright, crisp images throughout ranges
Useable eye box
Excellent value, costs about $100 less than expected
Holds zero even in heavy use
Zeros-in quickly
Stays zeroed-in
Cons
Some image decay past 20x
Not as clear and bright as a $2000 scope
Outstanding Features
The Bushnell Elite gets high marks for its extended range and clarity of focus over 16x. Most customers who bought this scope use it for targeting, and say their scores have improved significantly.
This scope is far and away better than the step-down Bushnell products, and able to compete with bigger names.

10. Nikon Prostaff 3-9×40 Riflescope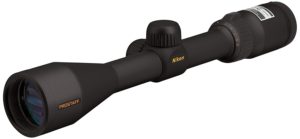 The Nikon Prostaff Riflescope is made of aluminum for durability and reliability. It uses the patented Nikon optics systems that have been multi-coated with their proprietary method that increases light transmission to 98%. The housing is sealed with o-rings to keep it waterproof and fog-proof. It is filled with nitrogen for the same reasons.
The turret is spring-loaded so that the adjustment knob is easy to operate even in the field. It has a positive feel and offers 3.6″ of eye relief. The Nikon Prostaff Riflescope uses a BDC reticle and the eyepiece is a quick-focus. It has an 80 MOA parallax with windage. It has a lifetime warranty on workmanship and materials.
The Nikon Prostaff Riflescope is easy to zero-in, and remains that way through moderate use. It is a good mid-range scope, used in hunting and in some target shooting. You also get software for the SpotOn online ballistics.
Pros
Good value for the money
Lifetime warranty
BDC reticle
Nikon optics
98% light transmission
Bright, sharp
Focuses easily
Zooms accurately
Turret reset
Eye relief
SpotOn software
Great for recreational shooters
Zeros easily
Remains accurate in multiple ranges
Cons
Not as clear as $800 scopes
Not a long-range scope
Outstanding Features
The Nikon Prostaff Riflescope is a great scope for recreational or casual hunters. Customers who want to do occasional target practice or light hunting say this is a great scope for the money. It is clear and sharp up to 200 yards, and easy to zero-in.
This is also a very sturdy scope that can withstand abuse. Some customers recommend higher scope rings.