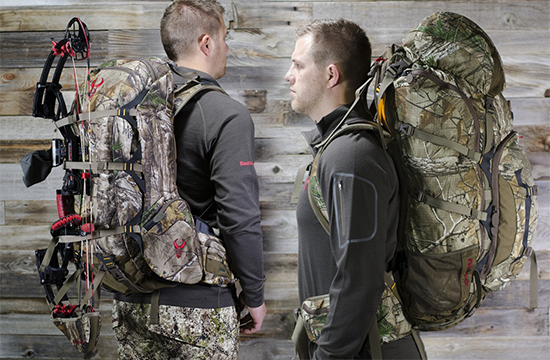 Check Out This Lightweight Best Hunting Backpack This Year!
Hunting brings all of the best aspects of being outdoors into the forefront. Not only do you get to be out in Mother Nature, seeing all of the beautiful sights and hearing all of the wondrous sounds, but you also get to talk through the woods on your Utah deer hunt and compete with nature's creations.
But being prepared for a hunting trip is essential and that is why having the proper hunting backpack with you can make or break any hunting trip. Being able to carry all of the essentials with you is important to the overall enjoyment of your hunting experience.
This is a list of 10 of the very best hunting packs available on the market and the pros and cons of each of these products.
Badlands Pursuit Camouflage Hunting Day Pack

Despite its size, this pack is ultralight at just under two pounds before adding in your goods, tools, and needs. It has vents to keep your dry and cool; normal packs can result in a very hot and sweaty back after extended use.
Using new-age concealment technology, this is the modern camouflage technology to hit you better in the great outdoors. Heavy-duty shoulder straps will hold up to frequent usage, and it is even bowed and rifle compatible. No matter what hunting rifle you use, the pack also has safe storage for your ammo, whether it's the ammo you buy while you're at the hunting grounds or from online ammo retailers similar to Bulkmunitions (https://bulkmunitions.com/buy-ammo/rifle/223-rem-556×45-ammo/). This pack also has its share of pros and cons:
Pros:
Lightweight
Ventilated
Versatility
Cons:
Limited compartments
No waist belt
Size
Tenzing 6000 Back Country Hunting and Hiking Pack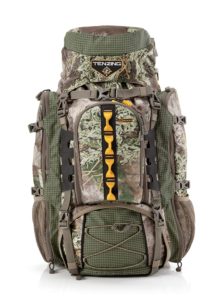 This pack is made to be highly comfortable while still allowing you to get all of the gear that you need onto your shoulders. There are also detachable packs that can be stowed on the waist belt for better versatility and storage capabilities for smaller items, like a knife.
Cost-efficient, this pack has a lot of function and is even waterproof so that it stays dry even in the most intimate of weather situations. Never let your pack and the important supplies that you are carrying get soaked through again. The Tenzing 6000 Back Country Hunting and Hiking Pack is for hunters of all sizes to comfortably carry their most essential gear with them through even the toughest of terrain.
Pros:
Detachable packs for stowing smaller items
Different pouches for versatility in storage
Waterproof in any and all scenarios
Lightweight
Cons:
Durability – zippers have been known to break and stitches to rip
Size – bigger hunters have noted that it was a bit snug on them and felt it wasn't made for hunters of their size
SITKA Gear Sling Choke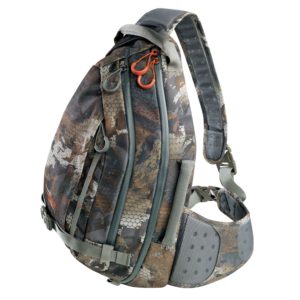 The Sling Choke allows you to wear the backpack across your body instead of over both shoulders, evenly distributing the weight for more comfortable carrying. Also comes with a waist strap to help keep it as comfortable as possible during extended use.
A number of different compartments as well as a sleek design to help you wear it comfortably when packing in decoys or blinds so that you can traverse into those setups far easier than you would with a normal backpack.
If anything, this is one of the most versatile packs on the market and the sling wear makes it easier to switch it around depending on where you are trying to get. Never struggle with a pack on your back again when you can move it around for maximum comfort.
Pros:
Versatility
Good amount of compartments
Durability
Cons:
In Sights Realtree Xtra MultiWeapon Pack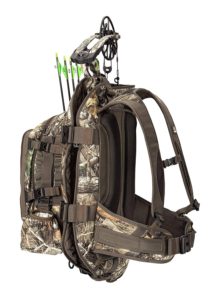 This is the ultimate pack for bow hunters. With the In Sights Realtree Xtra MultiWeapon Pack, you can carry bows and arrows as well as any attachments that you may have such as ones for your crossbow if that is the way that you hunt.
Additionally, there are pouches to store food and water separately and a big compartment for stowing your basic hunting gear or clothing. The lightweight construction allows you to pack all of your gear in without feeling weighted down by everything. Very cost effective as well so that you don't have to break the bank finding an adequate pack.
Pros:
Great bow storage capabilities for bows and arrows
Separate pouches for food and water
Lightweight
Price
Cons:
Pack is "loud": it squeaks due to the rubber padding
Not as spacious as some packs
Some durability issues noted
ALPS OutdoorZ Commander Pack Bag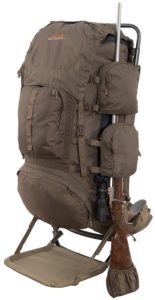 For the price point, it is hard to find a pack that is as good a deal as this one is. Laying out your pack with the ability to organize thanks to different compartments means that you can separate your gear to your specifications and not have to throw everything in together.
This pack is particularly great for multi-day hunting trips due to its ample storage capabilities but it manages to not be too bulky despite the amount of gear that it can hold. Stylish and strongly built, you would be hard-pressed to find a pack at this price point that can match the quality that the ALPS OutdoorZ Commander brings to the table.
Pros:
Price
Good amount of space
Lightweight
Good for multi-day hunting trips
Cons:
No water bottle pockets
Not water resistant
Buckles not rated for long-term use, not easy to use
ALPS OutdoorZ Big Bear Hunting Day Pack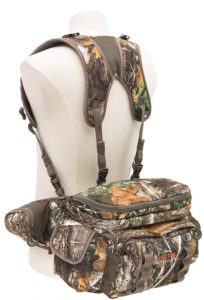 High quality packs are something that can be quite pricey but you don't have to break the bank when you pick up the ALPS OutdoorZ Big Bear Hunting Day Pack. It is built to last through several trips and you will find yourself impressed with the overall quality of this pack.
There are water bottle holders built in so that you can easily access your water to stay hydrated on your Alaskan bear hunt, and there is a ton of room in the main compartment for all of your gear. Keep things separate in the separate day pack for easier access and compartmentalizing.
Pros:
Price
Ample space for multi-day trips
Generally good durability over long use
Cons:
Uncomfortable for bigger hunters, maybe not meant for anyone larger than 6'0″
Stitching issues in the strap area
Tight water bottle pouches
Horn Hunter Main Beam Backpack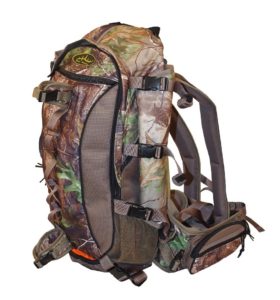 This hunting backpack has 22 different compartments, including 8 internal compartments to organize your gear with maximum efficiency. There are also side compression panels with triple strap tie-downs for the ultimate in stability.
There is a removable compression flap which makes for a great option for deer quarters or for extra clothing that you may need in the outdoors. There is a pouch and gear gripper so that you can secure your bow as well.
Pros:
Lots of compartments
Great storage
Durability
Cons:
INSIGHTS Hunting Carrier Pack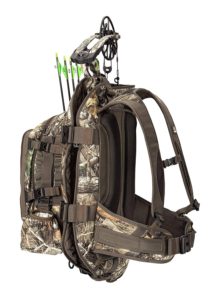 The whole point of hunting involves carrying a bow or gun with you on your trip. But it can be cumbersome to carry around your weapon all day. That is what sets the INSIGHTS Hunting Carrier Pack apart from the others: you can stow your smaller bows and arrows in the main compartment while still having good storage capabilities.
There are a number of smaller compartments to allow you to separate items based on your need or desire to access it as well. The durability of this pack is rated as one of the best in the field and the waist strap allows for a higher level of comfort, allowing for even weight distribution throughout the pack.
Pros:
Durability
Waist strap is highly comfortable and adjustable
Good weight distribution
Good size and storage capabilities
Cons:
Zippers prone to breaking
ALPS OutdoorZ Dark Timber Hunting Day Pack


If you are looking for an outdoor hunting pack that provides a great amount of space, the ALPS OutdoorZ Dark Timber Hunting Day Pack is one of the best packs that you can buy. It has a large main compartment for ample storage as well as side and back pouches that allow you to stow away smaller items for easy access later on.
Unlike some of the other packs on this list, this one is made a bit larger, truly for hunters of all sizes and not your average-sized hunters. There are also weight straps as well as shoulder straps for better weight distribution and greater comfort.
Pros:
Durability
Highly comfortable shoulder and waist straps
Very good size
Cons:
Some issues with the straps and stitching breaking
ALPS OutdoorZ Pursuit Hunting Pack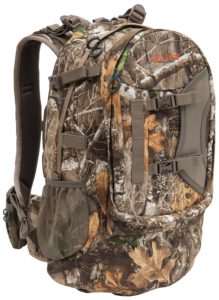 The ALPS OutdoorZ Pursuit Hunting Pack has a ton of pockets on this pack and the main compartment can hold a ton of gear on its own. There are many smaller pockets throughout that make for easy organization and accessibility.
Having the perfect amount of comfort in a pack is highly important because when you are hunting outdoors, sometimes for days at a time, the added weight on your shoulders and back can really take its toll. This pack is built for comfort so that you can barely even feel it there yet still be able to store an ample amount of gear.
Pros:
Cons:
Size is a concern for bigger hunters
Straps maybe not as durable as possible
Tough to strap a bow or rifle on the pack if it is full
Hunting Backpacks -How to Choose the Best Hunting Backpack for The Money
Any discussion about how to choose the best hunting backpack is best started by examining your personal hunting style. When hunting in the wild, a backpack can be crucial in giving you access to the tools you need to stay effective and safe. A backpack gives you the added freedom to do additional tasks with your hands and the ability to climb and traverse all types of terrain.
Manufacturers have put great effort into creating the ultimate hunting backpack. Many new models include innovative features that are sure to improve your overall hunting experience. There are hunting packs that are specifically built for elk and deer hunting. These can include places to store ammo, snacks, and other supplies. If you are planning to use a deer stand, a backpack is going to provide you with access to your gear and make waiting much more comfortable.
What Type of Hunter Are You?
Before you jump into any hunting backpack, you should consider the style of hunter you are. Are you the type of hunter that moves from stand to stand? If so, a smaller pack is going to give you added mobility and make traversing rough terrain a little easier. Are you the type of hunter that prefers to use a stand or hunt from a blind? If you are using a hunting blind, you are going to have a much easier time with a large hunting backpack versus someone who utilizes a tree stand. Not having to climb up to your hunting position can make choosing a larger hunting pack more reasonable.
What Type of Weapon Do You Use?
Are you a rifle, or bow hunter? This question can dictate a large portion of your gear requirements. Bow hunters will benefit from packs with built in quiver and bow holders. A single strap pack is ideal for bow hunting. Most hunting backpacks include a rifle carrying method but not all include a bow carrier, so be sure to double check before you make your purchase.
How Long Will You Be Out in The Wild?
If you are the type of hunter that likes to spend days at a time in the wild, a larger backpack is going to give you the added space you need to stay comfortable. The average hunting backpack can hold enough gear for a day or two of food and hunting supplies. Obviously, if you are spending days at a time in the wild, you are going to need shelter and other supplies a one-day hunter will not require.
Loading Options
Loading options are important to consider. Traditionally styled packs are going to resemble your average school bag. They are going to have a zipper loading area. These packs are great for the daytime explorer, but many lack the durability required for additional time in the wild. Top loading packs are sturdier and can haul more gear without risk of tearing. This style of backpack can be created feather light and extremely rugged. Panel loading options are another smart choice for the savvy hunter to consider. Panels can give you instant access to the gear you need the most. Many hunting backpacks include special panels for your spotting scope and other supplies you may need to get quick access to.
Material Quality
Not every backpack is created equal. Try to stick to tear proof backpacks to avoid any situations while you are out. Many new hunters make the mistake of not considering the material their pack is created from. Tear proof material is a smart idea. Imagine the trouble you will be in if your pack tears and you are unable to carry all of your gear. Hunting gear can have sharp edges and you need a bag that will not be easily pierced. Sound deadening fabrics are starting to become more popular. This is a great feature to consider because deer have excellent hearing and even the slightest sound can scare a shy buck off. Zippers are another feature to consider.
Warranty
Another important feature to consider is a warranty. Even the best packs can have a random manufacturing defect and a warranty can be a great way to protect your investment. Obviously, the lower the costs of your hunting pack, the shorter the warranty will probably be. If you are electing to go with high-quality professional level gear, you should consider a warranty. The best packs will include a lifetime warranty. Looking at the length of a product's warranty is a good way to gauge a manufacturer's durability.
Size
Hunting packs come in all shapes and sizes with small packs being around 1800 cu in. Larger hunting packs can hold much more gear, with many possessing over 5000 cu in of storage space. If you are considering a larger pack, be sure to get one with an internal frame. This can help you to balance the weight of your gear evenly.
Camouflage
Know your environment. Most hunting packs come with some sort of camouflage. Never underestimate the power of this method of concealment. Deer are unable to see color but they are extremely sensitive to shading differences. If you pack doesn't match the surroundings, you are going to give up the element of surprise.
Padded Straps/ Back
A little padding can go a long way, especially if you are planning to hike to your hunting zone. Padded shoulder straps increase your comfort and help prevent fatigue from setting in. A padded back can do more than just increase your comfort. Many packs feature a padded design that allows air to flow between your hunting pack and your back when being worn.
# of Pockets / Compartments
A pack that features extensive pockets and compartments is going to give you better organization than one that has only a few large areas to store items. Many hunting packs now feature specially designed compartments to fit certain items. Waterproof pockets are another awesome feature to consider. Keep your cell phone and wallet safe, no matter how the weather turns. Spotting scope compartments and ammo pouches are examples of how manufacturers are innovating hunting packs to be more user-friendly.
Adjustable
The best hunting packs give you the ability to adjust your pack to fit your body style. This is very important because if your backpack that doesn't fit properly, it is going to make you sweat. If a curious deer gets a whiff of your perspiration, it is sure to sprint off in the other direction. A comfortable pack can help to alleviate sweat and give you better overall hunting experience.
Stick With a Trusted Manufacturer
The internet is filled with pages upon pages of hunting backpacks. When choosing your next hunting pack, be sure to stick with a reputable manufacturer. You are going to get a pack that has been tested and can withstand the abuse hunting can deliver. Remember, if you buy a pack from a company that goes out of business, it won't matter how long your warranty is.
Budget
Now that you understand what feature you find desirable in a hunting pack, you are ready to see what packs are in your price range. If you are new to hunting there is no reason to go overboard, an entry-level pack should suffice. Professionals are going to spend more but get more.