Looking For Best Deer Stands Today?
The hunting experience can be defined by a number of different things. Hunters will use a number of different techniques or pieces of equipment to accentuate their hunting experience overall. One of those is a tree stand. Tree stands make for an excellent vantage point to see that perfect deer that you have been tracking and get a clear shot.
But not all tree stands are made the same. Finding one that is both comfortable and stable for when you're high in the forests of Nevada, is important to the overall quality of your hunt and can affect your overall experience greatly. Knowing what to look for in a tree stand is important and we have a top 10 list of the best tree stands on the market for your perusal. Once you've had a look at our top 10, it would be worth looking around at other people's best deer stands to see if they agree. It would also be good to see if there is a different stand that suits you better before you decide to purchase one!
XOP-XTREME Outdoor Hang On Tree Stand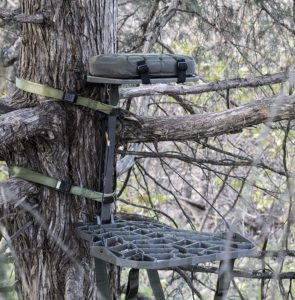 This tree stand is made of a high-quality cast aluminum construction. It is not only durable but solid, easy to transport, and lightweight for easy carrying and installation. You don't want to lug around a heavy tree stand that is difficult to set up out on the trail.
Equipped with a safety harness, UV treated fastening straps, a seat cushion, a six point bracket system and backpack straps, you will be safely and comfortably secured in your tree stand and never have to feel like you will fall out.
Rated up to 350 pounds, this tree stand will support just about any hunter at any height, allowing for the perfect setup and the perfect vantage point each time that it is put to use.
Pros:
Well built
Good price point
Strong joint pieces
Cons:
Millennium Tree stands Monster Hang-on Tree stand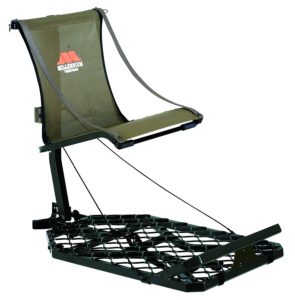 Unlike a good deal of tree stands, this unit comes with a built-in mesh seat for the ultimate comfort in what is typically an uncomfortable setup. Has a platform that is made of durable powder coated materials so that it is strong and quiet. Can be adjusted up to 15 degrees to expand your overall site options.
Built to hold up to 300 pounds, this unit can hold just about any hunter. The seat size is 24″ wide and 20″ deep and is adjustable from 16″ above the platform to 20″ so that you can find the perfect setting for your height and weight.
The rugged and comfortable design is made because hunting from a tree can take hours and comfort is of the utmost importance. Built with a safe link harness so that you can be properly secured and have the utmost safety with the perfect rifle for the job in hand.
Pros:
Easy to hang
Well put together
Great price point
Large platform
Extremely comfortable
Cons:
Some inconsistencies in the setup
Summit Tree Stands Viper SD Climbing Tree Stand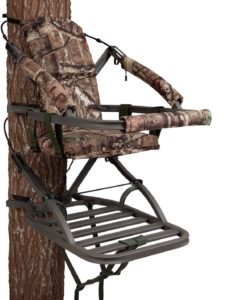 This is one of the most complete and comfortable tree stands that you will ever see. Weighing just 20 pounds, it is easy to carry around and even easier to set up. Despite its light weight, it is built to hold up to 300 pounds so that hunters of just about any size can use it.
Has a platform size of nearly 2′ x 2′ so that you have a little space to move as well as a seat that is 18″ in width and 12″ in depth so you can sit comfortably no matter how long you spend in the stand. Has foam-padded seating that is the most comfortable you will get. Has a fall arrest harness system so that it will keep you safe while remaining comfortable.
Pros:
Easy to use
Light weight
Easy to climb with
Super comfortable
Excellent safety harness
Cons:
Durability concerns
Poor quality materials
Lone Wolf Assault II Hang On Tree Stand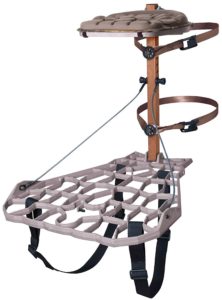 One of the best in the business, the 26″ x 19.5″ platform has plenty of room to move about and still fit in any kind of tree. Has a hang-on stand for mobile hunters who want a light setup so that they can maneuver as easily as possible and squeeze into tight spots.
Has a cast bow holder so that you can rest without having to hold your weapon every second. A 350-pound weight limit is one of the highest in the industry so that hunters of nearly every size and shape can make the climb with safety in mind.
With a compact seating capability, you can feel comfortable without feeling squeezed in by the seating. The Lone Wolf is all about mobility and there are few tree stands on the market that provide the level of mobility that these tree stands do.
Pros:
Light weight
Easy to use
Great for climbing
Easy for backpacking
Very quiet
Cons:
Price point
Seat a little uncomfortable
Straps can be better quality
Guide Gear Deluxe Hang-On Tree Stand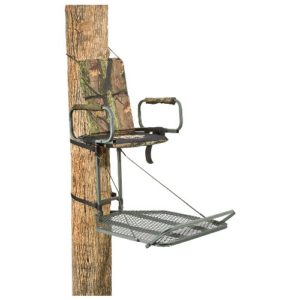 This tree stand comes with a flip up seat so that you can maximize your mobility room when not sitting in the seat itself, scoping out the biggest game. Has a large platform to stretch your legs and feel like you can move around a bit while the suspension-style seat remains safe and comfortable all day long.
Made of sturdy steal construction that is built to last and it is super-easy to assemble and install. Light weight enough to backpack with and to install in even the highest of trees. Get up the tree and get into your seat quickly and comfortably.
Pros:
Great sturdiness
Excellent comfort
Very well-built
Easy to assemble
Cons:
Durability issues
Cheaply made
X-Stand Tree Stands Jayhawk Ladder Stand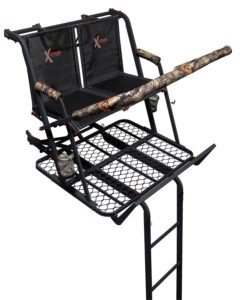 This deluxe tree stand is built to hold two hunters with a weight capacity of up to 500 pounds. The steel construction is built to last and will hold up to time and stress like no other. The stand itself has a 42″ wide x 34″ deep platform for great mobility and a good amount of room.
The seat size is even better. It is 39″ wide by 17″ deep with a comfort-flex seat cushion and wide and deep backrest to provide the ultimate amount of comfort. Never feel like you've been through an entire day of hunting by just sitting in your tree stand.
Pros:
Sturdy build
Very comfortable
Quiet construction
Easy setup
Cons:
Heavy when assembled
Not for one-person usage
Summit Tree Stand Peak Hang-On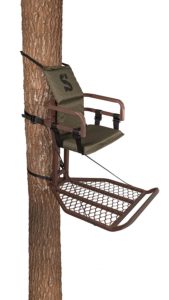 Has an ergonomic design meant to support the lumbar as well as a platform that is meant to take the pressure off of your feet for longer days in the tree stand without that all too familiar fatigue. The folding steel frame weighs 28 pounds so it is easy to transport into the tree and can support up to 300 pounds of weight.
A new, brown powder coating finish provides an ability to conceal as well as a great durable finish that resists wear and tear as well as constant battery from the weather. Comes with a full arrest harness system and all of the necessary hardware to keep you safe and secure in the forests of Alabama through all-day usage. It is built to last.
Pros:
High-quality materials
Very comfortable
Durable
Easy to put together
Price point
Cons:
A little heavy when built
X-Stand Tree Stand "The Duke"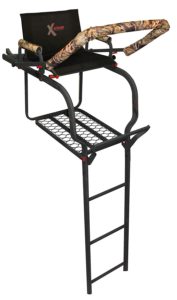 Sturdy and durable, has a weight capacity of 300 pounds to support the weight of just about any hunter. Made from durable steel, the construction of this stand makes for the ultimate durability to stand up to wear and tear as well as weather conditions.
Has a stand height with 20′ to shooting rail and a platform of 18″ wide by 26″ deep for mobility and comfort. The seat size is 22″ wide by 16″ deep and is made of Comfort-Flex for the ultimate comfort. This tree stand has a four-point full-body harness for the ultimate safety so that you can be secure and safe while up in the stand.
Pros:
Great design
Extremely comfortable
Great safety feature
Sturdily built
Cons:
Lengthy assembly
Price point
Guide Gear 13′ Deluxe Tripod Stand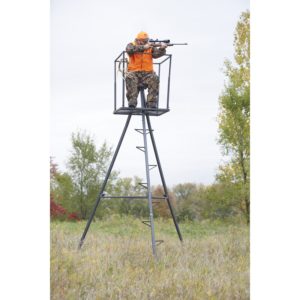 This unit is a bit different in that you don't have to climb a tree: it has a 13′ tripod construction so that you can avoid the hassle of climbing into a tree and setting up the tree stand all at once. Simply put this unit together, climb up and enjoy yourself in comfort with good mobility.
Gives you a full 360-degree swivel so that you will never miss a prime opportunity due to your angle. Has adjustable 6-position legs for the perfect setup and the welded steel construction is built to last, standing up to wear and tear as well as constant weather conditions. Welded steel is normally a lot sturdier as the steel has been joined together with useful hand tools for welding, ensuring the metals are joined securely. This ensures the stand will withstand all conditions, making it a durable choice for all-weather deer hunters.
Pros:
Easy to put together
Well put together
Good shooting rail
Sturdy tripod stand
Cons:
Seat is too small
Cheaply made
Rusting problems
Summit Tree Stand 180 Max SD Climbing Tree Stand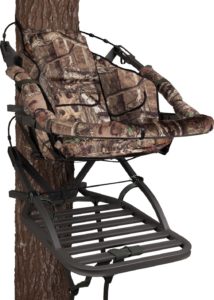 Constructed of coated aluminum, this tree stand is highly durable and strongly constructed and is built to hold up to 350 pounds. Just about any hunter can use it thanks to the weight limit and it offers a capable and comfortable vantage point with more room and capacity for bigger hunters to use.
Has an adjustable height, reversible surround seat that lets you to sit facing the tree if the vantage point is better. Has fully padded seating so that you can rest comfortably during the long days and not have to use all of your energy holding yourself up.
Pros:
Cons:
Expensive
Loud Velcro pockets