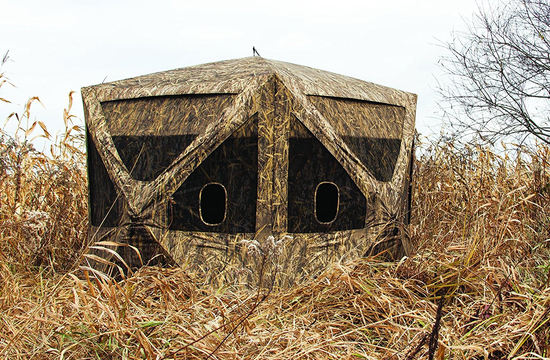 Break Your Hunting Experience With The Best Hunting Deer Blinds
After all, having the right blind can put you in the best position to get that trophy buck, on your dream Wisconsin hunting trip, that you've been after whereas being unprepared can leave you staring in disbelief as it gets away.
Still, you have to wonder which blind is best for what you need it for. What are the positives of a certain blind? What are the negatives? Thankfully, there is a list of the ten best hunting blinds available that comes with the good and the bad. Read below.
RHINO Blinds 3-Person Hunting Ground Blind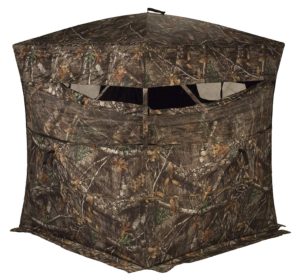 This hunting blind is massive and built to house three people and their backpacks, thanks to a hub-to-hub size of 75" x 75" and a floor space of 58" x 58". The RHINO blinds are built to withstand most inclement weather conditions such as rain, wind, hail, and snow. Even when the weather is bad, you should be able to hunt all day long.
The rods used to stand this blind up are triple-stitched and reinforced to prevent from popping through the fabric and the blind are treated with a water repellent to protect from moisture as well as an antimicrobial to prevent from mold and mildew.
Pros:
Lightweight




Made of good quality




Great size




Easy setup




Comfortable
Cons:
Closing the door is a bit loud



Barronett Radar Ground Hunting Blind|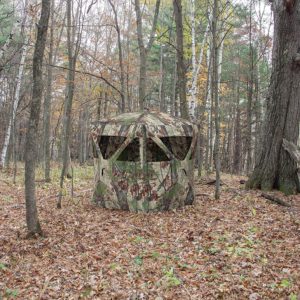 The patented five-hub design allows for easy set-up and even quicker takedown meaning you can simply pop it up and begin your hunt. The mesh camouflage window panels are attached with hook and loop strips that can be opened with zippers meaning that you can practically shoot through the mesh.
Speaking of those windows, the triangle-shaped windows are zipper-less and there are even peek windows on the back of the blind. The lightweight design is still durable and water-resistant thanks to tightly-woven 150D fabric with a black interior coating. Best of all, it is made to fit two people thanks to the 71" x 71" setup size. It has never been easier to enjoy the hunt with a friend or family member than when using the Barronett Radar Ground Hunting Blind.
Pros:
Camouflage

 

patterns allow for easy blending




Good size




Durable




Waterproof




Made with good quality materials
Cons:
Tab connections can take longer to take down




Zippers noisy
Barronett Ox 4 Ground Hunting Blind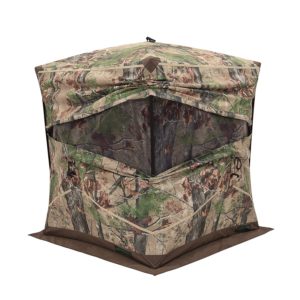 Made from ox hide fabric, this hunting blind is built to stand up to the test of time. It has a no-scratch, rugged black interior layer that has a low sheen exterior layer so as to not give off any additional light which could give away your position.
The slide windows are both fully adjustable and quiet as well so that you can slide the window panel to any gap that you desire without having to worry about alerting any animals in the area. There is also a ground skirt and brush holder for the ultimate level of concealment.
Pros:
Durable

Easy setup




Great size




Quiet
Cons:
Cannot be left outside for storing
Auscamotek 300D Woodland Camo Netting Hunting Blind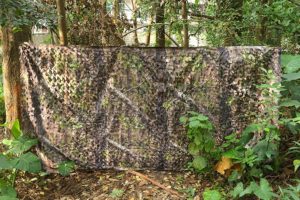 This hunting blind has one of the most natural camouflage appearances on the list thanks to a durable 300D polyester oxford cloth design with real vivid natural colors. You can get it in different colors depending on the environment or season as well, blending in seamlessly to your surroundings.
Best of all is the versatility. It is great for sunshade, hunting, shooting, military use, tree houses, photography, and can even make a cool Nerf gun setup for your kids when you aren't using it to track down that trophy buck. It is also one of the most affordable blinds on the list and, for the price point, gives great bank for the buck.
Pros:
Matted to mitigate light




Made of quality materials




Durable




Quiet even in windy conditions
Cons:
Smallish




Lightweight so it needs to be weighted
Primos Double Bull Deluxe Ground Blind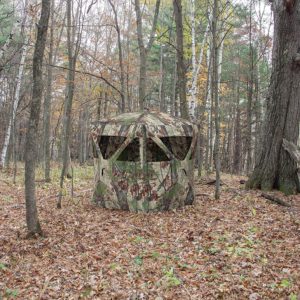 Very spacious at 5' x 5' of floor space and has a zipperless double-wide door for the perfect silent entry and exit in any situation. You never have to worry about scaring off your target when you exit through the double-wide door.
Constructed of double bull materials, this hunting blind is built to stand up to the test of time. Best of all, at 27 pounds it is both heavy enough to stand up to most weather conditions but more than light enough to move from spot to spot on a whim. The perfect versatility. Also comes with 180-degree front windows to give you the best possible vantage point of your target.
Pros:
Great size




Good durability




High quality




Ease of use
Cons:
Air leaks in through the door




Materials noisy
GhostBlind 6-Panel Runner Blind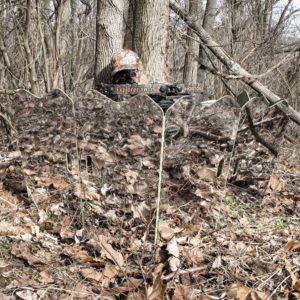 This is meant for those who fire guns or crossbows; no traditional bows here. The design allows you to peak up over the top and take aim and is meant for those hunters who would rather sit down on the ground; chairs or stools do not work well with this blind.
Blends in seamlessly with your surroundings, eliminating unwanted sun reflections as well as animal movements. It is also waterproof and built to stand up to the elements. At just 8 pounds, it is easy to move this blind anywhere that you desire but it is still heavy-duty enough to stand up to the pounding that the elements can deliver.
Pros:
Pretty durable




Lightweight for easy movement




Excellent camouflage
Cons:
Height




Camouflage

is limited to specific areas
Ameristep Deluxe Two Person Tent Chair Hunting Blind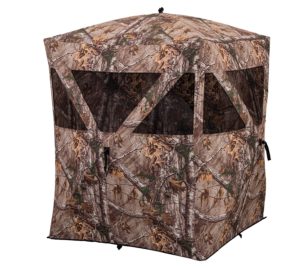 Part of the fun of going hunting is going with a friend or family member and enjoying the time spent outdoors. This hunting blind can easily fit two people and has an easy flip over blind as well. It even comes with cup holders in each arm rest.
Ideal for firearm and crossbow hunting, there is no assembly required for this hunting blind. The Shadow Guard coating on the exterior helps to eliminate silhouettes and shadows to help you blend into your surroundings seamlessly.
The polyester/cotton design is lightweight but still durable enough to hold up to the elements. It also comes waterproof so you can stay sheltered comfortably in the rain and not have to spend your hunt soaking wet.
Pros:
Ease of setup




Fits two people comfortably




Shoulder straps for easier transportation




Good for hunters with knee or back issues
Cons:
Durability




Not fully waterproof
Barronett Blinds Big Cat Pop Up Portable Hunting Blind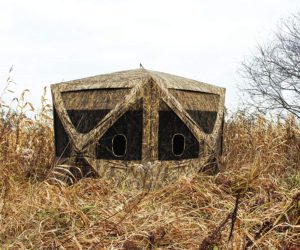 This is one of the biggest blinds on the market, an absolutely hung 80" tall by 90" wide with a 70" x 70" footprint so you can comfortably fit two or enjoy the space to yourself. It is so tall that you can even shoot while standing which is perfect if you are bow hunting.
The low-profile windows allow for noise-free adjustment, a whole lot more shooting options, and the aforementioned ability to shoot while standing up. Weighing just 19 pounds, it can stand up to the elements but is easy to transport without feeling like you are carrying a ton. It is also constructed with a durable framework made with stiffer poles and thicker, stronger hubs to stand up to the elements or long-term use.
Pros:
Great for hunters of all sizes




Ample space




Good

camouflage




Quiet zipper

windows
Cons:
Not durable




Susceptible

to high winds
Ameristep Care Taker Ground Blind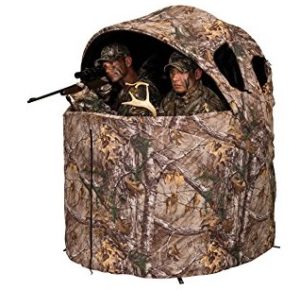 The Ameristep Care Taker Ground Blind comes with a durashell plus to stand up to the elements and the test of time itself. It has a 69" shooting width and is 66" tall, making it amply sized for most hunters to move around and position themselves inside of.
The Shadow Guard coating cuts down on unwanted sun glare or shadows so that you never give away your position using it. It is also insect resistant because hunting during the summer can mean so many bugs that you don't enjoy the overall experience of the hunt.
The perfect size and durability for any hunting situation the Ameristep Care Taker Ground Blind might just be the best for your buck.
Pros:
Quick setup




Good

durability




Plenty of room




Multiple shooting options




Good

concealment
Cons:
Guide Gear Silent Adrenaline Hunting Blind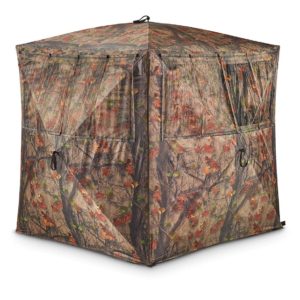 With a quick set up, this hunting blind has a flip-up side door so you can get in and out with ease. The pop-up design allows you to have a quick setup and there are even over sized zippered windows to get the experience that you desire. Get in this hunting blind set up in a flash and move in and out as easy as ever.
This hunting blind is also water-resistant so that you can keep dry in most rains. Never have to sit in the rain and soak waiting for that trophy buck again. With four windows built into the blind, you can pick the perfect spot for nailing that trophy buck.
Pros:
Handicapped accessible




Good size




Quick setup
Cons:
Windows a bit high




Pole inserts can be troublesome




Materials are "loud"




Durability