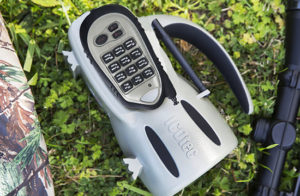 Learning to hunt with a coyote call doesn't have to be difficult and by utilizing these techniques you are sure to increase your hunting skills. There are no shortage of predator calls on the market and depending on what you plan to hunt you may be able to get away with a very inexpensive model that can produce the desired results. If you are a very experienced hunter, you may opt for a more permanent option.
Over the years more and more hunters have begun to use game calls and as a result of this, many new manufacturers and creative designs have been introduced. Not all game calls are created equal, with many producing no results. These are the 10 best coyote calls for the money.
1. Cass Creek – Ergo Call – Predator Call – CC010 – Handheld Electronic Game Call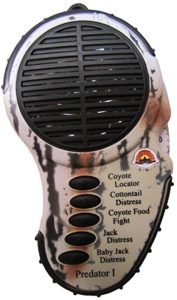 The Cass Creek – Ergo Call – Predator Call – CC010 features a compact design that increases portability. This unit includes 5 different coyote calls that work great. The locator call features mimics a female coyote. There is also a food fight call and a cottontail distress call.
These sounds are actual live recordings of animals and not some computer-generated version. A new soundboard delivers added clarity and realism to your calls that are sure to give you improved results in the wild. This is well-designed Coyote call that delivers excellent results. The cottontail calls are extremely effective and the compact design delivers an excellent sound range.
Pros
5 calls
Compact Design
Price Point
Improved Ergonomics
2 Jack Rabbit Sounds
Outstanding Features
Only the finest materials were used in the construction of this device and the rugged frame can withstand use in the harshest environments. This is one of the lightest and most compact coyote calling systems on the market. Improved ergonomics add to the overall feel and usability of this device. If you are in the market for an inexpensive but effective Game Call this is a great option to consider.

2. Primos Hunting Speak Easy Electronic Predator Calling System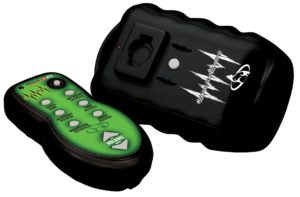 The Primos Hunting Speak Easy Electronic Predator Calling System includes some innovative features that give it a clear advantage over most of the competition. A wireless remote can be used to trigger your calls from as far 40 feet away. The product was designed with your convenience in mind, as the remote will actually fasten to the speaker for easy storage.
There are six preprogrammed calls. These calls sound natural and can be clearly heard for some distance, this unit does not give you any distortion when the volume is maxed out. All of the sounds on this unit were recorded by master hunter Randy Anderson. You have the ability to challenge howls and barks. You also get a number of helpful distress calls including jackrabbit, woodpecker, rodent, and fawn.
Pros
Remote
Rubber Straps
6 calls
Fawn Distress Call
Easy Storage
Cons
Requires Extra Battery for Remote
Outstanding Features
This is an amazing bargain, considering the plethora of features and calls that are included. The remote allows you to place your caller in the optimal position while you stalk your prey from your perch. The speaker can be attached to a tree using the included rubber straps so you have endless mounting options. It is hard to deny the advantages of this product and it would be difficult to get all these features at a better price point.

3. Cass Creek – Mega Amp Predator Call – Electronic Handheld Predator Call – CC416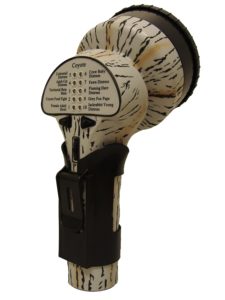 The Cass Creek – Mega Amp Predator Call is a professional grade game caller that gives you instant access to 10 different game calls. These include Adult Owl, Coyote Food Fight, Territorial Beta Male, Adult Cat Distress, Cottontail Distress, Crow Baby Distress, Fawn Distress, Fleming Hare Distress, Grey Fox Pups and Jack Rabbit Young Distress.
A one-handed design was utilized in the construction of this unit to give it added usability. The easy to read LED indicator lights let you know exactly what call you are utilizing and the enhanced speaker system increases sound by 50%. This will allow you to use this call, even in scenarios where the wind is creating a large amount of ambient noise. The ergonomics on this unit are excellent, with the trigger being one of the preferred styles of calls on the market.
Pros
10 Calls
Trigger Design
LED Indicator
Durable Frame
One Hand Control
Loud
Outstanding Features
This call was designed with the professional hunter in mind and the added volume equates to a more effective hunting strategy. You are far more likely to get your prey in closer using this unit. If you are ready to take your hunting to the next level, this may be the perfect game call for you.

4. Primos – The Third Degree Xtra Loud Cottontail Predator Call by Randy Anderson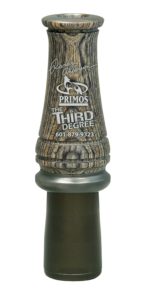 The Primos The Third Degree Xtra Loud Cottontail Predator Call by Randy Anderson delivers an extraordinarily life-like cottontail distress call that is sure to lure your prey in closer than ever before. This device creates a super high-pitched raspy distress call that can be heard from great distances by any surrounding prey. This sound is designed to have the maximum projection, even in high ambient noise scenarios.
This unit is very effective for calling coyotes. It was designed by Team Primos member and master hunter Randy Anderson. This high-quality game call is designed to last years of heavy use without ever failing. Experienced hunters will often prefer this style of call, as it can be used indefinitely without the need for batteries. If you are a woodsman that hunts for extended periods of time, this may be ideal. This unit has a traditional design that adds to the overall appeal of this device. This is an extremely portable unit that can be carried with you anywhere you go.
Pros
Portability
Durability
Great Design
Improved Ergonomics
No Batteries
Outstanding Features
Primos is known for producing highly effective game calls and this is no exception to that legacy. This is a very intuitive design that keeps you in control of all the best features with minimal effort. If you are in the market for a traditional game call that is tested and proven to work, this is the smart buy for you.

5. Primos Alpha Dogg Electronic Predator Call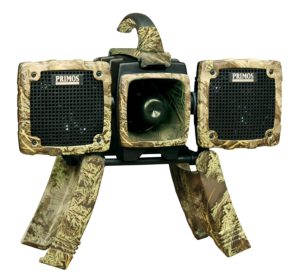 The Primos Alpha Dogg Electronic Predator Call raises the bar in terms of quality and effectiveness. A rotating directional system delivers realistic calls that are sure to entice any predators in your area. This unit can deliver an 180-degrees of calling coverage, much more than the competitors offer.
The sound on this device is crisp and can be concentrated to increase your overall range. The included remote has improved ergonomics that make it more comfortable than previous versions. Choose between 64 digitally mastered sounds. This unit also allows you to add and modify sounds giving you the maximum flexibility from your caller. This is a professional grade game call that can store up to 1000 custom sounds.
Pros
Multi- Directional Speaker System
Increased Volume
Auxiliary Jack for Motion Decoys
Audio Ports
64 Digitally Mastered Sounds
2 Gig Internal Storage
Sound Customization
Cons
Registration is Required to Customize
Outstanding Features
If you are looking for the best game call on the market, you need to seriously consider this unit. It gives you the maximum effectiveness and added flexibility you won't find in any other unit.

6. ICOtec GC300 – Call of the Wild Electronic Game Call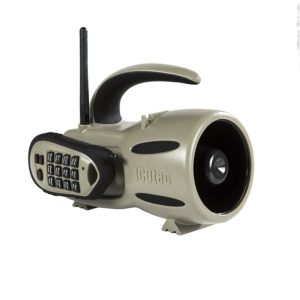 The ICOtec GC300 – Call of the Wild Electronic Game Call includes a long range remote that is capable of use at 300 yards. Unlike many competitors model this remote does not require you to have a line of site. There is also an external speaker jack, so you have the option to take your sounds to whatever volume you require.
This is an easily transportable unit that gives you unmatched range at an impressive price point. There are 13 calls including Cottontail Distress, Jack Rabbit Distress, Coyote Pup Distress, Fawn Distress, Woodpecker Distress, Crow Distress, Raccoon Pup Distress, Gray Fox Distress, Coyote Female, Coyote Male, Coyote Yip/Howl, and Bobcat Adult.
Pros
13 Calls
Coyote Pup Call
Extended Range
No Line of Sight Required
1 Year Factory Warranty
Auto Replay Feature
Cons
Range can Be Affected By Outside Factors
Outstanding Features
This unit is designed with your convenience in mind. Simply press the desired call button on your remote and the call will play, pause for 30 seconds, and then replay. If you need to add some distance between you and your prey, this game call will give you the option to do just that.

7. FOXPRO Inferno Electronic Game Call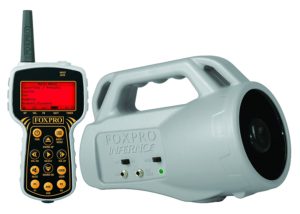 The FOXPRO Inferno Electronic Game Call comes equipped with 75 ultra-realistic sounds and the ability to store up to 200 calls in total. This is an extremely portable unit weighing in at just 1.5 pounds, including batteries. The sound quality and range on this device are exceptional.
This unit has superb craftsmanship and the materials used in construction are high quality. A 3-year manufacturer's warranty is included with the purchase of this device, so you know the FOXPRO stands behind this product. This unit features an upgraded remote that increases range and functionality and the USB port makes loading sounds easier than ever. If you use FOXPRO Decoys you can rest assured this unit is compatible with them.
Pros
3 Year Warranty
75 Ultra-Realistic Sounds
200 Sound Capacity
FOXPRO Decoy Compatible
LCD Screen
USB Port
Outstanding Features
This is a professional grade game call that delivers results. The LCD screen makes it easier to use and the flexibility of USB stick sound loading makes programming a snap. If you are looking for a high-tec call that is guaranteed to work, this is the right game call for you.

8. FOXPRO Shockwave Game Call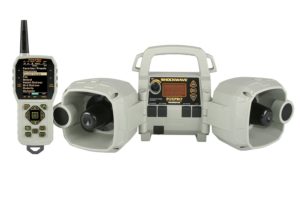 The FOXPRO Shockwave Game Call is one of the most effective hunting tools you can add to your arsenal. This unit features a plethora of options to bring your prey in close. The patented FoxMotion technology mimics prey as it slowly pans between speakers to give you the most realistic and lifelike sounds on the market.
This unit comes with 100 preloaded sounds, with the capability to hold 1000 sounds in total. FoxBang technology automatically maps your caller to your predetermined settings when you fire a shot. You can cast sequence files and the wireless remote features an easy to use LCD display that gives you control over every aspect of your call. FoxPitch allows you to alter the pitch of any sound you have loaded; this allows you to zero in on the perfect call every time.
Pros
100 Realist Calls
1000 Sound Capacity
FoxBang Technology
FoxPitch Technology
FoxMotion Technology
LCD Screen
Wireless Remote
Moon Phase Indicator
Outstanding Features
This is arguably the best game call on the market. It features 4 speakers and variety of other helpful information. This includes information such as temperature, barometer, and moon phase indicators. If only the best will do, this is definitely one of the finest game calls to hit the marketplace.

9. Primos Promos Dogg Catcher Electronic Predator Call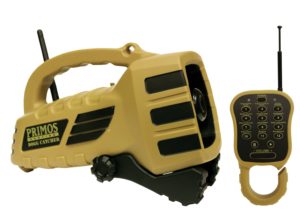 The Primos Promos Dogg Catcher Electronic Predator Call gives hunters a compact and effective design that can withstand heavy use. This unit features a wireless remote that boasts an impressive 150-yard range. This device has a couple unique features that add to its overall effectiveness.
You can play two calls simultaneously. This can give you a better chance by widening the range of animals you are calling. Twelve sounds come included with this unit. This is a lightweight and extremely portable device that can be easily stored behind your truck seat when not in use. This unit also includes a bobcat call.
Pros
12 Preloaded Calls
Compact Design
Wireless Remote
Extended Range
Portability
Simultaneous Play
Easy to Use
Outstanding Features
You get a lot of high-end feature at a great price point when you go with this unit. The added range is helpful and the overall usability of this call is high. If you are looking for an inexpensive game call that can deliver volume similar to high-end units, this is a smart option to consider.

10. Primos Turbo Dogg Electronic Predator Call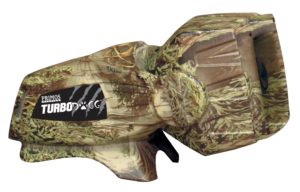 The Primos Turbo Dogg Electronic Predator Call features a 25-watt amplifier that increases volume by 25%. This unit includes 36 high-quality ultra-realistic sounds that are sure to bring your prey in close to investigate. This is a long reaching game call that is designed to deliver distortion free sound with maximum projection.
The speaker on this unit rotates you can get the perfect sound stage for your call. This unit also has some intuitive features such as the 4 preprogrammed Expert Hunt files. These files have a 20-minute call sequence that has been optimized to increase effectiveness. Primos is known for producing quality game calls and this unit is no exception to this. A wireless remote is included that increases your operational range to a distance of 150 yards.
Pros
36 Calls
4 Preprogrammed Sequences
Long Range Wireless Remote
Quality Materials
Easy to Use
25-Watt Amp
1 Year Warranty
Cons
Control Distance Reduced If Unit is Placed on The Ground
Outstanding Features
This is an extremely effective game call. The built in game sequences were produced by Expert Hunter Randy Anderson. Simply initiate the sequence and it's like Randy is there doing the calling for you. If you are in the market for a high-tech game call to take the work out of your hunt, this unit is a great option to consider.

The Top 10 Game Calls – Final Thoughts
Now that you have a better understanding of how to use a game call to increase your hunting abilities, you can go out and begin deciding what game call includes the features you consider to be the most valuable. Any of the game calls on this list will work for the majority of hunters, just remember to do your homework to make sure you aren't calling where there is nothing to be caught, and you are almost guaranteed to get great results.
Predator Calls Calls to Make You a Better Hunter
Experienced hunters around the world will tell you the same thing, game calls are a great way to increase your hunting effectiveness and learning how to choose the best game call for your area is a critical step in becoming a better hunter. Because of the increased use of game calls by hunters, coyotes and other prey have begun to recognize these sounds and have learned to avoid them. It is said that in some parts of the country it is rare to find a coyote that has not been called to. This has caused hunters and manufacturers alike to spend hundreds of hours on developing newer and more realistic sounds to keep your prey intrigued. Even with the best game call, there are a few things you should do to ensure your success.
Always scout your area first. Look for tracks and other signs that your prey has been there. You don't want to spend your day sending game calls into an area that doesn't have any prey for you to hunt. Another thing to consider is the type of call you are using. I would tell new hunters to explore their soundboard. It is common for a new sound to intrigue the local hunters and you may find that using a new sound is more effective than your traditional game calls. There are many reasons for this mostly that hunters have used game calls so much the original calls have begun to be recognized by the animals they are intended to catch.
Consider Your Options
You should also consider the overall range and sound quality you require. If you are trying to cover a vast amount of land, you are going to want to go with a unit that has multiple speakers or that offers an auxiliary output. This output will allow you to connect to an external speaker, giving you added expandability. If you live somewhere that is known for the wind, you may want to consider a unit that can deliver a slightly higher volume as ambient noise can reduce the range of your game call.
There are a number of different game calls being circulated on the market with the best coming from reputable hunters themselves. Some unit will include preprogrammed call sequences that can be initiated. This is a great feature to have, it is like having a professional hunter there making your calls for you. This can definitely reduce any learning curve and help you to get a good feel and understanding for what an effective call pattern should sound like.
Stay Covered
You should also make sure to stay camouflaged. Many new hunters think their equipment isn't working properly when in reality their prey is spotting them before they are spotted and choosing to avoid the area. This means your need to be extra sure to be not seen if you expect to be effective.
Make sure to put aside a good amount of time for your hunt. Although the internet is filled with, stories of hunters that use their game call once and out of nowhere, packs of coyotes appear. The reality of hunting can be much different. You need to be prepared to put some time in to guarantee a good hunt. You should also be aware of the amount of calling you are doing. This can be tricky as every region and animal are different. You don't want to be too aggressive and scare your prey off but you are going to need to be a certain volume to make sure you are getting an effective range.
The Coyote Calls User and Buyers Guide
Welcome to the ultimate coyote calls user and buyers guide. Coyote calls are a helpful device that allows you to mimic realistic animal noises. In most scenarios, this is used to lure your prey closer but it can also be used to drive unwanted pests away or out into the open. The internet is filled with stories of newbie hunters purchasing subpar coyote calls, heading to the wild and getting limited results. Their results may be hindered by their use of a low-quality call but it is their lack of understanding that truly hurts the new hunter.
Different Types of Coyote Calls
Coyote calls come in a variety of different types and models. Depending on your hunting style, you may find one style of call more suited for your needs. Recent technology has played a major role in the development of coyote calls and newer models offer a plethora of exciting features to take your hunting to the next level. Listed below are the most common types of coyote calls used by hunters.
Mouth Blown
If you are new to hunting a mouth blown coyote call can be a smart choice. This is the most cost effective version of the coyote call available on the market and its lightweight design gives you more flexibility in terms of storage and transportability.
Electronic
Electronic coyote calls are one of the most effective tools a hunter can learn to master. There are many advantages to using electronic coyote calls. You can set this style of coyote call in your kill zone and wait for your prey to approach. Rechargeable versions are considered the best as they can keep your operating costs at 0.
Multi Speaker
A multi-speaker coyote call gives you a wider range and more realistic sounding calls. Some units feature an aux-out, so you can use an external speaker system, further adding o the flexibility of this unit.
Programmable
Programmable coyote calls allow you to update your unit via your computer. You can add and remove calls. This type of call gives you the maximum amount of selection and it is a great way to ensure you are able to use your call for any of your hunting needs.
Handheld
A handheld unit can be ideal for the mobile hunter. This style of coyote call is easily transported to your favorite hunting grounds.
How to Properly Use a Coyote Call
Learning how to use your coyote call properly is an essential part of becoming a complete hunter. Most coyote callers rely on the prey and distress sound to lure your hunt in close. Start off by carefully moving into your hunting position. Be sure to cover your tracks and depending on the style of coyote caller you have, you may be able to place your caller directly in your line of fire. This is a huge advantage wireless callers have over their competition.
Take Your Time
Once you are in place, you are ready to start calling. Most manuals state to make calls for approximately 15 minutes and then wait for your prey to arrive. You will need to stick around for 30 – 40 minutes before proceeding to your next location. Coyote calls have increased in popularity over the last decade and now that this style of hunting has become mainstream, coyotes are starting to take notice.
It is important to understand that it may take some time for your coyotes to respond. The reason for this is simple. Today's coyotes are becoming more aware of the existence of game callers. These smarter coyotes have undoubtedly encountered calls before and now they are extremely suspicious of anything similar. When you are dealing with familiar coyotes, you need to understand they are going to approach with more caution. This means you will need to make your calls sound as realistic as possible.
Make Your Calls Delicious
There is a plethora of different coyote calls on the market but one is considered the best by a majority of hunters in the American west. The dying rabbit call is considered one of the most effective calls on the market. Coyotes live off of small game such as rabbits and mice, so this adds to this calls effectiveness. However, coyotes have a vast diet that consists of too many critters to name. Coyotes eat anything they wander across on their journeys. This is why digital and programmable callers offer you such a huge advantage on your hunt. You shouldn't feel relegated to using one certain type of call.
It may be that your coyotes are familiar with this call and, therefore, have grown immune to it. Switching to something new may spark the interest of your prey and lure them in close enough for you to take your shot. A wild pig distress is also very effective. Scrolling through your distress call options can help you to cover a wider audio spectrum and can help to confuse neighboring coyotes into taking a closer look.
Know Your Environment
The better you understand your hunting environment, the better you will be able to pinpoint your distress call with better accuracy. You should start using distress calls used by the local species. This is usually enough to spark the interest of any passing coyotes.
More Sounds = More Flexibility
Programmable coyote calls allow you to stay up to date on all of the newest and most effective calls on the market. This can prove to give you the edge on crafty coyotes that may have managed to recognize your previous attempts. Some newer models even allow you to adjust the pitch and tone of your call with great accuracy, while others give you access to an online library of calls. This is one of the best ways to guarantee your caller stays effective.
Wines and Yelps
Unlike distress calls, this style of call is designed to mimic the sounds made by pups when they are in danger. Because of this, it is one of the most effective sounds in your arsenal. Mother coyotes will be drawn in to investigate for injured young, while father coyotes, which have been reported to cannibalize young pups, will also come closer to take a sneak peak at what could potentially be their next meal.
The Time of Year Matters
The time of year can help you to decide the best type of call to use. For example during denning season, March through May, the pup sounds are going to be among the most effective calls in your repertoire. In addition, during the mating season, September through January, pup calls can bring your curious coyotes in for a closer look. Whelping and denning season allow you to also incorporate challenging growls into your calls. If you are in another coyote's territory and you let off one of these growls, you are sure to see an angry father responding with his hair standing up ready for combat.
Locate The Coyotes Den
To find your coyotes den you will need to listen in during the night hours. During these times you can hear yelps and howls. Once you have gotten yourself close, use a GPS to map out the surrounding area. Coyotes usually choose to den in the area with the thickest coverage. They prefer secluded zones away from other predators. Once you have located your coyote's den, you are going to be able to maximize your effectiveness. Use a combination of pup, distress, and challenging calls to bring your coyotes out into the open.