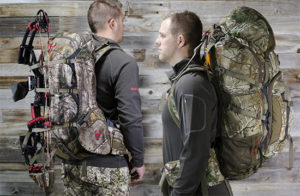 All of the best hunting backpacks for your money share a common quality. They are all designed to be ultra-portable with increased durability. When you are out in the wild hauling in a heavy load you can't afford to have a strap break or your gear become damaged or disorganized that's why many people look at getting something similar to this swissgear travel gear 1900 to keep their safe. By choosing a quality hunting backpack, you give yourself a more efficient means to improve your hunting experience. You will need to have enough storage space for your preferred means of hunting including hunting arrows. Not all hunting packs are created equal and choosing a subpar pack can result in your hunting trip becoming a stress-filled hike through the woods. Avoid this scenario by choosing one of the proven hunting solutions below. If you're looking for an all purpose, durable, waterproof backpack, you need look no further than Arkadia waterproof bags.
ALPS OutdoorZ Pursuit Hunting Back Pack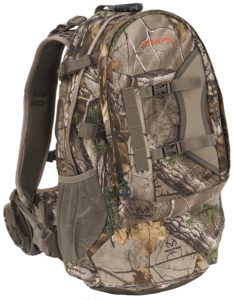 The ALPS OutdoorZ Pursuit Hunting Back Pack features a universal design that is able to accommodate a variety bows. This hunting pack weighs 4 pounds and 1 ounce making it the perfect lightweight solution for your hunting needs. A padded waist belt increases comfort and includes two pockets for storage of items you need quick access to. There are also large front and main pockets that are well suited to fit a large amount of gear. Lower side mesh pockets are perfect for carrying bottle waters and coffee thermoses. This unit features a Hydration port and a Center Aluminum stay that gives you access to your water without having to unpack your gear. This is great feature and it can make long hunting hikes much more comfortable. When you are out humping in the wilderness, you need to stay hydrated and concealed. This packs intuitive layout allows you to do just that by giving you a lightweight and durable platform to transport all of your gear.
This pack utilizes advanced Realtree Xtra HD fabric camouflage that increases the overall conceivability ability of this unit. Realtree is recognized for the extreme effectiveness of its camouflage and it is considered one of the most effective camo patterns available on the marketplace. There is also a drop-down pocket to carry your gun or bow securely and this pack includes webbing loops for lashing. Another handy feature this pack incorporates is the ability to hang it from a tree via a D-ring clip. If the weather starts to turn for the worst, you have no reason to worry because this unit includes a bright orange rain cover. This unit is well constructed and the stitching feels durable enough to last years of heavy use.
Pros
Universal Design
Improved Versatility
Fanny Pack
2700 Cubic Inches
Adjustable Shoulder Harness
Outstanding Features
If you are in the market for a hunting pack that can take a lot of abuse without wear and tear, this is a smart choice for you to consider. You get a durable pack, designed to last years, at a price point that is extremely competitive.

Badlands 2200 Camouflage Hunting Backpack – Meat Hauler – Rifle, Bow, and Pistol Compatible and Hydration Compatible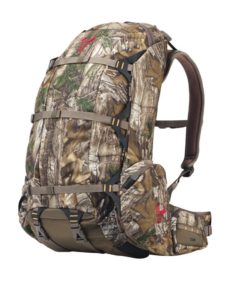 The Badlands 2200 Camouflage Hunting Backpack raises the bar in terms of quality and overall versatility. When you need to carry a heavy load without discomfort, this is the type of hunting pack you need to invest in. This pack features advanced ergonomics making it more comfortable and giving you quicker access to the tools you use the most. The T-6 aluminum aircraft frame is designed to work with your body shape to support heavy weight loads more comfortably. The bat-wing design gives you the most efficient way to carry rifles and bows in the wilderness. This hunting camo backpack is designed to function as a meat hauler and a daypack. Pockets, straps, and compartments make it easier to keep your gear organized. These added pockets give you quick access to the tool you use most such as spotting scopes and tripods. Pistol holsters are located on each side of this pack and there is a meat shelf as well.
The craftsmanship of this back is exceptional. The use of KXO-32 fabric allows this pack to be stronger, quieter, and more water resistant than the competition, so if you are expecting to encounter harsh weather this is the style you will want to go with. The quality in this unit is unmatched and the manufacturer included an unconditional lifetime warranty with the purchase of this product. This pack is 2L Hydration Compatible and has a total weight of 5 pounds 15 ounces. The integrated Spotting Scope Pocket is just another example of the intense research that went into creating this intuitively designed pack.
Pros
Designed for Heavy Loads
T-6 Aluminum Frame
Realtrea AP-Xtra Camo
Unconditional Lifetime Warranty
Outstanding Features
This is professional grade hunting pack that can deliver the performance needed to handle the harshest conditions with out failure. Hunters designed this pack, for hunters and it shows in the well-thought-out design of this pack.

Eberlestock X2 Hunting BagPack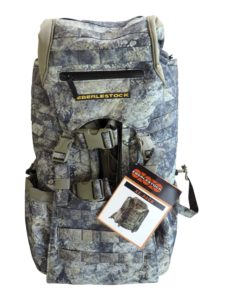 Each Eberlestock X2 Hunting BagPack goes through an intense field-testing procedure. This test incorporates a 100-pound bag of sand attached to the pack by wrapping the built-in compression straps. You can carry a heavy load from the straps on this pack making it the ideal meat-hauling platform. The full mesh back panel also includes added padding to give you more comfort in the areas most essential in distributing the weight of your pack. Designed to ride tight to your body, this pack gives you access to your most important tools when you need them most. The mesh design keeps your back cooler, even when hauling loads over 100 pounds. This unit features a fold open batwing design that conceals two tuck pockets and inboard zippered hydration pockets. These are designed to give you the quickest access to your tripod and scope.
The intuitive design of this hunting pack is showcased in the myriad of added features. A fold out FlexChassis can be used to support heavy loads better. This FlexChassis can also be used as a seat by strapping this pack to a tree. There are oversized compressions straps add to the overall usability of this unit. Eberlestock did their homework when they configured the design of this pack and it shows through the well thought out placement of the pockets and compartments. This lightweight pack can give you fast mobility you need to be more effective in the wilderness. This pack is designed to work equally as good between gun and bow hunters and if you desire, you can pack both comfortably. Keep your hands free by incorporating this pack into your hunting arsenal.
Pros
FlexChassis
Field Tested
Full Mesh Back Panel
Lightweight Design
Tear Resistant Fabric
Cons
Can Be Small For Taller Users
Outstanding Features
If you are the type of hunter that requires only the best, this is the smart pack for you. The quality is unmatched and the layout makes your hunting experience more streamlined. You are guaranteed to get better results by taking advantage of this well-built hunting pack.

ALPS OutdoorZ Commander Freighter Frame + Pack Bag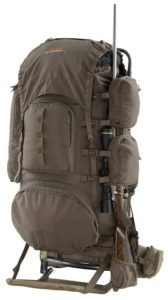 The ALPS OutdoorZ Commander features a top loading design that allows you to get the most gear packed efficiently. This unit has a number of helpful features that add to its overall usability in the field. An internal horizontal divider allows you to split the center of your pack, so you can keep your gear better organized. This hunting pack has an adjustable torso range between 17″ – 23″, this means you can get the perfect fit before you make your way into the wild. This extremely lightweight hunting pack weighs a mere 7.3 pounds. This pack includes some features that are usually reserved for packs that cost twice as much. A hydration pocket and port gives you the ability to stay hydrated as you venture upon you r favorite trails. Clevis Pin attachments and Webbing Loops give you more choices in determining what gear to bring.
This pack is priced exceptionally well considering the high level of quality you get. There are two side accessory-pockets that are perfect for storing smaller gear that you may need to access quickly. A large main compartment and a spotting scope pocket allow you quick access to your optics. You can get the jump on your prey by locating them easier. There is access to the lower door compartment and the hold open frame makes it more convenient to organize your gear. The rifle holder is well designed and it keeps your firearm safe and secure, even when you are traversing rough terrain. The frame of this unit can be used without the pack as well. This allows you to haul heavy loads more efficiently.
Pros
Top Loading
Internal Horizontal Divider
Lashing Straps
Adjustable Torso
5250 Cubic Inches
Outstanding Features
This is the perfect pack for anyone looking to get a little more room. The layout of this pack gives you lightning fast access to your scope and other important hunting tools you may require. It would be difficult to find a better deal than this well-constructed hunting pack.

Tenzing TZ 2220 Day Pack Hunting Backpack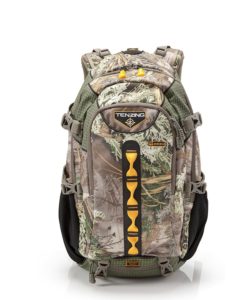 The Tenzing TZ 2220 Day Pack Hunting Backpack is the perfect hunting solution providing ample room to store your rifle or bow with ease. The padded hip support increases comfort, especially during extended wear times. Experienced hunters will tell you, your pack can get uncomfortable after hours of hiking and having a hunting pack that is appropriately fitted to your body size can be a great way to improve your overall hunting experience. This pack utilizes a channeled design to increase airflow. This keeps your back cool, even during the hot summer months. The gun and bow carrying boot folds out to give you a more secure compartment to keep your gear safe and secure. A foldout rain cover keeps your gear dry in harsh conditions. The total weight of this backpack is 4 pounds making it ideal for all of your hunting needs. Eleven specialized compartments keep your hunting gear organized and easily accessible. Access your scope quicker and get the drop on your prey from a distance.
The intuitive design of this hunting pack increases your comfort and accessibility to the tools you need the most when out in the wild. The rifle butt pocket can be removed when not in use and the fall camo design is perfectly suited for wooded hunting environments. This pack is very customizable making it a great companion to bring on your next hunting trip. There is plenty of room to fit all of your gear in this pack because the total capacity of this unit is 2,200 cubic inches. There is also a variety of different straps to attach additional gear if you desire. The overall craftsmanship of this pack is comparable to higher priced units on the marketplace today. The stitching feels secure and the pack is very good at repelling rain with the cover on.
Pros
Internal Aluminum Frame
Rain Cover
Padded Hip Support
Air-cooled Back Pad
Cons
Weight Sits in Your Shoulders
Outstanding Features
If you are in the market for a lightweight hunting pack that gives you the freedom to customize your storage abilities, this is a wise decision to make. Adding this pack to your hunt is guaranteed to make you more efficient while in the wild.

Badlands Summit Pack Camouflage Hunting Backpack Carry Compatible with Rifle, Bow Hydration Compatible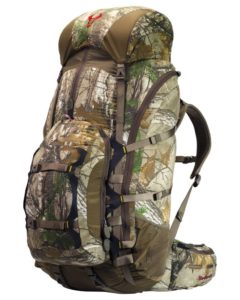 The Badlands Summit Pack Camouflage Hunting Backpack raises the bar in terms of comfort and durability. A patented AirTrack Suspension increases comfort and allows for better weight displacement. The waste belt of this unit has been anatomically shaped to improve your load lifting capabilities. This heavy-duty professional grade hunting pack provides you with the ability to carry more without becoming fatigued. When you need to carry all of your gear for extended periods of time, this style of backpack can increase your overall comfort dramatically. The polycarbonate frame increases your ability to traverse rough terrain by keeping your load's weight evenly distributed, even while making your way on steep inclines. Haul you next trophy out of the woods with this intelligently designed hunting pack. Improved ergonomics and high-quality construction make this pack stand out from the competition.
There are a plethora of pockets and compartments to keep your gear organized and you can access your most frequently used gear with ease. The Realtree AP-Xtra camo pattern is extremely effective at masking your position, so you can get the jump on your prey. The craftsmanship in this hunting pack is superb, you can feel the ruggedness from the moment you grip the Ultralight Ripstop Fabric.
This fabric is designed to resist and wear and tear giving you a backpack you can rely on for years to come. Badlands is considered one of the best hunting pack manufacturers due to the long life expectancy of these packs and this legacy of high-quality product and service is backed up by an unconditional lifetime guarantee.
Pros
Increased Comfort
Adjustable Shoulder Straps
Anatomically Shaped
Improved Weight Distribution
Outstanding Features
If you are ready to take your hunting experience to the next level, this high-end professional grade hunting pack can withstand the harshest conditions with failure. When only the best will do, this pack is guaranteed to leave you satisfied.

ALPS OutdoorZ Dark Timber Day Pack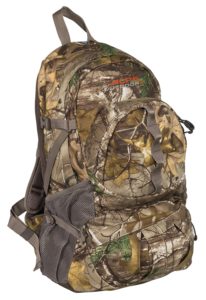 The ALPS OutdoorZ Dark Timber Day Pack incorporates a large front pocket design to give you access to your most valuable gear when you need it the most. There is a lower storage pocket that is perfect for helping you to stay more organized while on your hunt. A set of lower mesh pockets make the perfect spot to store extra bottle of water or other items you may want frequent access to. Side compression straps give you the option to reduce the overall profile of this pack to increase transportability. There is a hydration pocket and port as well as Bartacked Webbing that allows you to use clips to attach additional gear when needed. The total storage of this pack is 2,285 cubic inches, so you have plenty of room to bring all of your favorite hunting supplies on your next trip. Every part of this pack was constructed with portability in mind.
This extremely lightweight hunting pack weighs in at a mere 2 pound 1 ounce, making it ideal for long hunting and hiking trips into the wilderness. A fall camouflage pattern features hints of evergreens to give you better ability to stay unnoticed. You don't want your gear giving you away to any potential prey that may wonder into your kill zone and this pack is sure to blend perfectly into most wooded scenarios. An adjustable sternum strap helps you to keep your pack properly seated and the weight of your load evenly distributed across your back and shoulders. The waist belt and shoulder straps both feature comfy padding that helps to buffer the weight of your load against your body and the lashing straps give you more options in terms of adding additional gear.
Pros
Large front Pockets
Mesh Pockets
Bartacked Webbing
2,285 Cubic Inches
Lightweight Design
Outstanding Features
When comfort and durability is a must, this is the style of hunting you need to go with. You have plenty of room to store all of your essentials and this pack is built well enough to last many years.

ALPS OutdoorZ Pathfinder Hunting Pack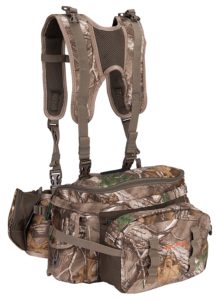 The ALPS OutdoorZ Pathfinder Hunting Pack gives you access to features that were previously reserved for packs that cost hundreds of dollars. This versatile pack is designed to withstand the harshest environments and the universal layout of this pack allows you to carry a wide variety compound bows securely. The carrying system is designed to carry out your meat more efficiently. The designers of this pack wanted to give you the ability to carry heavier loads without losing your comfort and there are extension straps to maximize your options. This uniquely designed hunting pack can be broken down and worn as a fanny pack during the day. You can easily convert this pack between configurations and the added flexibility definitely increases the functionality of this unit. The fanny pack is a good size with a total capacity of 800 cubic inches. The daypack sports 1900 cubic inches of storage space bringing the total capacity of this pack up to 2700 cubic inches. This means you don't ever have to decide what gear is most important.
With this pack, you have plenty of room to bring all of the gear you need to raise your hunting effectiveness to the next level. This lightweight pack has a total weight of just 3 pounds 5 ounces making it the ideal pack for any hunting scenario. The unique 5 in one design of this hunting pack really increases the overall value you get out of this unit. The waste belt features a comfy padding that helps to better distribute your weight load evenly and being able to drop down to a fanny pack with just the essentials when scouting is another great advantage of going with this pack. You can decide between a hauling mode and a bow-carry and the bow pocket is designed to work universally with most standard compound bows.
Pros
2,700 Cubic Inches
Lightweight Design
Increased Versatility
5-in-1 Design
Padded Waste Belt
Hauling Mode
Outstanding Features
It is going to be very difficult to find another pack that offers so many features at such a low price point. This style of pack is ideal for new hunters looking to get into the sport without blowing their budget out of the water. You get a well-designed pack from a reasonable price when you choose this unit.

Timber Hawk Killshot Backpack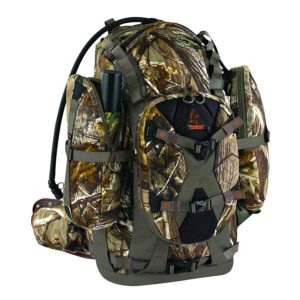 The Timber Hawk Killshot Backpack is constructed from durable polyester that is designed to help keep moisture away from your gear. This pack is designed to last and the heavy-duty stitching is able to hold up against years of use. This pack comes with some added bonus features such as a 2 liter reversible Hydrapak Bladder and insulated hose. This is huge plus as it can end up saving you some extra dollars and increasing your overall comfort and safety while hunting. You can easily carry a rifle, bow, or tripod securely with the layout of this well designed hunting pack. Durable twill fabric was used in the construction of this unit. Twill is known for its extreme strength and its ultra-quiet capabilities. You don't want to alert any potential prey to your presence by using a pack that is loud or not properly camouflaged. The camo on this pack is set to work perfectly in the fall and summer months and you are sure to remained concealed using this highly effective pack in the wilderness.
The adjustable shoulder strap system can be configured to fit any body style comfortably and by properly fitting your pack, you are better distributing the weight of your gear. This can lead to a more comfortable hunting experience by reducing the amount of fatigue and stress your body encounters. The ergonomics of this pack are well thought out and you have a variety of different storage compartments and pockets to keep all of your gear neatly tucked away until you need it. Many of these pockets are designed to give you quick access to your most valuable gear in seconds. You can easily attach additional gear via the heavy-duty clip straps.
Pros
2 Liter Reversible Hydrapak Bladder
Adjustable Strap System
Ultra-Quiet Twill Fabric
Padded Waste Belt
Water Resistant Polyester
Cons
Spotting Scope Pocket Small
Outstanding Features
This pack is the perfect size to bring enough gear to spend a couple nights in the wilderness and compact enough o allow you to navigate densely packed forest terrain. If you are in the market for a quality hiking pack at a price you can afford, this unit is sure to deliver the results you desire.

Hunting Backpacks -How to Choose the Best Hunting Backpack for The Money
Any discussion about how to choose the best hunting backpack is best started by examining your personal hunting style. When hunting in the wild, a backpack can be crucial in giving you access to the tools you need to stay effective and safe. A backpack gives you the added freedom to do additional tasks with your hands and the ability to climb and traverse all types of terrain.
Manufacturers have put great effort into creating the ultimate hunting backpack. Many new models include innovative features that are sure to improve your overall hunting experience. There are hunting packs that are specifically built for elk and deer hunting. These can include places to store ammo, snacks, and other supplies. If you are planning to use a deer stand, a backpack is going to provide you with access to your gear and make waiting much more comfortable.
What Type of Hunter Are You?
Before you jump into any hunting backpack, you should consider the style of hunter you are. Are you the type of hunter that moves from stand to stand? If so, a smaller pack is going to give you added mobility and make traversing rough terrain a little easier. Are you the type of hunter that prefers to use a stand or hunt from a blind? If you are using a hunting blind, you are going to have a much easier time with a large hunting backpack versus someone who utilizes a tree stand. Not having to climb up to your hunting position can make choosing a larger hunting pack more reasonable.
What Type of Weapon Do You Use?
Are you a rifle, or bow hunter? This question can dictate a large portion of your gear requirements. Bow hunters will benefit from packs with built in quiver and bow holders. A single strap pack is ideal for bow hunting. Most hunting backpacks include a rifle carrying method but not all include a bow carrier, so be sure to double check before you make your purchase.
How Long Will You Be Out in The Wild?
If you are the type of hunter that likes to spend days at a time in the wild, a larger backpack is going to give you the added space you need to stay comfortable. The average hunting backpack can hold enough gear for a day or two of food and hunting supplies. Obviously, if you are spending days at a time in the wild, you are going to need shelter and other supplies a one-day hunter will not require.
Loading Options
Loading options are important to consider. Traditionally styled packs are going to resemble your average school bag. They are going to have a zipper loading area. These packs are great for the daytime explorer, but many lack the durability required for additional time in the wild. Top loading packs are sturdier and can haul more gear without risk of tearing. This style of backpack can be created feather light and extremely rugged. Panel loading options are another smart choice for the savvy hunter to consider. Panels can give you instant access to the gear you need the most. Many hunting backpacks include special panels for your spotting scope and other supplies you may need to get quick access to.
Material Quality
Not every backpack is created equal. Try to stick to tear proof backpacks to avoid any situations while you are out. Many new hunters make the mistake of not considering the material their pack is created from. Tearproof material is a smart idea. Imagine the trouble you will be in if your pack tears and you are unable to carry all of your gear. Hunting gear can have sharp edges and you need a bag that will not be easily pierced. Sound deadening fabrics are starting to become more popular. This is a great feature to consider because deer have excellent hearing and even the slightest sound can scare a shy buck off. Zippers are another feature to consider.
Warranty
Another important feature to consider is a warranty. Even the best packs can have a random manufacturing defect and a warranty can be a great way to protect your investment. Obviously, the lower the costs of your hunting pack, the shorter the warranty will probably be. If you are electing to go with high-quality professional level gear, you should consider a warranty. The best packs will include a lifetime warranty. Looking at the length of a product's warranty is a good way to gauge a manufacturer's durability.
Size
Hunting packs come in all shapes and sizes with small packs being around 1800 cu in. Larger hunting packs can hold much more gear, with many possessing over 5000 cu in of storage space. If you are considering a larger pack, be sure to get one with an internal frame. This can help you to balance the weight of your gear evenly.
Camouflage
Know your environment. Most hunting packs come with some sort of camouflage. Never underestimate the power of this method of concealment. Deer are unable to see color but they are extremely sensitive to shading differences. If you pack doesn't match the surroundings, you are going to give up the element of surprise.
Padded Straps/ Back
A little padding can go a long way, especially if you are planning to hike to your hunting zone. Padded shoulder straps increase your comfort and help prevent fatigue from setting in. A padded back can do more than just increase your comfort. Many packs feature a padded design that allows air to flow between your hunting pack and your back when being worn.
# of Pockets / Compartments
A pack that features extensive pockets and compartments is going to give you better organization than one that has only a few large areas to store items. Many hunting packs now feature specially designed compartments to fit certain items. Waterproof pockets are another awesome feature to consider. Keep your cell phone and wallet safe, no matter how the weather turns. Spotting scope compartments and ammo pouches are examples of how manufacturers are innovating hunting packs to be more user-friendly.
Adjustable
The best hunting packs give you the ability to adjust your pack to fit your body style. This is very important because if your backpack that doesn't fit properly, it is going to make you sweat. If a curious deer gets a whiff of your perspiration, it is sure to sprint off in the other direction. A comfortable pack can help to alleviate sweat and give you better overall hunting experience.
Stick With a Trusted Manufacturer
The internet is filled with pages upon pages of hunting backpacks. When choosing your next hunting pack, be sure to stick with a reputable manufacturer. You are going to get a pack that has been tested and can withstand the abuse hunting can deliver. Remember, if you buy a pack from a company that goes out of business, it won't matter how long your warranty is.
Budget
Now that you understand what feature you find desirable in a hunting pack, you are ready to see what packs are in your price range. If you are new to hunting there is no reason to go overboard, an entry-level pack should suffice. Professionals are going to spend more but get more.