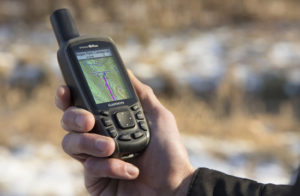 The handheld GPS has become a lifeline for many outdoorsman. Whereas before, sportsmen and hunters had to depend on maps and compasses, the GPS can give them exact coordinates for locations. Many of the manufacturers include links to GPS maps that can be downloaded for free so that the user can find a campsite, fishing location, game trail, or hunting spot. They are also useful on the water when navigating to shore or specific fishing holes. Such devices are life savers in storms and other dangerous situations. Owners of a handheld GPS can record, or bookmark, their favorite places.
In general, there are several characteristics to look for with a handheld GPS. You will want something lightweight and compact so that you can carry it in your pocket or attached to a D-ring. Some of the devices also include a distress beacon. It should be waterproof and durable so that it will resist the shock of being dropped or otherwise abused by use and the elements. The screen should be easy to read regardless of weather conditions, so check it in full sunlight, overcast conditions, nighttime conditions, and when you are wearing your sunglasses. Since your GPS will take you a long way from civilization, it should have an exceptional battery life and an easily changed battery. Look for WAAS units that offer the best accuracy within 10 feet of your destination. A USB port will allow you to hook up to your computer and download maps, and an SD card will extend the memory. Here are some reviews of the top 10 handheld GPS units available.
1. eTrex by Garmin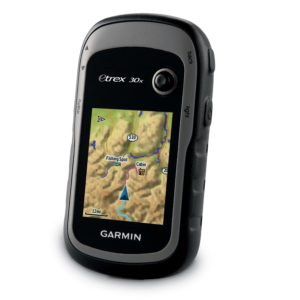 Garmin makes the eTrex 30x handheld GPS device. It offers a 65K color display that is readable in sunlight, the 2.2" screen has a 240×320 pixel display. The eTrex offers 3.7 GB in internal memory, and has a microSD slot for loading various maps, some of which need a subscription. It comes preloaded with a shaded-relief basemap.
The eTrex has a barometric altimeter that records your altitude for added accuracy, and has a memory that will record barometric pressure and plot changes over a period of time. This is a wireless device that allows you to share your information such as routes, geocaches, waypoints, and more with devices that are compatible.
This device is WAAS enabled and uses the HotFix satellite tracker. It also will support geocaching activities, including information on terrain and difficulty, hints, and other key information. This unit is accurate and identifies your location quickly even if you are under heavy cover or in a deep canyon. In addition, the eTrex has commercial qualities in that it can simultaneously track GPS and GLONASS satellites. GLONASS was developed by the Russian Federation and which load at about 20% quicker than GPS. It has an average battery life of 25 hours and supports Bluetooth.
Pros
Lightweight at 1.6 ounces
4"x2.1"x1.3"
GLONASS capable
WAAS enabled
Supports Bluetooth
Micro SD slot
Up to 64 GB storage capacity on SD card
Automatic routing
Track log
Barometric altimeter
Electronic compass
Worldwide DEM Basemap preloaded
Digital Globe demo preloaded
National Park preloaded
Basic map has shaded topography
Standard waterproofing for 30 minute immersion
Cons
AA batteries (lithium is better)
Topo maps are not preloaded
Some non-USA customers find the maps insufficient
Not the fastest loading GPS
Outstanding Features
Garmin has a good reputation with outdoorsmen who depend on GPS for navigation and safety. The eTrex receives good reviews from customers who bought it. One of its best features is its ability to use GLONASS and WASS.
Another outstanding feature of the eTrex is that it withstands regular exposure to weather, rain, and fog, and is rated for 30 minutes of immersion.

2. Montana 680 Touchscreen GPS by Garmin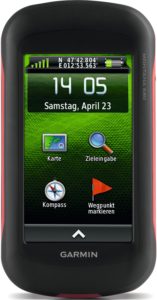 The Montana 680 Touchscreen GPS comes preloaded with 250,000 geocaches from around the world. It also has a one year subscription to Birdseye Satellite Imagery, which helps you see your immediate surroundings, wherever you are. The Montana 680 is GLONASS and WAAS capable. It also has Hotfix prediction and is capable of maintaining your location regardless of cover and in canyons. The track manager enables you to record routes and waypoints and to organize your navigation. This unit also comes with a digital, 8 megapixel camera that provides geotagging.
The Montana 680 has a glove-friendly color touchscreen that is a generous 4", with dual orientation. It has a 3-axis, tilt-compensated compass and a barometric altimeter. It supports automatic geocaching of GPX files, including difficulty ratings, terrain, and hints. You can also receive navigation pointers for geocaching events. Topographic data can be displayed in either 2-D or 3-D, and includes elevations and contour lines. It is water rated, and durable against dirt, being dropped, and humidity. You can also share your data with other, compatible devices.
Pros
10.2 ounces
1.4"x2.9"x5.7"
Lithium ion battery
SD slot
4" screen
480×272 pixels
Water rated at IPX 7
4 GB memory
Touchscreen
Operable with gloves
Can connect to USB power source
You enter transportation mode
GLONASS capable
Geotagging for photos
Rugged construction
Cons
Camera is not so good
Some people do not like having to enter their transportation mode
Lithium battery only lasts 12 hours
Touchscreen is not multi-touch (no pinching or zooming)
Maximum file size allowed is 4 GB
USB 2.0 interface, rather than 3.0
Outstanding Features
The 4" touchscreen on the Montana 680 is one of its most outstanding features. You can operate it while wearing gloves and it is easy to read in the sunlight. Customers like the size of the screen. They also say the Li battery is more lightweight than the alkaline batteries.
Another favorite feature of the Montana 680 is the GLONASS capability. GLONASS responds more quickly than WAAS alone. This unit is durable and water proof.

3. Rino 750 by Garmin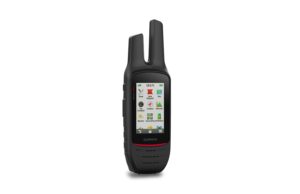 The Garmin Rino 750 has a 3" inch screen that is easy to read in the sunlight. This is a touchscreen with both landscape and portrait views. It also has 3-axis tilt compensation, and electronic compass, an accelerometer, and a barometric altimeter. This device also provides current weather forecasts and provides an animated radar readout. It is Bluetooth capable and set up for smart notifications from Garmin.
The Rino 750 also has a built-in, 5 Watt, 2-way radio. The radio as excellent range. It offers dual GLONASS and GPS reception which provides more reliable tracking in inclement weather and difficult terrain. The Active Weather Support with radar and Position Report are also excellent safety features, along with available emergency alerts. It offers intuitive programming for waypoints and navigation. This device can be synced with compatible devices so that groups can find each other when separated.
Pros
2.6"x1.6"x7.9"
12.8 ounces
Lithium battery
Charges from USB power source
Solar Charger capable
2-way radio
Active Weather Support
Position Report
GLONASS capable
3" touchscreen
Bluetooth capable
Barometric altimeter
Accelerometer
Electronic compass
3-axis tilt
Cons
No testimonials concerning waterproofing
More expensive than other models
Screen not as large as some cheaper models
One consumer said the location technology is unsatisfactory
Outstanding Features
By far, the two way radio is the most popular feature of the Rino 750. Customers who purchased this device testified that, on hunting trips, they were able to find each other across large expanses of forests, enabling them to coordinate their hunt and come to each other's aid when necessary.
Consumers also found the device to be intuitive in use, with a readable screen regardless of sun conditions. Another popular feature is the battery life. Consumers say that the battery lasts quite well, and recharges overnight very reliably.

4. Oregon 650t GPS by Garmin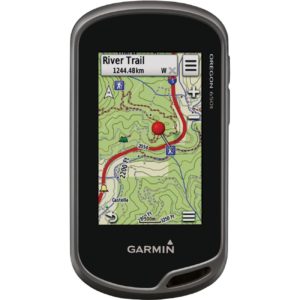 The Oregon 650t GPS, manufactured by Garmin, has a 3" multi-touch touchscreen. The screen is one of the best Garmin has made and is easy to read in direct sun and when you have sunglasses on as well. The device is impact resistant, yet responds to a gloved touch. In addition, the Oregon 650t is rugged, resisting dirt, contact, and humidity. It offers both GLONASS and GPS positioning, as well as a three-axis compass and a barometric altimeter. With GLONASS capabilities, you have access to more satellites. GLONASS is also faster than GPS .The Oregon 650t also has an accelerometer. It is Bluetooth capable so that you can share your custom maps, waypoints, photos, and more with team members. It offers dual orientation for all photos, as well. The worldwide map has shaded relief, and with the multi-touch feature, you can zoom in or back out with the touch of your fingers. You can even wear certain kinds of gloves when using the touchscreen.
This device can operate with either AA batteries or with an NiMH battery pack. The batteries last about 16 hours. The 8MP camera offers autofocus and automatic landscape or portrait. The camera has a zoom feature as well as an LED flash and waypoint marking. Geotagging of photos allows you to find your way back to any specific spot. With Garmin Adventures, you can share your photos with friends. The Oregon 650t has a microSD card and a USB port. This is a lightweight item at 7.4 ounces, and measures 1.3"x4.5"x2.4", with a 3" diagonal screen.
The Oregon 650t arrives with the entire U.S. mapped, including Puerto Rico, in shaded relief. This map includes all of the parks at each level (local, state, and national) as well as contours and elevation info. It will alert you to points of interest and to topographical elements such as lakes and rivers. This unit will hold unlimited geocaches. With the BaseCamp software, you can plan your excursion and share it with friends. The BaseCamp display is in 2-D or 3-D and includes elevations and contour lines.
Pros
GLONASS capable
Touchscreen w/multi-touch
Anti-glare screen
Bluetooth capable
Can use both AA batteries and an NiMH pack
8 MP camera with zoom
Geotagging
Flash for camera
microSD card
USB port
BaseCamp capable
User friendly
Stores thousands of geocaches
Uses 3rd party maps
16 hours battery life
Cons
The maps that come with the Oregon 650t are not routable
Software problems – it freezes
Battery life is below normal
Expensive for what you get
Battery life far lower than promised – about 5 hours
Not accurate enough for geocaching
Power button locks up when the unit freezes
Sometimes battery pack won't recharge
Outstanding Features
The Oregon 650t has a multi-touch screen that can be used while wearing gloves. The screen is easy to read in bright light as well as in overcast conditions. Shading in the topographical maps is clearly delineated. It is also small and easy to pack into and out of camping activities.

5. Garmin 64st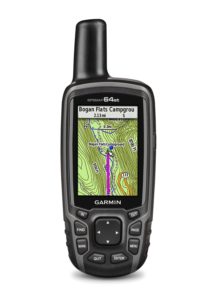 The Garmin 64st has a 2.6" screen that is easy to read in bright sunlight. It has a 160×240 pixel screen. It arrives with a world-wide basemap built in. The basemap has shaded topography. It has both GLONASS and GPS reception which is aided with the helix antenna. It is preloaded with 250,000 geocaches and 100,000 maps from TOPO U.S.
The Garmin 64st has a microSD slot and an internal memory of 8GB. It also has a barometric altimeter and a three-axis, electronic compass. This unit comes with a one-year BirdsEye Imagery membership. It is Bluetooth capable, or can use ANT+. The quad-helix antenna provides clear reception even in heavy cover or when surrounded by tall buildings. It also works in canyons. The tilt compensation allows the unit to show your position even if you are not holding it level, and the ability to plot changes in barometric pressure help you to predict changes in weather patterns.
With this device, you receive trip planning capabilities, with information on trails, various points of interest, and water destinations such as lakes and rivers. You can organize your routes, including waypoints and trails. The topographical details can be displayed in either 2-D or 3-D. You can then share your plans with compatible devices. Paperless geocaching extends the battery life of this unit, but you can also print out your information if you want to. ¬You can also receive Smart Notifications, and has 16 hours of battery life. It measures 1.4"x4.2"x6.3".
Pros
Lightweight at 9.28 ounces
Uses 2 AA batteries
Bright screen for sunlight reading
GLONASS and GPS
Records the route you have traveled
TOPO U.S.
Quad-helix antennae
Micro SD slot
8 GB memory
Bluetooth and ANT+ capable
One year subscription to BirdsEye Imagery
Smart Notifications
Tilt compensation
Electric compass
Barometric altimeter
Lithium batteries available
Cons
No camera
A little larger than other models
Battery life not what was promised
Have to turn off all the features to save the battery
Instruction manual not very detailed
Measurements sometimes unexplainably inaccurate
Software not very user friendly
Some users found the screen failing after about a year
Uses different terminology than other Garmin units
Outstanding Features
The Garmin 64st has excellent reception due to its quad-helix antennae. The screen is easy to read, even in bright sunlight. The included year-long subscription to BirdsEye is very popular with consumers.

6. eTrex 10 by Garmin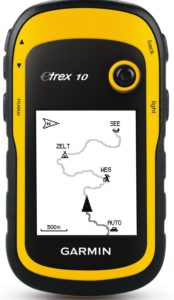 The eTrex 10 Worldwide, manufactured by Garmin, is a rugged handheld GPS unit that is also waterproof with an IPX7 rating and protected against rain, dirt, and splashes. The 2.2" screen is in monochrome, with 240×320 pixel resolution. This is a WAAS unit with both GPS and GLONASS, providing faster loading time from satellites, as well as a more reliable signal. It is also equipped with a HotFix receiver. This device runs on two AA batteries that provide as many as 20 hours of power.
The eTrex 10 supports paperless geocaching. A worldwide basemap is preloaded in this unit. Garmin has improved the user interface with this model, and has also designed it to support accessories. Fans of geocaching find the eTrex 10 to be useful for downloading details including terrain, trail difficulty, hints for searches, and more. All of this information is automatically entered, so there is no need to manually enter information. This is also one of the first handheld GPS devices that can use GLONASS satellites which allows you to lock on to your position about 20% faster than using GPS alone.
The included BaseCamp software allows you to store, sort, and organize your maps. You can select routes and waypoints, and it tracks your journey. Trip-planning features give you the chance to use Garmin Adventures to plan and share your routes and activities. The BaseCamp map is viewable in both 2-D and 3-D, and shows elevation profiles and contour lines. This unit is BirdsEye Imagery ready. The eTrex 10 is a lightweight 5 ounces.
Pros
Small unit, so very easy to carry and pack
20 – 25 hours on batteries
GLONASS/GPS
Paperless geocaching
Preoaded with BaseCamp
2-D and 3-D imagery
Waterproof
Trackback helps you return to base in reduced visibility
Tough enough for strenuous hiking and camping
Single-click marking for waypoints
Uses joystick and button navigation, making it easy to use with gloves
Exports data easily
Accurate
Cons
No compass – you must carry one
Does not track your hike
No camera
Small screen
Does not have alarms
B&W not as sharp as color (but, works in all light)
Manual not detailed enough
No lanyard
Not much memory at 7.5 MB
Outstanding Features
The eTrex 10 is a good GPS unit for hiking and sports. It is easy to use and reports accurate locations. The button and joystick navigation aids outdoorsmen wearing gloves.
This unit is small so that it doesn't use up much space or get in the way when you are involved in activities.

7. eTrex 20x by Garmin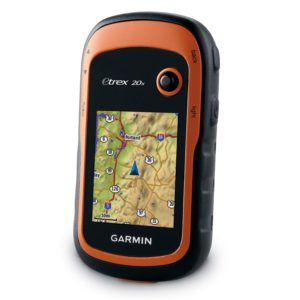 The eTrex 20x is relatively inexpensive as far as handheld GPS units go. It has a 2.2" diagonal screen with a color display that is constructed to be readable in full sunlight. It has 240×320 pixel resolution. For a small GPS unit, you still get 3.7 GB of memory as well as the ability to load a microSD card. This allows you to load more maps. It is preloaded with Basemap with shaded topography.
The unit uses a HotFix satellite receiver and is GLONASS and GPS enabled. This makes lock-on to a satellite about 20% faster. It is also WAAS enabled. This enables the user to locate his or her position accurately despite heavy cover, tall buildings, or location in a deep canyon.
The eTrex 20x is a good choice for both sporting and geocaching, allowing you to download geocache details directly to your unit. It will display terrain, location, and hints while advising you about the difficulty of the trail. You do not have to manually enter coordinates. This unit is quite small at 2.1"x4"x13" and 4.9 ounces. It uses 2 AA batteries, and provides 35 hours of use on one battery charge.
Pros
Up to 200 saved tracks
Compatible with custom maps
Automatic routing
35 hours of use
Inexpensive AA battery power
Accurate to within 20 or 30 feet under heavy cover
Accurate to within 8 feet under clear sky and 5 feet when geocaching
Sturdy construction
USB port to attach to a computer
Cons
No barometric altimeter
No electronic compass
Manual not detailed enough
Outstanding Features
For a small, inexpensive unit, the eTrex 20x is an excellent choice. Sportsmen, geocachers, and outdoorsmen all seem to like the speed and accuracy of this device.
Most of them say that it is accurate enough for their purposes, even in geocaching. While it does not offer a barometric altimeter or electronic compass, it still provides enough information for people to pursue their outdoor activities confidently and safely.

8. DeLorme InReach SE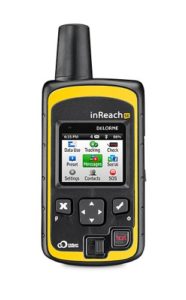 The DeLorme AG-009871-201 is a GPS unit used primarily for search and rescue. It offers 24 hour service 7 days a week. With this unit, you can send out an SOS and respond with rescuers through GEOS, the search and rescue center. GEOS communicates with local search and rescue groups, and will inform you of ETA and stay apprised of current situations. This unit acts much like a cell phone in that you can use it for texting messages containing GPS coordinates. Texts are limited to 160 characters at a time. You can also send emails, and call cell phones anywhere. This unit is an excellent choice if you are not going to be within range of an cell towers. It offers a way to communicate with the outside world via satellite.
With the DeLorme InReach, you can track your trip. Set the intervals from anywhere between 10 minutes to 4 hours, and your GPS coordinates will be sent to designated recipients. Your speed and elevation will also be sent. This device uses the Iridium satellite network, which covers the entire globe. You get confirmation for all texts and SOS signals you send. This unit has a color screen, and the on-screen keyboard is predictive. The InReach also responds to queries from others in regards to your location, and allows for remote ping locating. With the Earthmate app you can view maps on your smartphone and transfer contacts to your GPS unit. Even if you have no cell phone service, you can type your text message on your cell phone and send it to your DeLorme InReach, which then sends it via satellite.
The Explore Web Portal is a feature available to the DeLorme InReach. Here you can send preset messages, view social media, and track your journey. The unit weighs 7 ounces and is 2.44"x1"x5.78".
Pros
Excellent choice for SOS and communication in remote areas
Sends and receives texts
Automatic SOS signal
Allows ping-me service
Lightweight
Syncs with smartphone and tablet for messaging and viewing maps
Cons
Not as useful for navigating
Not intended as a GPS unit for sportsmen
No basemaps, routes, or waypoints
No trip planning features
Outstanding Features
For use as a handheld GPS unit, the DeLorme InReach is not a good choice. However, its use is a GPS communications device cannot be rivaled. This unit can send your GPS coordinates to any phone number or email address, and will automatically send an SOS with your GPS when necessary. The GEOS service keeps you informed of progress in terms of search and rescue, and allows you to communicate through text messages. This is an excellent item for the trekker, outdoorsman, sportsman, and otherwise active traveler who may find himself or herself in trouble or lost at some point.

9. Back Track G2 by Bushnell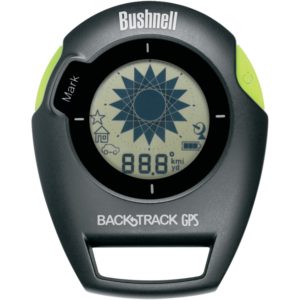 The Back Track G2 by Bushnell is a handheld GPS unit that is lightweight and ergonomically shaped. The unit measures 10"x7.5"x1.5". It will allow you to mark up to 3 locations so that you can return to those positions. This is quite useful for urban explorers and travelers who may get lost during their exploring during the day and need to find their hotel rooms. The unit acts as a compass, sending you in the right direction. You need to keep the unit level and give it time to orient itself. When you change the batteries it keeps the entered data.
Pros
Simple functioning battery operated compass
Leads you back to your recorded location.
Works without using roaming data
Does not depend on cell phone coverage
Works well in urban environments
Runs on AAA batteries
Cons
Does not show routes
Cannot enter coordinates. You have to be in the spot to enter that location
Takes longer to acquire satellites than dedicated GPS/GLONASS units
Needs access to the sky, so heavy cover interferes
Outstanding Features
The Back Track G2 is a good, basic compass that will store your camp location and enable you to find your way back. This unit is not intended for geocaching activities, nor is it intended for route planning for hiking, hunting, or other such activities. It can be used to record fishing spot locations to enable easy return. Some people use it to mark the location of their vehicle in urban environments and huge parking lots so that they can find their way back.

10. Foretrex 401 by Garmin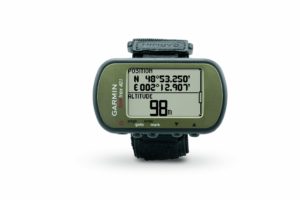 The Foretrex 401 by Garmin is a waterproof GPS intended for hikers and other outdoorsmen. It is equipped with HotFix for quick reception from satellites. The sensitive receiver gives you GPS coordinates even under heavy cover, when surrounded by tall buildings or in a deep canyon. With the add-on heart monitor, you can use it to track your heart rate. It also keeps track of your waypoints and routes. The patented TracBack software allows you to retrace your path on the LCD screen. This is a great feature to help keep you from getting lost.
You can view your current position in a variety formats. The unit also has a trip computer, a barometric altimeter and an electronic compass. With the Foretrex 401, you can get information on sunrise and sunset as well as conditions for hunting and fishing. This is a wrist-mounted device. It has a USB port so that you can connect to your computer. You can also send information wirelessly. With Garmin Connect, you can download your outdoor activity for analysis. The Foretrex 401 uses AAA batteries that last about 17 hours. The unit weighs 3 ounces. It is durable, resisting temperature extremes, water, and dirt.
Pros
Lightweight
TracBack gets you back to your camp or car
Rugged – temperature and dust proof
AAA batteries are lightweight
17 hours of battery life
Barometric altimeter
Average moving speed
Current moving speed
BaseCamp software
3D view
Waterproof
Cons
Not useful for geocaching
Does not use GLONASS
Outstanding Features
The Foretrex 401 is an excellent on-wrist GPS unit, useful for rough camping, hiking, trekking, and other outdoor activities. The TracBack feature ensures that you can always find your camp, hotel, or car, and the trail you have taken can be downloaded to a computer later for study. Some users even use this in the battlefield to call in artillery strikes It is very accurate and rugged.

Handheld GPS – Ultimate Buyers Guide
Learning how to choose the best handheld GPS is simple once you understand what features and components to look for. GPS or Global Positioning Systems give you the ability to view and track your location data while journeying through the wild. If you are heading into unfamiliar territory, bringing a GPS can prove to be a smart maneuver.
When you are in the wild, weather conditions can change rapidly. This can cause a loss of visibility, as well as trails and markings to be washed away. If you find yourself in a situation similar to this, you are going to be thanking your lucky stars you decided to bring a GPS. Fog can also detract from your ability to properly navigate your terrain. Getting lost in the wild can be, at the very least, frustrating. In some cases, it can prove to be dangerous. All too often, a curious explorer may elect to take a short cut that in turn becomes the beginning of a wayward journey through unchartered territory.
GPS vs Map and Compass
The very first thing to understand before deciding on purchasing a GPS is that, just because you have a GPS, doesn't mean you will not a map and compass. A GPS is a quick alternative but not a replacement for the tried and true method of using a map. The reasons for this are simple. GPS are not full proof. Outside factors, such as extreme weather, can prevent your GPS from receiving a signal, your batteries can die, or you can drop your GPS in your favorite fishing hole. Because of these uncontrollable factors or accidents, you need to be prepared to navigate via your map. Most outdoorsmen use a combination of GPS and map to pinpoint their exact location.
Handheld GPS vs. Smartphone GPS
You may wonder, why should I get a handheld GPS when I already have a GPS app on my smartphone. It is important you understand the difference between your smartphone GPS app and a handheld GPS. A handheld GPS can outperform a smartphone in many categories including battery life and reception. If you don't plan to venture too deep into the wild a smartphone GPS will work, until your battery runs out. For a serious hike into the wild, you will get better results using a handheld GPS.
How a GPS Works
A GPS works by utilizing satellites to triangulate your position. In the USA, these satellites are owned and operated by the Department of Defense. Depending on the quality of your GPS, your unit may be able to communicate with satellites from a variety of nations. The more satellites your GPS communicates with, the higher degree of accuracy you can expect. The majority of GPS units are accurate to around 15′. High-end units are more precise giving you location data accurate to the inch.
Handheld GPS Features
Thanks to new manufacturing techniques and more affordable computer chips, GPS have decreased in price significantly. So why the huge difference in prices between models if all of them can tell you your location? The main reason is the difference in features. Features can set your GPS apart from the competition. Below is a list of the most common features found on today's GPS.
Maps – Be sure to ask if the maps for your area are loaded on your unit. Although they may be available online if they are not included, there is a chance you may have to make an additional purchase
Compass – Every good GPS will include some form of a compass. Be sure to check your GPS compass accuracy against your real compass. This can help you to see how accurate your unit really is.
Trip Computer – This is a smart feature to have if you are planning some roadway travel. Trip computers can be useful in determining the cost and expenses of your trip.
Geocache Options – Geocaching is one of the fastest growing pastimes in the US. Stash your prize and post your coordinates, or join in on the treasure hunt for someone else's hidden prize.
Photo Viewer – Upload photos of landmarks on your journey and you are guaranteed to know when you are on course. You can also have pictures of other helpful information.
Track and Waypoint Manager – Waypoints can help you to navigate your terrain with higher accuracy. You can track and mark waypoints to keep records of your movements.
Profile – If you are sharing your GPS you may find it helpful to have multiple profiles. Perhaps your hunting partner prefers to use metric measurements, instead of US Standard. This can easily be adjusted and readjusted, depending on who the user is
Route Planner – Route planning software can be a great addition to any GPS. You can calculate when and where to stop based on variables.
Sun – Track the sunsets and sunrises with ease using this feature. This feature can be helpful in helping you avoid being stuck in the wilderness during the night hours.
Calculator – You will be surprised how often you use your calculator. Now you can be exact with your calculations.
Alarm Clock – Never miss an appointment again while in the wild. Set your alarm and go about your business, just be sure you keep enough battery in your unit.
Calendar – This is an additional feature that can be great for tracking hunting seasons and events. Keep track of when and where you made your last visit using your calender.
Stopwatch – You never know when you need to time something exactly. Having a stopwatch can prove to be helpful if you find yourself in this scenario.
Satellites – The more satellites your unit can access, the more accurate your GPS will be. There are a couple different satellite networks. The biggest two networks are the GPS (USA) and the GLONASS (Russia) and having access to both gives you excellent accuracy.
Proximity Alarm – A proximity alarm allows you to set up a geofence that notifies you when you are approaching the designated area. This can help you to avoid problem area, or alert you that you are approaching the home of a dangerous animal.
Points of Interest – If you are traveling, it is helpful to know where the nearest stores, gas stations, bus stops, etc. are located. POI or points of interest represent these items.
Tide Info – Tide info is extremely valuable to boaters, fishers, and surfers alike. Knowing when the tide is at its peak can prove to be valuable information for many water active people.
Touchscreen vs. Buttons
This age old debate goes back to personal preference. Touchscreens seemed to have emerged as the clear leader, in terms of use, but professionals still have plenty of reasons to stick with buttons. Touchscreens have added flexibility and quicker response times. The downside is the fact they eat up batteries much quicker than their button having counterparts. GPS displays have been improving but the majority of them are still far below the quality found in your smartphone. Another thing to consider is, are you using gloves? A touchscreen GPS will not be as user-friendly when wearing gloves and the screen can become unusable in extreme weather conditions. You must consider your personal needs to make the best decision in regards to your GPS input method.
Electronic vs. Differential Compass
Most units include a compass feature of some sort. This is very helpful in determining the direction you are facing. Units that are more expensive feature an electronic compass. The main difference is the ability to dictate the direction you are facing without movement. For say, the professional mountain climber, this can prove to be priceless, as you may not have the room to initiate movement in a direction. Electronic compass GPS cost significantly more and unless you are planning to venture somewhere with tight quarters, you may be able to save yourself some money on this feature.
Barometric Altimeter
Many GPS feature an altimeter. This can be helpful in finding your location based on your altitude. Traditional GPS altimeters have a difficult time determining your altitude accurately. A barometric altimeter uses additional sensors to zero in on you exact altitude. This feature is helpful when tracking weather patterns and if you are planning to be somewhere without access to weather information, this can be a smart idea.
Media
Recently, manufacturers have begun to add additional entertainment options to their GPS. MP3 players, Video Players, and voice recorders are all becoming more common in the GPS marketplace. Now you can listen to your favorite jams while you are setting up your campsite. Some units allow you to mark waypoints by using a picture. Pictures of landmarks can be a great way to ensure everyone is on the same path.
Wi-Fi and Bluetooth
Wireless technology is changing the way we interact with our GPS devices. Wireless technology allows you to do some exciting stuff. Imagine sending your waypoint via Bluetooth to your smartphone, then forwarding it to your other hiking team. This is helpful for tour guides and other businesses where it is important to share location information between groups.