Choosing the best deer stand for your money comes down to a few key factors. The first thing to consider is your style of hunting. Do you hunt alone? Do you move positions a lot? If you do, you may want a lighter, more portable tree stand. If you prefer the company during your hunt, a tree stand that is capable of handling multiple hunters is ideal.
You will also need to consider the manufacturer you are dealing with. The internet is flooded with subpar deer stands and many hunters wait until they are dangling from their safety harness before they realize the importance of choosing a quality tree stand. Below are the top tree stands on the market today. Each has its own characteristics that make it better suited for a particular style of hunting.
The Best Deer Stands for The Money
Summit Treestands Viper SD Climbing Treestand, Mossy Oak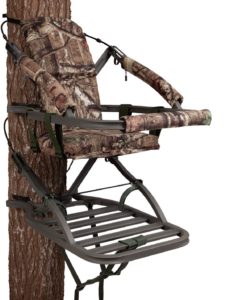 The Summit Treestands Viper SD Climbing Treestand features a closed-front aluminum design and a suspended foam-padded seat to increase durability and comfort. An oak break-up camouflage pattern adds to the concealability this deer stand offers. Safety was a major concern when developing this unit and as a result, this stand incorporates a Full-Body Fall Arrest Harness System that is to design to keep you from falling. Falling from a tree with a bow or rifle can lead to injury, this system helps to ensure you avoid these scenarios.
This is a lightweight tree stand, weighing in at 20 pounds. Don't let this units lightweight fool you. It is capable of holding 300 pounds of weight, this means you are safe and secure hovering above your kill zone. The design of this deer stand is extremely portable and the total dimensions of the platform are 20″ x 26″. When you are on the hunt, every little noise can potentially alert your prey to your presence. This deer stand is packed full of innovative design features that make it a smart buy for any serious hunter. Patented DeadMetal reduces the metal on metal sounds associated with aluminum tubing. Critical parts of this stand have been filed with a sound deadening foam. Summit's QuickDraw cable retention system revolutionizes the cable attachment system. This new device is much easier to operate and quieter than traditional draw cable systems.
Pros
Lightweight Design
Increased Durability
Patented DeadMetal Sound Deadening Frame
Full Body Fall Arrest Harness
Cons
Paint Can Chip on Foot Rail
Outstanding Features
High-quality aluminum framing coupled with the SummitLokt Technology increases the durability this deer stand offers. Climbing has also been improved thanks to the integration of a RapidClimb system. This is one heavy duty deer stand that can take your hunt to the next level.

Guide Gear Hunting Hang On Tree Stand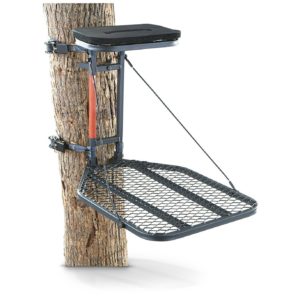 The Guide Gear Hunting Hang On Tree Stand incorporates a lightweight, ultraportable design that is sure to improve your hunting experience. Weighing in at a mere 18 pounds, this tree stand can give you the distinct advantage you are looking for. Get to the spots that the other deer stands can't. The slim profile adds to the overall usability of this product. This unit is easy to set up and backpack, so you can take it with you on all of your expeditions and get to the hunt quicker than ever before.
The seat of this unit features a thick padding that is designed to keep you comfortable for hours. The foot rests also features padding to help reduce fatigue attributed to discomfort. Stalking your prey from a tree stand requires patience and stealthiness, this unit is designed to increase both of these attributes. A durable tubed steel frame delivers maximum strength from the lightest possible platform. This deer stand can support up to 300 pounds of weight securely. The flip up seat has improved ergonomics that help to keep you comfortable and alert when out on the hunt. Get the drop on your prey with this highly effective deer stand. No need to worry about rust because this unit is powder coated to reduce moisture damage. This a great addition that improves teardown times significantly and increases the overall life expectancy of this unit by preventing corrosion and rust from taking hold. This deer stand includes a FAS safety harness. This offers a higher level of protection against accidents and can help to prevent injuries that come as a result of falls.
Pros
Thick Padded Seat
Camouflage Design
Moisture Resistant Design
FAS Safety Harness
Cons
First Set-up Can be Tricky
Outstanding Features
It is going to be difficult to find a better-priced deer stand, that can handle the amount of abuse this unit is capable of withstanding. This is the perfect tree stand for someone new to hunting. You get quality comparable to higher end units at a price point that is sure to fit your budget.

Guide Gear Deluxe Hunting Hang-On Tree Stand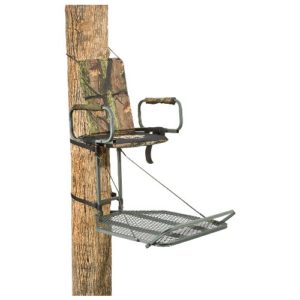 The Guide Gear Deluxe Hunting Hang-On Tree Stand combines comfort with durability to produce a quality deer stand that is capable of handling anything you throw at it. This heavy duty tree stand can hold up to 300 pounds of weight without a problem and the sturdy steel construction can withstand extended use without showing signs of wear and tear. The seams of this deer stand have been welded to increase durability. If you live in a moist environment or enjoy hunting in the rain, you will be pleased to learn this unit comes powder coated. This moisture and corrosion resistant coating create a layer of protection on the surface of the steel frame that keeps your stand protected for years to come.
The suspension-style seat features a padded camouflage design and a comfortable backrest. This helps keep you more relaxed and able to focus on your hunt. Padded armrest also helps to keep your patience high as you wait for that prized buck.
Two heavy duty ratchet straps keep your deer stand securely fastened to the tree, so you can focus on your hunt. A FAS harness system is also included with this unit. This gives you added protection against slip and falls. This is a very effective safety harness that can prevent serious injury from occurring. The tree stand platform has plenty of room for moving around on, so you don't feel cramped for space while you are waiting for your next buck to pass by. The front bar is also very comfortable and works well for resting your gun or crossbow on. This is one of the easiest tree stands to set up. Simply strap it to the tree of your choosing and you are ready to go.
Pros
Suspension-Style Seating
Powder Coated Steel Frame
Heavy Duty Ratchet Straps
FAS Safety Harness
Outstanding Features
This is a smart buy for new and experienced hunters alike. When you look at the all the features and quality construction this unit offers, it's easy to see why this is one of the fastest selling tree stands on the market.

Millennium Treestands M150 Monster Hang-On Tree Stand (Includes SafeLink Safety Line)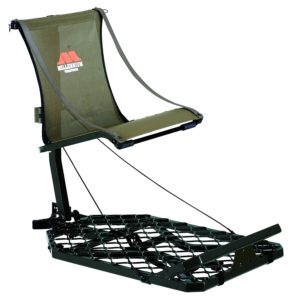 The Millennium Treestands M150 Monster Hang-On Tree Stand raises the bar in terms of comfort. This unit features a ComfortMAX contoured tight sling seat. This seat features a 15 degree lean to allow for optimal tree-angle adjustment and a durable non-stretch fabric. This fabric doesn't absorb water or scent and is designed to be as quiet as possible. The seat also folds up so you can take your shot from a standing position if you prefer. You can adjust the height of the seat from 17″ to 20″, so you can get into your comfort zone.
The large 24″ x 37″ platform can support 300 pounds, so this is a great buy for larger hunters and the InterLock Leveling System allows you to set your seat and platform to be leveled. This feature is critical when you are setting up against a leaning tree. Portability was a primary concern during the development of this deer stand and it shows in the lightweight backpack-friendly design. Millennium used patented V-Brace Technology to minimizes the total weight of this tree stands without reducing its strength. This unit weighs 19.5 pounds, so it doesn't weigh you down and the extreme ruggedness of this tree stand is sure to impress any outdoorsman.
Only the finest materials were used in the construction of this deer stand. The strong welded steel frame is designed to last a lifetime. A durable powder coating adds to the moisture protection this unit incorporates. This coating prevents rust from forming and helps to reduce wear and tear. Patented Quick Cam-lock ratchet strap receivers keep your stand securely locked to the tree. The Camlock System allows you to set up multiple stand locations and quickly transfer between them. This is a huge advantage for the hunter who prefers to keep moving.
Pros
ComfortMAX Sling Seat
Folding Seat
Improved Durability
Lightweight (19.5lbs)
Outstanding Features
This is the perfect unit for the experienced hunter on the go. A full body harness and a SafeLink lifeline ensure you never have to worry about falling accidents. You are getting a professional grade unit that can handle a lifetime worth of abuse.

Big Dog BDL-1050 17.5′ Stadium

The Millennium Treestands M150 Monster Hang-On Tree Stand is ideally suited all your hunting needs. The large dual-rail ladder construction adds to the overall safety of this unit. A large curved 53 1/2″ x 19 1/2 floor platform ensures you have plenty of room to remain comfortable as you await your preys arrival. The foot panel is a mesh steel to allow for water to drain freely.
Complementing this large stand is an equally impressive curved padded seat. The back rest, foot bar, and armrests are also padded to maximize your comfort while you are in the wild. This is the perfect stand for hunting with a friend. Now you can both enjoy the thrill of the hunt from the same tree stand.
A camo concealment blind is included with the purchase of this unit. This blind wraps completely around the shooting rail maximizing your stealthiness and giving you the advantage you need to keep the element of surprise.
An adjustable ladder support bar gives you maximize customization and the stabilizing straps ensure you stay safely secured to your tree. This is a professional grade tree stand that can hold more weight than the competition. This unit has a max capacity of 500 pounds. A dual 300-pound safety harness system ensures both hunters are protected from falls. This unit weighs 102 pounds and the setup is easy.
Pros
Dual-Rail Ladder
Padded Backrest and Cushion
Room for Two Hunters
Sturdy Steel Construction
500lb Capacity
Outstanding Features
This is the perfect deer stand for a someone looking to have some great times with a friend while hunting. The quality is exceptional and you can't beat the memories you will have stalking your buck.

Summit Titan Sd Climbing Treestand Summit Treestands Su81118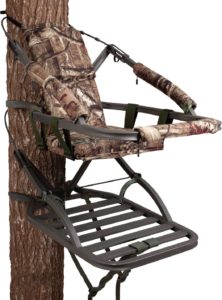 The Summit Titan Sd Climbing Treestand combines super silent sound deadening DeadMetal fabric with custom engineered foam filled tubing to create the quietest tree stand on the market. You need to be able to keep the element of surprise while you are stalking your prey and this intuitive tree stand is designed to do just that. DeadMetal fabric allows you to setup for your shot and ensures you get the maximum accuracy without sacrificing any comfort.
The QuickDraw Cable Retention System allows you to insert your cable into the QuickDraw bracket of the suspension arm to lock it securely into place. This is a huge upgrade from the knobs, dials, and clips usually employed to handle this task. In terms of durability, this unit is the champion. The SummiLokt precision welding improves stability while providing additional strength to this unit.
The floor panel features thick open bars to allow rain and other moisture to escape. You can remain unseen thanks to the bark camouflage. Your buck will never see you. This unit is designed to get you in the hard to reach trees. RapidClimb climbing stirrups make setup easier than ever before and the padded arm rests and rifle bar adds to the total comfort of this deer stand.
Pros
Patented Dead Metal Fabric
QuickDraw Cable Retention System
SummiLokt Precision Welding
RapidClimb Stirrups
Cons
Cushions Can Show Wear from Moisture
Outstanding Features
If you are the type of person who requires only the best, this is a solid deer stand for you to consider. You get better quality than the majority of units on the market and the additional features really add to the appeal of this unit.

Guide Gear Extreme Deluxe Hunting Climber Tree Stand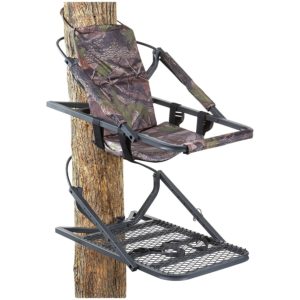 The Guide Gear Extreme Deluxe Hunting Climber Tree Stand incorporates a deep forest camouflage that helps to keep your concealability high. You can get those extra second you need to make the shot with this dependable tree stand. This is a roomy deer stand that is designed to be comfortable, even after hours of extended use. The sturdy steel frame used in the constructed of this unit produces better stability and improved durability. A moisture resistant coating protects the steel from rust or corrosion, so you can enjoy this product season after season.
The seat on this deer stand has a 1″ thick padding to improve your comfort. Padding is also on the backrest and armrests as well. You will feel like you are seated on a throne as you take the shot of a lifetime. Few units are as portable as this device. Weighing in at only 33 pounds, this unit can be easily carried to your favorite hunting zone. Simply fold these deer stands up and you are ready to go. Setup is equally as easy. Adjustable foot straps improve climbing abilities and Cam-buckle straps lock the seat and foot platforms into place.
Pros
Solid Construction
1″ Thick Padding
Portability
33lbs
Outstanding Features
If you are a rugged outdoorsman you need a deer stand that can withstand the abuse, this unit can deliver the results you are looking for.

Summit Treestands OpenShot SD Climbing Treestand, Mossy Oak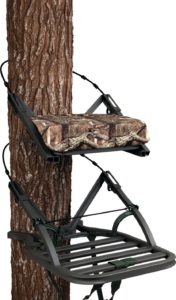 The Summit Treestands OpenShot SD Climbing Treestand combines safety with effectiveness. This is a comfortable deer stand that can be the perfect addition to your hunting tool set. Get the drop on that next prize buck from the camouflaged safety this deer stand provides. This is a rugged unit that has a total weight capacity of 300 pounds, so it is well suited for hunters of all body types. The foam padded seating gives you a relaxing comfortable seat to aim from. Padding also helps to reduce discomfort over extended use so you can stay focused.
A thick metal platform gives you ample room to get set up for the perfect shot. The platform feels sturdy and roomy, this means you don't feel cramped when using this tree stand. Durability is a major reason to consider this unit. All welded seams, in addition to steel construction, give this unit the steady base required to zero your shot in. The camouflage used in this device allows you to stay stealthy while you plan your attack. Your next buck will be clueless to where you came from and you can backpack this unit to your favorite hunting spot. Portability is improved with this year's model and weight has been reduced to just 15 pounds and a 4 point safety harness is included with the purchase of this unit.
Pros
Foam Seat Pad
300lb Weight Limit
4-Point Safety Harness
Added Visibility
Outstanding Features
If you are looking to improve your success rate, this is the perfect tree stand for you.
Get ready to sharpen your skills to the max using this intuitive tree stand.

Ol Man Multi Vision Steel Tree Climber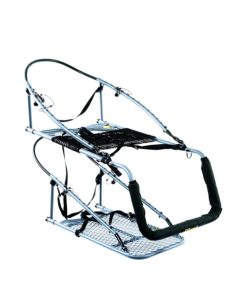 The Ol Man Multi Vision Steel Tree Climber has a flexible 3-way design that lets you customize your stand to your hunting style. Owning this tree stand is like owning 3 stands in one. No other tree stand gives you the flexibility to customize your hunting experience. This is an extremely durable tree stand that is designed to last a lifetime. The tubed steel frame can handle years of abuse without failure. You are sure to get some of the best shots you have ever had perched in this stealthy tree stand.
A matt-gray finish doubles as a protective coating against moisture. No need to worry about rust when you own this durable tree stand. This unit weighs 29 pounds so it is extremely transportable. This lightweight does not reduce its performance as it is rated to handle up to 300 pounds. The platform is 18″ x 32″ and features a steel mesh design that allows moisture to escape without building up. A 21″ wide netted seat keeps you comfortable for hours as you await your next shot. The foot/reverse gun rail is also padded to reduce fatigue and improve response time.
Pros
Mesh Seating
3 Way Versatile Design
Lightweight
Footrest
Ultra-Quiet Design
Cons
Anchor Points of Arm Rests
Outstanding Features
This is one of the quietest deer stands on the market, so if you are dealing with some especially astute bucks, you may need to make this your next deer stand. This is a high-quality unit that is one of the fastest selling tree stands available. You are guaranteed to enjoy your investment when you go with this superb product.

Deer Stands- The Ultimate Buyers Guide
Sorting through deer stands to find the best quality units can be time-consuming. If you don't know what to look for, you increase the chances of making the wrong decision. Deer stands come in a wide variety of models and depending on your hunting style; you may find one better suited for your needs than another. Choosing the perfect deer stand for your needs comes down to understanding exactly what features you need to increase your hunting effectiveness. A reliable tree stand, that is properly placed, can produce excellent results for a perceptive hunter.
Before you can make an educated decision, there are a few important factors to consider when purchasing a tree stand. The first one is obviously your budget. If you are new to the hunting, it doesn't make sense for you to invest a large amount into your equipment until you are familiar with the sport. Thankfully, there is a plethora of solid quality built stands available at reasonable prices. Next, you should consider how many hunters you are planning to have in your stand at once. Multi-person units can provide you with a better hunting experience for you and a friend. Whereas, personal tree stands are ideal for the single hunter on the move.
Experience Level
If you have been hunting for years, you may prefer an ultra light and easy to setup stand. This can allow you to get into position quicker and teardown easier. If you are not that experienced or know that you like a bit more room, you may want to go with a larger unit. You will feel more secure and get the extra elbow room you need to get the best shot possible.
Weapon Type
What type of weapon are you hunting with? A bow will require a bit more room than a rifle, so be sure to consider this when making your purchase. Your weapon type will also help determine where your tree stand should be located. You will want to keep your prey in your kill zone.
Location
Consider your hunting grounds. You are going to want a stand that matches your environment. This means you need to stick to camouflage patterns that match your area. Don't forget to think about the type of trees you will be fastening your stand two. Smaller trees will require a tripod stand. Larger trees can handle a climbing stand. Deer's don't see color but they are very sensitive to differences in light and dark, so be sure to choose a tree that matches your stand or vice versa. Many new hunters make the mistake of strapping their dark brown stand to a light colored tree, such as a maple.
Don't assume that higher is better. You want to set your stand up in a manner that gives you access to the most effective shooting lanes. The best way to do this is by scouting your hunting ground. Make notes of the suitable trees and measure where you think the height would be ideal for your hunt.
If you live in an area where the trees are thicker, you may find that the trees are too large to accommodate the straps of your portable stand. Large trees such as these may require the use of ladder stands. Always measure any trees you are unsure of to get the exact diameter. Oak trees are considered one of the best trees to strap your stand too because you can get the adequate bite during your setup.
Age and Size of Hunters
If you are planning on bringing younger hunters on your trip, yo may find it helpful to get a stand that features railing. Inexperienced hunters can find traversing a tree stand to be a daunting task. A 2-person deer stand is going to give you a roomier experience and help you to introduce newbie hunters to the skills required to catch your prey.
Platform Size
How much room do you need? How often will you be moving your stand? If you are not planning to move around that much, a large platform should be considered. You are going to be more comfortable and you will be able to carry more gear with you. If you are an archer, the added room can prove to be valuable. Being able to draw and shoot without feeling as if you are on the edge of your platform is important. Remember to consider your location. If you have done your homework and scouted your trees, you may find that a large platform will not fit in your ideal hunting spot. Be sure to research your hunting grounds to ensure you don't pick a base that is too large for your perfect hunting spot.
Type of Stand
There are couple different versions of deer stands found on the market today. If you are the type of hunter that likes to hunt in the morning, you should avoid a climbing stand. The added noise made while climbing can prove to spook your prey. Ladder and tripod stands are going to be better for cold environments. Remember, during the winter months you are going to need a stand that you can get into and out of safely. Using a climbing stand while it is slippery and cold outside can prove to be frustrating. If you have a larger figure, you should consider a 2-person stand. The added room is going to be helpful and the added support can increase your safety.
Type of Harness
All new tree stands should include some sort of safety harness. You should never purchase a used tree stand as you have no idea of the condition if the safety harness or how the stand has been used. The best tree stands are certified by the Tree Stand Manufacturer's Association or TMA. This certification includes stress and safety tests to ensure your product is of the highest quality.
Material
Tree stands made from stainless steel can be more expensive than composite versions, but you get a solid deer stand that can withstand the elements. You may want to consider the seating as well. Does the seat include padding? Is it comfortable? You are going to be spending hours in your stand at a time, so be sure to research the comfort as well as the durability. Non-slip materials and powder-coated metals can both help to reduce the negative effects of moisture on your deer stand.
Deer Stands- The Ultimate Buyers Guide
Be sure to use the information in this guide to make the smart choice. Hunting is one of America's favorite pass times and learning the skills it takes to be successful can prove to be a great investment of your time. Mastering the art of deer stand placement and usage is a great way to add to your skill set. Remember, you want to place your stand at your eye level or above and be sure to keep it well hid. You want to ensure you can take your shot with as little movement as possible, as to not alert your prey to your presence prior to taking your shot. Try to dress in clothing that doesn't make noise when you move. Silent velcro can be a great idea to consider when choosing your hunting accessories.
No matter what style of hunter you are, there is a deer stand that's sure to fit your style. Stick to quality brands and you are going to have the best chances of success.