Best Deer Blinds 2019 – Buyers Guide For Top Hunting Blind
Hunters have used deer blinds over the last century to great success. Learning how to choose the perfect deer blind for your needs can be an important first step in taking your hunting skills to the next level. Having the ability to watch your prey without being seen give you a far better understanding of your target. It also allows you to take a cleaner shot without worrying about alerting your prey and missing your opportunity.
Recently advances in camouflage have increased the effectiveness of these hunting tools and as a result of this, many new hunters are rushing to the market to purchase one of these tried and true hunting blinds. The problem is not every hunting blind is created equal and the majority of blind manufacturers lack he experience to deliver a high-quality product that is both effective and reliable. Luckily there are some manufacturers that have proven themselves to be quality concerned many of which you will find stocked at SurvivalCooking.com. These are our picks for the top 10 deer blinds for the money.
1. Evolved Ingenuity 1RX2S010 Hunting Doghouse Ground Blind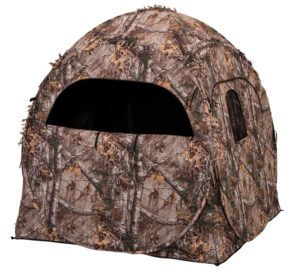 The Evolved Ingenuity 1RX2S010 Hunting Doghouse Ground Blind incorporates a shoot through mesh design that gives you added coverage when hunting. This makes it this tent ideal for rifle or bow hunting. The camouflage on this tent is a fall pattern that includes 3D leaves that add to the realism. Deer, rabbits and other animals, will never know you are there, thanks to the intuitive features this hunting blind offers. This unit has a shooting width of 60″ and stands 66″ tall. If you are taller than 6″ you may find this unit a bit too short for you. For the majority of hunters, the size is adequate. This also means you can comfortably store enough gear to enjoy a full day hunting from your blind.
This deer blind is made constructed from 100% Polyester. This gives this unit added protection against tears, as well as more water resistance capabilities. The Realtree Xtra camo pattern is highly effective in the wild. This unit includes a carry bag that increases the overall portability. This makes this blind the perfect hunting companion. This hunting blind was designed with your convenience in mind. It is very easy to set this tent up and you can be ready to stalk your prey in under 10 minutes. The Ground Steel Frame can withstand heavy winds; you just need to be sure to stake it down properly when expecting harsh weather conditions.
Pros
Realtree Camouflage
100% Polyester
Water Resistant
Shoot-Through Mesh
60″ Tall
Ground Steel Frame
Portable
Outstanding Features
The overall durability and excellent price point this unit comes in at make it a smart choice for new and experienced hunters alike. You get the advantages of genuine Realtree Camo at a value that is hard to beat.

2. Primos Double Bull Deluxe Ground Blind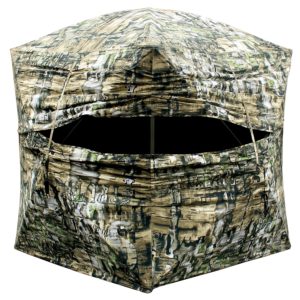 The Primos Double Bull Deluxe Ground Blind utilizes a zipperless doublewide silent entry and exit door to keep your movements as stealthy as possible. You don't want to alert your prey by using zippers or velcro, so this feature is a huge selling point this unit has over the majority of the competition. This is a large entry that also gives you a 180-degree full front view of your hunting ground. The windows also utilize the patented Silent Slide Design so you can get a full awareness of any approaching prey before they have any idea you are there.
Primos is known for their use of quality materials and their excellent construction methods. This unit is manufactured from Double Bull materials and can withstand heavy use before showing any signs of wear. You can tell a lot of research went into this design and the added height makes this blind ideal for taller hunters. This hunting tent is 77″ tall with a shooting space of 60″ x 60″. This gives you enough room to fit all of your gear away and stay silent while you watch your prey from the shadows. This blind does not have a floor so you may want to clear any dead leaves from the area you are setting up at.
Pros
77″ Tall
Silent Entry Door
Silent Slide Windows
Double Bull Materials
Quality Construction
Durability
Effective Camo Design
Outstanding Features
This is the perfect tent for the experienced hunter. The Silent Entry design is one of the most sought after feature in the deer blind market and the overall craftsmanship of this blind is excellent. If you are ready to take your hunting to the next level, this is an option worthy of your consideration.

3. Ameristep Care Taker Hub Blind-Realtree Xtra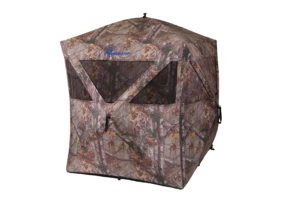 The Ameristep Care Taker Hub Blind-Realtree Xtra features Shadow Guard Technology to give you an added edge when stalking your prey. Experienced hunters will tell you, deer are very intuitive to their surroundings and the sight of a shadow moving from inside your blind can be enough to spoke them it running off. The creative minds at Ameristep tackled this issue head on and came up with this patented Shadow Guard Design. This unit also includes a Shoot-Through Mesh Design that allows you to remain completely hidden, even when taking your shot. Another advantage you get with this deer blind is added protection from insects. The mesh on this tent is designed to be Insect Resistant as well as camo.
The Durashell Plus Materials give you increased protection from harsh weather conditions and the shooting width has been increased from previous versions. You now get 69″ of shooting space, this can give you the added floor space you need for more gear, or even adding another hunter. This tent has windows that can be opened to allow for a full 360-degree view of your hunting ground. Set up is easy and the entire process can be done in around ten minutes. This unit is a little heavier than the majority of competitor's brands but the added weight is due to the use of more durable materials.
Pros
69″ Shooting Area
Full 360 Degree View
Durashell Plus Materials
Insect Resistant Mesh
Shadow Guard Technology
Easy to Setup
Durability
Outstanding Features
It's going to be hard to find a 2 person blind at a better price than this unit. You get quality comparable to higher end deer blinds at an undeniable value. If you are looking for an inexpensive deer blind that can stand up to years of use, this is the smart choice for you.

4. Ameristep Tent Chair Blind-Realtree Xtra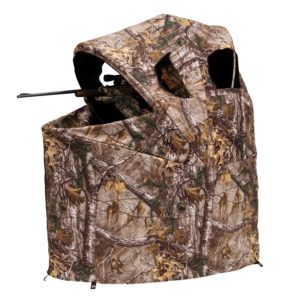 The Ameristep Tent Chair Blind-Realtree Xtra utilizes a unique design to get you closer to your prey than ever before. The Realtree Xtra camo pattern is highly effective in the wild and it allows you to stalk your prey without being noticed. Realtree is known for producing exceptional camouflage patterns for hunters around the world. This is a one person hunting blind designed to be used by a single shooter. The windows on this blind do require you to unzip them prior to taking your shot, so you may find it more effective to keep your screens open when hunting.
This unit is easily transportable; it includes a carry case with shoulder strap. There is also a fold up hunting chair included in this design, so you can stay comfortable while you hunt. This deer blind gives you an added ability to hide; because of its reduced size your prey is less likely to notice it. You will not be able to have too much gear if you want to be able to store it in this style of blind, but you will be able to set your blind up almost anywhere unnoticed. You will be able to get closer to your prey than some of the larger blinds on the market.
Pros
Realtree Xtra Camo
Compact Design
Durability
Hunting Chair
Carry Case
Outstanding Features
This is great one person deer blind that can give you a distinct advantage in the wild. The extra portable design adds to the overall usability of this unit and the price is very competitive considering the added durability of this tent.

5. Tangkula Ground Hunting Blind Portable Deer Pop Up Camo Hunter Weather Proof Mesh Window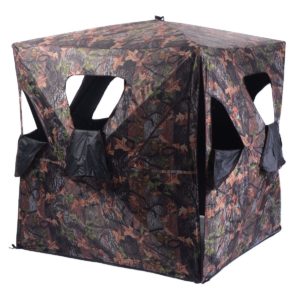 The Tangkula Ground Hunting Blind Portable Deer Pop Up is constructed from waterproof 150D Oxford and PU Coated materials. This blind has a shooting space of 58″ and height of 65″. This gives you enough room to have up to 3 hunters sharing your blind or added supplies to make your hunting experience more comfortable. The falling-leaf style camouflage pattern is perfectly suited for the autumn season. This camo allows you to stay stealthy and blend into your surrounds without being noticed.
The lightweight design of this blind makes it ultra-portable; you can take it with you on any hunting trip without being weighed down. This unit features superb materials and the fiberglass frame is stronger than the majority of competitors frames. It is very easy to set up this blind and can be quickly folded open in less than 10 minutes. There are 6 full view windows to give you added awareness of your hunting zone and the windows feature shoot through mesh. This allows you to use your bow without opening the window, giving you a better shot without alerting other potential targets.
Pros
Archery Mesh Windows
3 Person Design
6 Full View Windows
58″ Shooting Space
Waterproof
Autumn Camo Design
Outstanding Features
This is nice sized hunting blind and if you are considering having a friend along on your trip, this may be a smart option to consider. You will appreciate the added size and the lightweight frame makes this a blind an excellent bargain.

6. Big Cat 350 Hub Blind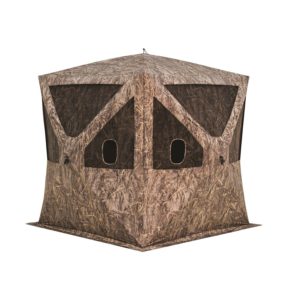 The Big Cat 350 Hub Blind gives you added room so you can take standing shots at your prey. This unit has a height of 80″ making it the ideal deer blind for any hunters over 6′ tall. The number one complaint deer blind owners have is height You want to be able to take a standing shot if you feel the need to. The larger size of this blind makes it perfect for hunting with your friends; you will all appreciate the added elbowroom. The footprint of this blind is 70″ x 70″ so you have plenty of room for supplies and extra gear. Bring a cooler with refreshments and you and your friends can enjoy a stress-free hunt.
A lightweight design adds to the overall portability of this unit. This blind only weighs 19 pounds and can be easily carried to your hunting ground without discomfort. The Big Cat Hunting Blind is very easy to set up and you can't beat the reliability you get from this unit. You can choose between to camouflage patterns 3D Illusions or Outdoor Foliage. Both of these patterns can give you excellent cover in the wild and the durable framework can withstand heavy winds and harsh weather. The zipperless windows are another advantage this blind has over its competitors.
Pros
Lightweight Design
Durability
80″ Tall
70″ x 70″ Shooting Space
Framework
Zipperless Windows
Outstanding Features
This is a quality blind that is guaranteed to give you the perfect spot to hunt your prey from. You can fit a couple hunting buddies in this blind comfortably without getting crowded. Big Cat hit a homerun with their innovative design and this tent is sure to take your hunting to the next level.

7. Primos 6093 Up-N-Down Stake Out Adj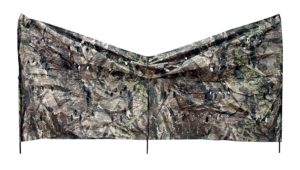 The Primos 6093 Up-N-Down Stake Out is the affordable hunting blind designed to give you maximum camouflage at an unbeatable rate. This 12′ blind is adjustable from 23″ to 36″ in height. The ultra-light design makes this one of the most portable blinds on the market and the camouflage pattern is very effective at masking your presence. The material is double sided camo so you are provided with added coverage from any angle. The Swat Grey Camo pattern is very stealthy so you can go unnoticed as you stalk your prey.
This blind is easy to set up, the 5 adjustable stakes have sharpened ends to be stuck into the ground and push caps on the top ends. This makes it much easier to stick your stakes in and in many instances you will not need any additional tools. This very portable unit includes a carry case with a shoulder strap to assist in transport. The quick setup of this blind makes it ideal for hunting scenarios and the 12′ length gives you a lot of coverage to store added gear or to even have additional hunters with you.
Pros
12′ Length
Dual Sided Camo
Swat Grey Camo Pattern
5 Adjustable Stakes
Adjustable Height up to 36″
Ultra-lightweight Design
Carry Case with Shoulder Strap
Outstanding Features
You are going to be hard-pressed to find a more affordable hunting blind. This is a high-quality unit that may be the perfect tool to add to your hunting equipment. Increase your hunting effectiveness with this traditional deer blind.

8. Ameristep Deluxe 2 Person Tent Chair Hunting Blind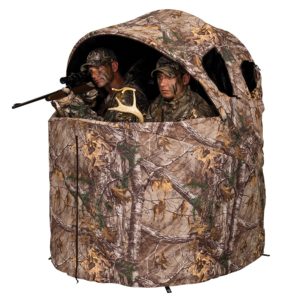 The Ameristep Deluxe 2 Person Tent Chair Hunting Blind features a compact 2-person design that allows you and a friend to stalk your prey unnoticed. The large front and side windows give you excellent viewing angles to monitor your prey. The windows are zippered so you are going to want to be careful to not alert your prey when opening them. This unit includes a built-in chair to add to the overall comfort of your hunting experience and you are sure to appreciate having seat after a couple of hours waiting for your prey. This unit is the 2 person version of Ameristep's popular single person blinds that are known for their ability to keep you hid.
The chair is attached to this blind so no assembly is required. This unit adds to its portability by the use of a backpack. If you are planning to hike to your hunting location this backpack design can be the perfect solution to reduce fatigue. Simply hike to your destination and set up. The setup procedure is simple and can be completed in less than ten minutes using no tools at all.
Pros
2 Person Design
Built In Chair
Backpack Carry Case
Lightweight Design
Durable Materials
Mesh Windows
Large Front Window
Outstanding Features
This style of deer blind that can get you right into the action. The disadvantage is it is not going to be good for longer rifles or bows but if you are planning to hunt with a medium sized rifle, you can't beat the value of this blind.

9. Barronett Blinds Pentagon Hunting Blind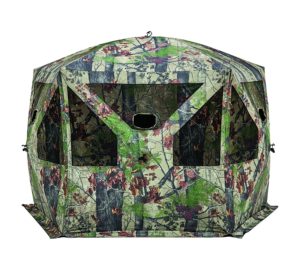 The Barronett Blinds Pentagon Hunting Blind gives you added room when you need it most. This is one of the most luxurious hunting blinds on the market. The extra large 41.5 square foot blind provides enough room for 4 hunters to fit comfortably with room left over for your gear. Nine large windows give you a panoramic view of your hunting grounds. This unit stands 72″ tall so it is perfect for any size hunter. Shooting ports are on all sides of this unit so you don't have to unzip a window to take a shot at your target.
This is the perfect blind for your next hunting trip. You get maximum room per hunter and you get the benefit of a highly effective camouflage pattern designed to keep you stealthy all year around. This deer blind is suitable for use spring, summer, and fall thanks to its unique camo pattern and color scheme. Portability is not an issue with this unit because it is only 20 pounds when folded into its included carry case.
Pros
4 Person Design
9 large Windows
72″ Tall
41.5 Square Foot
Shooting Ports
Water Resistant
Carry Case
Outstanding Features
If you are looking for a hunting blind that is both lightweight and large enough to fit four hunters inside, this is going to be the best option for you to purchase. This unit has proven itself to be reliable in the wild and highly effective.

10. Barronett Blinds BE650BT Beast Ground Blind in Blood Trail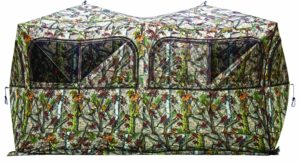 The Barronett Blinds BE650BT Beast Ground Blind can accommodate an entire hunting party and ATVs. This is one of the largest deer blinds on the market with a 140″ x 70″ footprint. You can easily fit 6 people comfortably plus gear into this large blind. You can tell comfort was a primary concern when designing this blind, the added height definitely makes it more comfortable over extended periods of use. The camouflage pattern on this blind is suitable for the majority f the year. There is a mix of brown autumn leaves sprinkled between live green leaves to give you extended hunting times between summer and fall.
Barronett Blinds is known for being an industry leader in large blinds and this is one of their biggest blinds yet. The windows of this unit are large shoot-through mesh and two full-length zipper doors make it easy for your hunting party to enter and exit your blind. These doors open wide enough to pull your ATV in for storage. Despite its large size, this is a very easy blind to setup. Two people can put this blind up in less than 15 minutes and the lightweight frame is incredibly durable. This is the type of blind that is designed to last you for years.
Pros
140″ x 70″
Wide Open Doors
Easy Set-up
Portable
BloodTrail Woodland Camo Pattern
Shoot Through Mesh Windows
Outstanding Features
This may be the perfect blind for large hunting parties or if you hunt on your ATV. You are not going to find a roomier blind at a better price and the durability of this unit is superb.
The Top 10 Deer Blinds For the Money – Final Thoughts
A deer blind can be the perfect addition to your hunting gear. Always remember to consider your prey, and what time of the year you will be hunting. This way you always choose a camo pattern that is going to give you the maximum concealment in the wild.